PROMETHEUS
Hobbled by a script that largely ignores its marginally implied protagonist, "Prometheus" is a cobbled-together sci-fi movie at odds with itself. It's clear why director Ridley Scott has gone to great lengths to distance "Prometheus" from his far superior 1979 "Alien" film. With a dash of "2001: A Space Odyssey" and even a little "Rosemary's Baby" tossed in for good measure, the story follows a trillion-dollar mission to meet up with the alien engineers of the human race on a faraway planet with a similar atmosphere to Earth.
Tacit central character Elizabeth Shaw (Noomi Rapace) illogically wears a crucifix that flies in the face of her purely secular thesis for mankind's origins. She explains her hypocrisy as what she "chooses to believe."
Elizabeth and her loving boyfriend Charlie Holloway (Logan Marshall-Green looking a lot like Tom Hardy) are an archeologist couple whose discovery of matching alien hieroglyphs from around the world put them on the spaceship Prometheus under the auspices of deceased trillionaire Peter Weyland (Guy Pierce).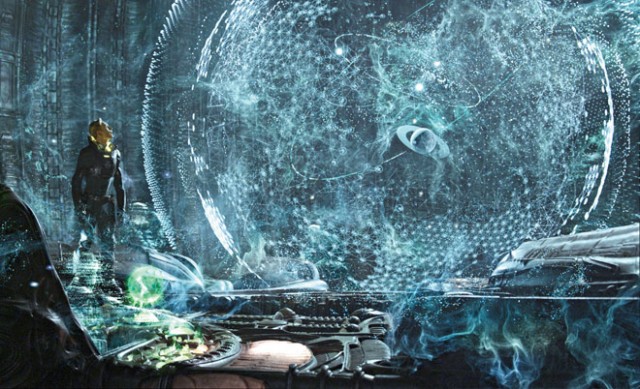 It's the end of the 21st century. Weyland's recorded hologram persona informs the ship's crew of their mission upon their awakening from a two-year voyage. Once there, the team discovers a hollowed-out mountain full of munitions-styled pods and the corpses of alien astronauts. Hologramic images of the space-traveling predecessors allow for some static-riddled reanimation.
From a production design standpoint, the movie is stunning. Sadly, it doesn't have the narrative muscle to back it up. Where Scott dovetailed the suspense in "Alien" into a spine-tingling frenzy of outright panic, here the anticipation of terror ebbs and flows like water on the shore of a gentle lake. Although the designs are fascinating, the filigreed macabre details of artist H.R. Giger's work on "Alien" are not as keenly exploited here.
Wayland's corporate representatives are a robot called David (Michael Fassbender), and Meredith Vickers (Charlize Theron), an icy crew chief who only seems like an android. Edris Elba is sorely miscast as the ship's aside-winking captain Janek who is every bit as unreliable as David or Meredith when it comes to possessing any purity of intention. The screenwriters (Jon Spaihts and Damon Lindelof) go so far in making David, Meredith, and Janek act as villains that it throws the movie into a tailspin even as the predictable alien danger arrives in the form of slithering snake creatures with a vagina dentata ax to grind against everyone they encounter. True to its slasher-movie underpinnings, many violent deaths occur.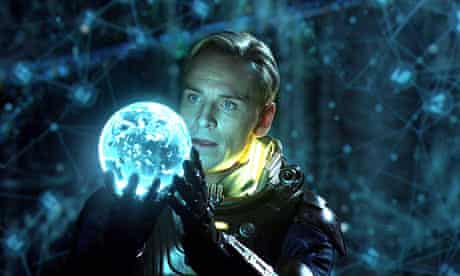 For as much as "Prometheus" tilts at some indistinct message about man's alien-executed origins, the clunky plot bubbles around automaton David's arbitrarily imposed curiosity that compels him to screw up everything he touches in spite of his ostensibly higher intelligence. The movie seems to say that since man cannot create life, or even a sufficiently close proximity, then there must be a God. You have to extrapolate considerably to reach such an assumption, but the film's sequel-promising conclusion means the audience isn't compelled to fill in the blanks anyway.
Groupthink doesn't live here, critical thought does.
This website is dedicated to Agnès Varda and to Luis Buñuel.
Get cool rewards when you click on the button to pledge your support through Patreon.