YOUR SISTER'S SISTER
Mumblecore standard-bearer Lynn Shelton ("Humpday") shows promising signs of maturing with this originally executed romantic comedy.
Shelton regular Mark Duplass doesn't stray far from the man-child character he normally plays. The first anniversary of Jack's (Duplass) brother's death incites him to hilariously, though pathetically, vent his spleen at a party where his deceased brother's ex-girlfriend Iris (Emily Blunt) is in attendance. Iris recognizes the shambles of Jack's rudderless existence, and sends him on a retreat at her dad's tranquil cabin in Puget Sound. Jack is more than a little surprised to find Iris's lesbian sister Hannah (Rosemarie DeWitt) inhabiting the cabin when he arrives by bicycle in the middle of the night.
A little witty repartee, over a bottle of tequila, leads to an unexpected exchange of bodily fluids in a gut-wrenchingly funny sex scene. Iris's unexpected arrival the next day sets the stage for a clash of wills in the context of embarrassing secrets and ulterior motives.
"Your Sister's Sister" is not without its flaws. Some plot points are too exaggerated for the film's naturalistic tone. Still, the partially improvised dialogue rings like a bell more often than not. Emily Blunt is something of a revelation in an independent-film context where her remarkable talents shine bright. Lynn Shelton probably isn't the next Woody Allen, but she shows great promise here.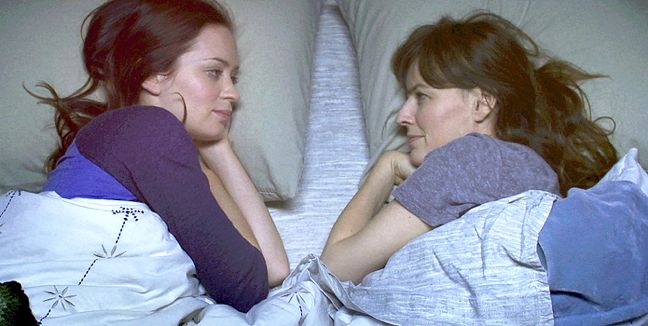 Rated R. 91 mins.
Groupthink doesn't live here, critical thought does.
This website is dedicated to Agnès Varda and to Luis Buñuel.
Get cool rewards when you click on the button to pledge your support through Patreon.