CRAZY EYES
Writer/director Adam Sherman's latest — darkly comic — study of the no-man's-land between love, lust, and oblivion dares to reveal how little emotional integrity it takes for the story's narcissistic leading character to get whatever he wants.
Lonely Zach (Lucas Haas) is an ideal hipster incarnation of an alcoholic Los Angeles rich kid whose dicey sense of romantic belonging can only be stoked on the road to conquest. An ex-wife and young son lurk in the background of Zach's suicide-by-degree.
The film's dashed-off title refers to nature's ocular implants belonging to Madeline Zima's Rebecca, a seemingly bi-polar woman capable of keeping up with Zach in the drinking department, even if she refuses his sexual advances.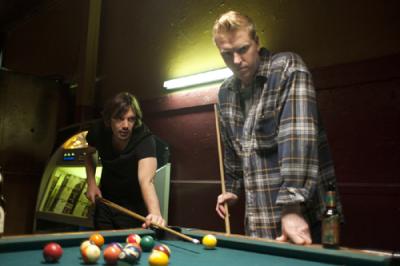 Matching the cold, callused, cynicism of Bret Easton Ellis's LA Gen-X "Less Than Zero," "Crazy Eyes" is too much in love with its spoiled brat protagonist. It is still a guilty pleasure in the theater of cruelty.
Not Rated.  95 mins.
Groupthink doesn't live here, critical thought does.
This website is dedicated to Agnès Varda and to Luis Buñuel.
Get cool rewards when you click on the button to pledge your support through Patreon.