HARA-KIRI: DEATH OF A SAMURAI
   Groupthink doesn't live here, critical thought does.
Welcome!
This ad-free website is dedicated to Agnès Varda and to Luis Buñuel.
Get cool rewards when you click on the button to pledge your support through Patreon.
Thanks a lot acorns!
Your kind generosity keeps the reviews coming!
Takashi Miike maintains his reputation as a prolific international filmmaker of considerable talent. A 52-year-old director with 88 films to his credit, Miike is a boldface name on the international cinematic circuit with good reason. His confident sense of style and commanding use of composition combine with sophisticated taste on par anything Eastwood, Lynch, Polanski, Scorsese, or Tarantino have put on the big screen.
Miike's update of Masaki Kobayashi's black-and-white 1962 film "Harakiri" never brushes a wrong note. The story's set up is the stuff of dramatic fascination. As with the unforgettable opening of Abel Ferrara's "Ms. 45," the audience is instantly hooked.
The setting is Japan's 17th century feudal Edo period — a peaceful era without much demand for samurai warriors. Hanshiro (Ebizo Ichikawa), an impoverished ronin, approaches his local samurai lord — Kageyu (Koji Yakusho) — to request use of the House of Li's courtyard in order to commit seppuku, so he can have a warrior's finish to his dishonorable state. Hanshiro's request is met with cold contempt. Kageyu tells in flashback the story of another samurai — Motome (Eita) — who came with a similar request the previous week.
In this sequence, Kageyu's assistant Omodaka warns his master that he suspects the man of attempting a "suicide bluff" in order to procure money. Once situated in the courtyard, Motome is assigned a second, a witness, and an attendant. Realizing his dire condition, Motome begs for one more day, or even a few hours, to leave and return before carrying out his bloody mission. His desperate appeal is refused.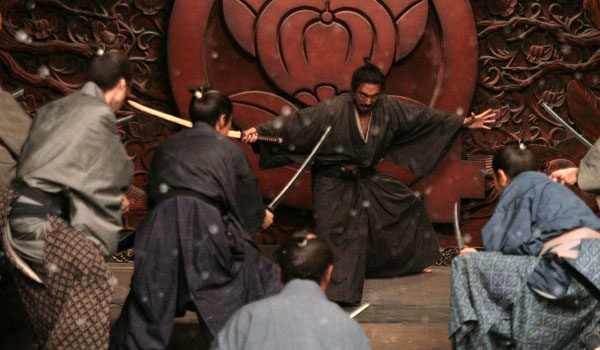 When he is finished telling the story, Kageyu offers Hanshiro the chance to give up his request and leave without incident; Hanshiro refuses, and insists on following through with his ritual suicide. What follows is the backstory behind Motome's own decision to attempt a suicide-bluff, and his relationship to the unwavering Hanshiro. "Hara-Kiri: Death of a Samurai" is a stunner from start to finish.
Not Rated. 126 mins.