THE APARTMENT — CLASSIC FILM PICK
Groupthink doesn't live here, critical thought does.
This ad-free website is dedicated to Agnès Varda and to Luis Buñuel.
Get cool rewards when you click on the button to pledge your support through Patreon. Thanks a lot pal! Your generosity keeps the reviews coming!
Billy Wilder's classic Manhattan-based romantic comedy comes with a sly critique regarding 50's-era corporate culture of rampant misogyny and unbridled ambition. Jack Lemmon's Bud Baxter is a low man on the insurance company totem pole. He loans out his one-bedroom apartment on the Upper West Side most nights to one of four executives at Consolidated Insurance for their adulterous assignations. They, in turn, promise to give "Buddy Boy" a hand up the corporate ladder away from his mundane number-crunching desk job--when the time is right.
One of the film's many clever visual touches involves Wilder's evocative depiction of Baxter's desk amid several many rows of similar bureaus for as far as the eye can see. Florescent ceiling light fixtures triangulate the perspective. Baxter is a lowly bee in a corporate hive of bureaucratic red tape. He'll never move up to the executive status he craves by following the rules. No one does.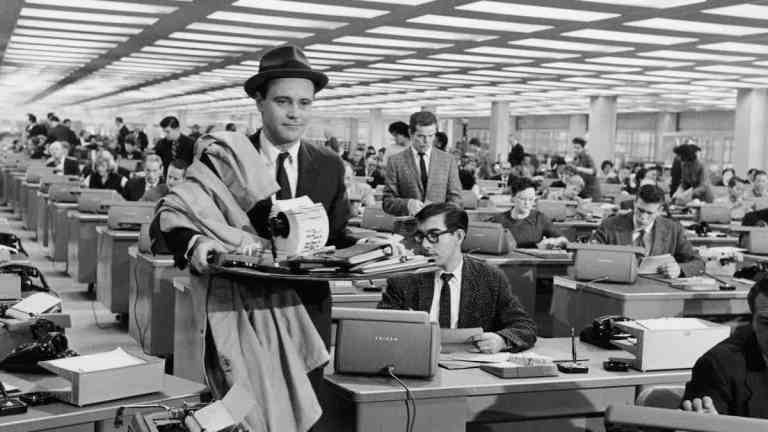 At home, Baxter is less than a loner. He's constantly cleaning up behind his company guests who drink his booze, eat his food, and complain when there are no crackers. Baxter's neighbors Dr. Dreyfuss (Jack Kruschen) and his wife are convinced they live next to the biggest womanizer in town based on the constant sounds of lovemaking they overhear emanating from his apartment. When circumstances demand, Baxter is even forced to sleep on a park bench so one of his bosses can have his way with his latest conquest. All Buddy Boy gets for his trouble is a cold.
Baxter's black-market activities don't escape detection by the company's big boss Mr. Sheldrake (wonderfully played by Fred MacMurray), who also wants the use of Baxter's apartment. In return, Baxter gets the promotion he desperately wants. Suddenly empowered, Baxter asks the company's pixie-haired elevator operator Miss Kubelik (Shirley McLaine) out on a date. If only Baxter knew Miss Kubelik was the object of Mr. Sheldrake's extramarital affection.
Much of the theatrically bound action takes place inside Baxter's believably lived-in apartment. The audience is invited to study its size, angles, and furnishings at length. The cozy apartment's seemingly personal space is infected with the lingering knowledge of the corporate brutes that use it like an old dishrag. Meanwhile Mr. Sheldrake lives a luxurious suburban lifestyle with his wife and children. Miss Kubelik lives with her sister and overprotective brother-in-law. But Baxter has no family. Romance, to him is playing a game of gin rummy or making spaghetti he uses a tennis racquet to strain. In Billy Wilder's universe, the workers at the bottom are really the top; it just takes them a little time to realize it.
Not Rated. 125 mins.