THE WELL-DIGGER'S DAUGHTER
Daniel Auteuil's long and storied career as one of France's most engaging leading men has guided him to direct his first film at the age of 62. The actor of such classic films as "Jean de Florette" chooses for his filmmaking debut, a reworking of writer/director Marcel Pagnol's 1940 film. Coincidence lies in the fact that Pagnol was the author of "Jean de Florette," which gave Auteuil his breakthrough role.
For the film, Auteuil condenses the source material considerably, while retaining the story's fraught romanticism of a love affair that strikes up on the dawn of World War I. Old world French traditions are at the heart of the story. Not a line of dialogue or physical gesture is wasted. The director plays Pascal Amoretti, a skilled but poor well-digger living in the South of France. Since the death of his wife Pascal has sent for his budding teenaged daughter Patricia (Astrid Berges-Frisbey) to help raise his other daughters. Pascal has had many children — all girls. His pride for Patricia overflows. On her daily chore to bring her father lunch at his rural job-site, Patricia meets Jacques (Nicolas Duvauchelle) the pilot son to the wealthy owners of the village's hardware stores. A fleeting moment of opportunity brings the lovers together before Jacques is called up to serve in the fight against the Germans.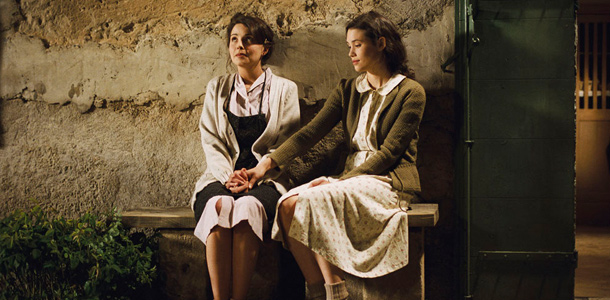 No amount of pride in his daughter can ease Pascal's humiliation when Jacques's parents refuse to acknowledge their missing son's responsibility to Patricia's pregnancy. Auteuil navigates any possible melodramatic pitfalls with a deeply seeded understanding of the stoic French traditions the story expresses. Nicolas Duvauchelle handles his problematic role with deceptive ease.
"The Well-Digger's Daughter" transports the viewer to the smells, rhythms, and social constraints of a France that no longer exists. Daniel Auteuil performs his roles as screenwriter, director, and actor with all of the intelligence and grace you would expect from such a gifted actor. May he direct many more films as satisfying as this one.
Not Rated. 105 mins.
Groupthink doesn't live here, critical thought does.
This website is dedicated to Agnès Varda and to Luis Buñuel.
Get cool rewards when you click on the button to pledge your support through Patreon.