THE ODD LIFE OF TIMOTHY GREEN
Groupthink doesn't live here, critical thought does.
Welcome!
This ad-free website is dedicated to Agnès Varda and to Luis Buñuel.
Get cool rewards when you click on the button to pledge your support through Patreon.
Thanks a lot acorns!
Your kind generosity keeps the reviews coming!
Lighthearted, but emotionally sincere, writer/director Peter Hedges's tale of a boy created out of best intentions is yet another addition to this year's batch of magic realist movies.
Although front-loaded to a fault, "The Odd Life of Timothy Green" is an evocative "small" movie that entertains. Jennifer Garner and Joel Edgerton play an empathetic couple — Cindy and Jim Green — attempting to adopt a child.
They narrate an intriguing flashback story about a nine-year-old boy named Timothy who mysteriously appeared in their garden after they planted a box containing notes about what their ideal child would be like. Unable to have their own child, the couple is heartbroken until the miracle occurs.
Timothy is indeed the stuff of dreams. Leaves that grow from his ankles remove any disbelief about his status as a human creature of fantasy. In keeping with the magic realist genre, questions of believability are pushed aside. What's at stake here is the union of a married couple who, unlike many other such couples, really should be parents. Newcomer CJ Adams is something of a revelation as the little phenomenon that gives Cindy and Jim a crash course in parenting and expectations.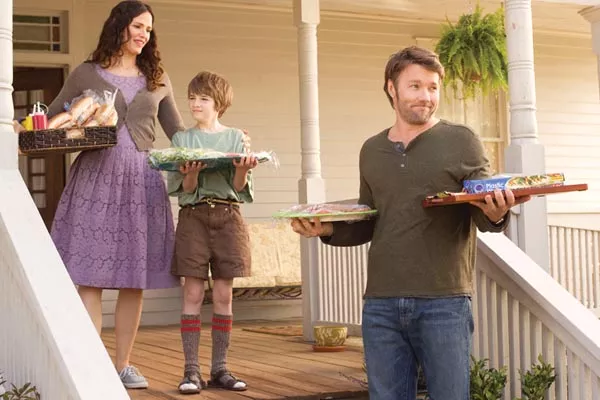 The purpose of the movie is to pique discussion about the reality of raising an adopted child. To that end, the movie achieves its worthy goal.
Rated PG. 95 mins.