COSMOPOLIS — CANNES 2012
Groupthink doesn't live here, critical thought does.
This ad-free website is dedicated to Agnès Varda and to Luis Buñuel.
Get cool rewards when you click on the button to pledge your support through Patreon. Thanks a lot pal! Your kind generosity keeps the reviews coming!
Myopic Dystopia
Cronenberg Slips Up
David Cronenberg's adaption of Don DeLillo's 2003 dystopian novel contains a lot of ideas — too many for the film to sink its teeth into. Set mainly inside the sound-and-bullet-proof limousine/office of billionaire money-mover Eric Packer (Robert Pattinson), the story crawls though Manhattan traffic, which has slowed to a snail's pace due to a presidential motorcade.
28-year-old Packer wants an old-fashioned haircut. Packer's security man Torval (Kevin Duran) runs alongside the vehicle dressed in an obligatory black suit. Packer is a talker. He feeds off conversations he has with a parade of women who enter his strangely public yet private auto sanctuary. His wife of recent weeks, Elise (Sarah Gadon), is not among them. He likes to converse with Elise in diners, where he questions her about when they will have sex again.
"Soon," she promises. Not that it matters much to Packer, since he frequently sates his libido elsewhere. For example: Juliette Binoche's Didi Dancher. Elise complains that her husband "smells of sexual discharge" when the couple dine together. He tells her it's due to his daily medical examination, which, indeed, he has recently undergone. This day's check-up revels he has an asymmetrical prostate. That the punch-line-ready examination takes place in the car while Packer talks dirty to his finance chief Jane (Emily Hampshire) while propped up on his arms. The movie is not without some smirk-inducing humor.
Packer represents the 1%. He is under attack, and he knows it. He is waiting to be killed. Like a serial killer leaving clues he wants to be hunted and killed. To him, "the logical extension of business is murder." He jokes with his chief technology analyst Shiner (Jay Baruchel) to "put a stick of gum in his mouth and not chew it."
Packer sardonically theorizes that rats could be the next unit of currency. The movie wallows in this kind of dry wit until you feel the sand slipping off the paper. This is one of Cronenberg's least plot-driven movies, and that's not a good thing. If these brief lessons in "self-denial" and "social responsibility" are supposed to inform or instruct the audience in any way, they do not.
With its nearly claustrophobic automobile image system, "Cosmopolis" comes across as a play that's been turned into a movie. The esoteric nature of the dialogue feels oh-so Off-Off-Broadway. Cronenberg only gets one opportunity to set free his trademark twitch for sudden violence, but the unprovoked act arrives without reason or logic. The moment — set on a public outdoor nighttime basketball court — seems tilted to justify our suspicions about how ruthless and self-destructive Packer is. It does so in such a clumsy way that it only distances the audience more from a narrative that's already stretched thin.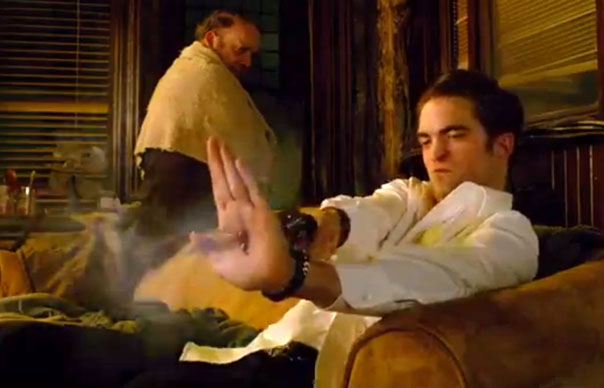 When Packer finally does walk into an actual barbershop for his unnecessary haircut, the barber is an ex-cab driver no more able to cut a head of hair than cut a diamond. The sequence is just one of many narrative dead ends that contribute to an overall sense of futility. Most of the film's supporting characters come and go in glorified cameos. Pattinson's unreliable anti-hero protagonist is the kind of character that will beguile some young audiences who might desire to be just like him — cold, calculating, and wealthy to the point of endless boredom.
If intellectual sarcasm is your thing — hello, college kids — you might like "Cosmopolis." For most audiences, the movie is far too pretentious for its own good.
Rated R. 108 mins.
Groupthink doesn't live here, critical thought does.
This website is dedicated to Agnès Varda and to Luis Buñuel.
Get cool rewards when you click on the button to pledge your support through Patreon.