PARANORMAN
Groupthink doesn't live here, critical thought does.
This ad-free website is dedicated to Agnès Varda and to Luis Buñuel.
Get cool rewards when you click on the button to pledge your support through Patreon. Thanks a lot pal! Your generosity keeps the reviews coming!
Stop-Motion Spooky
Laika Cuts Pixar Down to Size
By Cole Smithey
Fans of Aardman's handcrafted style of animation will find much to enjoy in this wonderfully stylized stop-motion comedy-horror-thriller about a little boy named Norman who sees dead people, or at least their ghosts.
Co-director/writer Chris Butler (storyboard artist for "Corpse Bride" and "Caroline") teams up with Sam Fell (director of "Flushed Away").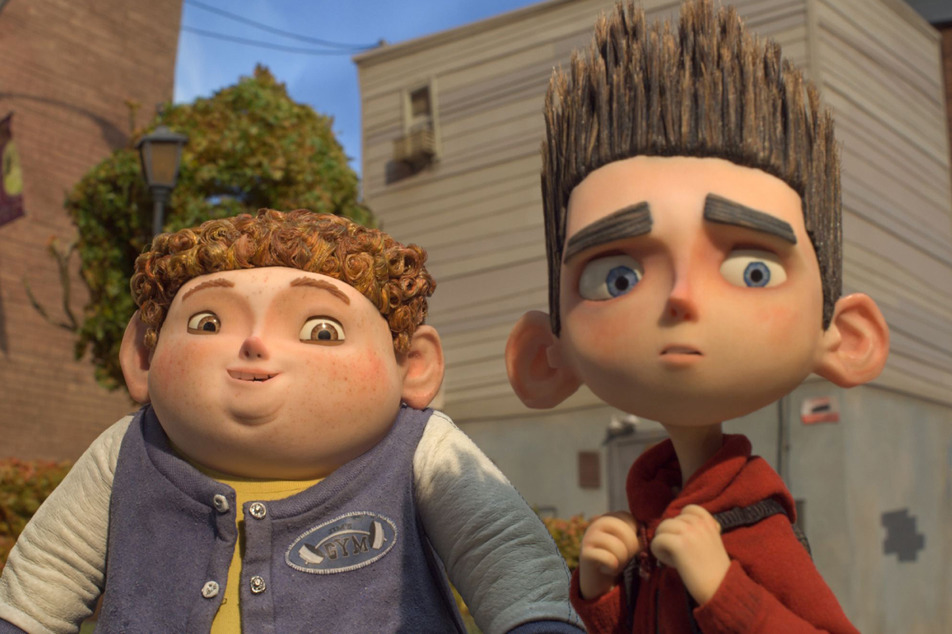 The result is a detail-rich kids' monster movie that strikes a fine balance between comedy, suspense, and goofy horror. You know you're in good hands in the first minute.
Norman Babcock (voiced by Kodi Smit-McPhee) likes to watch gross-out B-horror movies on television while talking to the ghost of his dead grandmother (voiced by the inimitable Elaine Stritch). The movie opens with a televised grindhouse horror-movie parody — complete with scratched up film stock — that delights Norman. Neon-green goopy brain matter comes with the territory. The film's zippy production design (courtesy of Laika production house in Oregon) and off-kilter humor is a riot. The clever intro makes you wish they'd turn the short into its own feature-length movie.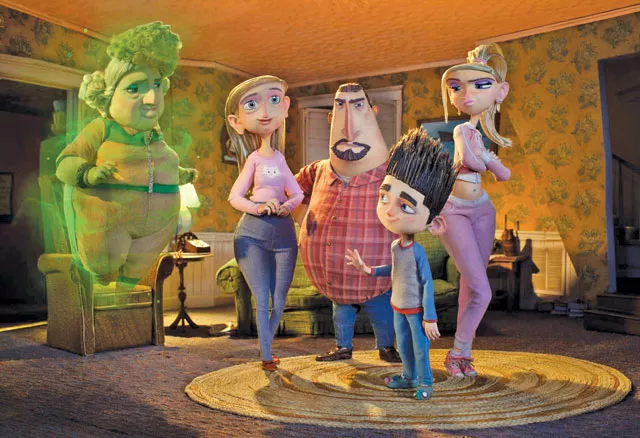 Norman's parents worry about him — dad (Jeff Garlin) more so than mom (Leslie Mann). Everywhere Norman goes in his small New England town of Blithe Hollow, he sees and talks to the ghosts of deceased citizens. Echoes of the 17th century Salem witch trials reverberate. Norman gets bullied at school for his weird behavior, and also due to his unusual appearance that includes hair that sticks straight up in the air. They call him "Ab-Norman." Funny stuff. A rehearsal for a Halloween school play that Norman is in, gives rise to a scene-stealing instructional line reading from Norman's teacher (voiced by Alex Borstein).
His uncle's guffaw-inducing death enables the freshly minted ghost to give Norman his marching orders to eradicate an annual curse by a witch's ghost that promises to bring on a plague of zombies. Norman's ability to talk to the dead isn't such a bad thing after all. Good thing Norman has his chubby pal Neil (Tucker Albrizzi) to come along for the ride. Anna Kendrick wangs it up as Norman's self-obsessed teen sister Courtney. Painting her toenails and dreaming about the ab muscles on her buff classmate Mitch (Casey Affleck) keep Courtney occupied until. Mitch's participation in the story as Neil's older brother holds a not-so-subtle (read adult oriented) character revelation that sends a witty punch line late the story.
"ParaNorman" has its share of jaunty chase sequences to keep kids on the edge of their seats. No matter how many pieces the encroaching zombies break into, their body parts keep on attacking. Expert camera work from cinematographer Tristan Oliver ("Fantastic Mr. Fox") gives the movie plenty of lively movement. An over-the-top climax explodes into a surreal universe of cosmic horror that borders on science fiction. Visually, the movie is a treat. The story is a little lightweight and muddled, but you shouldn't hold that against it. If you liked "Caroline" (2009), the animation here is even better.
Rated PG. 93 mins.