THE GOOD DOCTOR
I haven't been a fan of Orlando Bloom. "The Good Doctor" — a film the British actor executive-produced — has changed that. Bloom gives a keenly nuanced performance as Dr. Martin Blake, an ambitious young resident, in a gripping thriller that swells with suspense. Dr. Blake earns audience sympathy despite his villainous nature.
Professional conflicts with head nurse Theresa (wonderfully played by Taraji P. Henson) don't prevent Dr. Blake from taking a shine to his 18-year-old patient Diane Nixon (Riley Keough). After Diane is treated for a kidney infection and released, her white trash family invites Dr. Blake to dinner at their home with the obvious intention of setting him up with their other daughter Valerie (Sorel Carradine). Needless to say, the good doctor is only interested in Diane. His unconventional methods for getting Diane in his company turn out to be more than a little unsettling.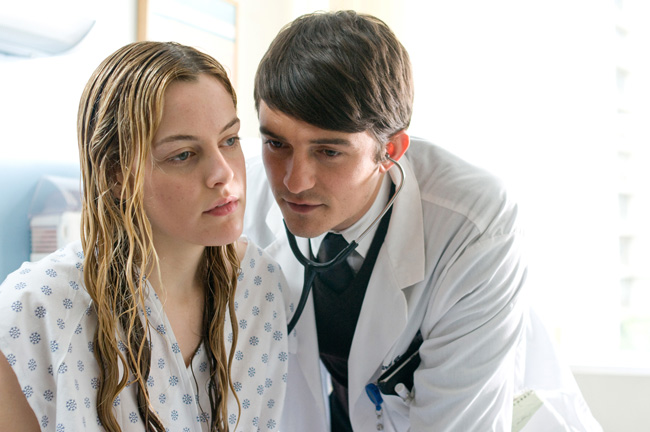 Director Lance Daly knows how to turn up the heat on sequences that will cause audiences to squirm in their seats. Although the film's drab color palate becomes a drone of visual information, "The Good Doctor" is a seriously creepy Euro-styled thriller. Regardless of their position on Obamacare, no one who sees this movie will feel any better about being a hospital patient.
Rated PG-13. 85 mins.
Groupthink doesn't live here, critical thought does.
This website is dedicated to Agnès Varda and to Luis Buñuel.
Get cool rewards when you click on the button to pledge your support through Patreon.