HOW TO SURVIVE A PLAGUE
Certain to become required viewing in a variety of college courses ranging from gay and lesbian studies to political activism to medical classes about pharmaceuticals, David French's engrossing documentary about the activist group Act-Up's role in helping to end the AIDS crisis is the stuff of potent cinema. Utilizing a treasure trove of decades worth of archival videotape shot at Act-Up (AIDS Coalition to Unleash Power) meetings, protests, and discussions the filmmaker interweaves precisely edited interview segments with key contributors to present a historic filmic document of one of history's most successful activist movements.
Banefully indifferent right-wing politicians including then-New York Mayor Ed Koch, former Senator Jesse Helms, and Presidents Ronald Reagan and George H.W. Bush are shown in the harshest of light for their hateful attitudes toward the gay community, which resulted in the deaths of many thousands, if not millions, of people. The Catholic Church also takes a hit for its notorious stance against the gay community.
Act-Up spokespeople including Peter Staley, Mark Harrington, Bob Rafsky, and playwright Larry Kramer are shown as articulate and effective in various public forums — including national television programs such as "Crossfire" – to educate, and attract support for their cause to alter the way the Food and Drug Administration tested and delivered medicine to AIDS patients.
The involvement of retired chemist Iris Long Ph.D inspired Act-Up members to become well versed in the vocabulary of process of scientific research in order to bring together the necessary elements that eventually brought the disease under control.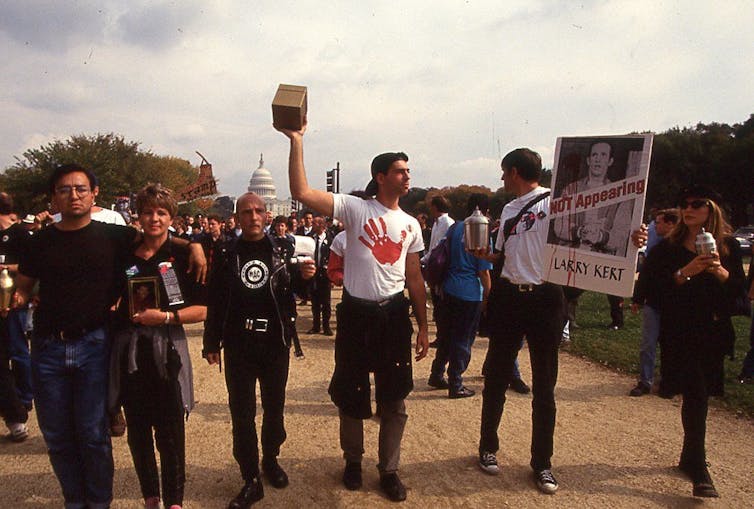 Co-written by David French, T. Woody Richman, and Tyler H. Walk, "How to Survive a Plague" thoroughly examines the history of the AIDS epidemic through the evolution of dedicated members of an activist group capable of adapting to the lessons it learned along the way.
Not Rated. 109 mins.
Groupthink doesn't live here, critical thought does.
This website is dedicated to Agnès Varda and to Luis Buñuel.
Get cool rewards when you click on the button to pledge your support through Patreon.