PITCH PERFECT
Girl Power
Anna Kendrick and Rebel Wilson Save A Cappella Comedy
Pitch Perfect
By Cole Smithey
Essentially a glorified episode of the television show "Glee," "Pitch Perfect" is a spotty coming-of-age comedy that only marginally pays off on its promise of delivering harmonized vocal virtuosity.
Barden University freshman Beca (played by current it-girl Anna Kendrick) is an aspiring musical composer with great pipes. Beca knows her pop music hits. She makes mean mixes on her computer and presents them for airplay on the college radio station. Petite Beca joins the school's all-girl a cappella group The Barden Bellas in the hopes of upgrading the group's less-than-modern song selection to claim victory at the upcoming national a cappella competition. A talented all-boys rival team — The Treblemakers — stands in their way. A hint of dweeb romance peeks between Beca and singing rival Jesse (Skylar Astin), as an addendum to the film's overused competition plot device. Note to Hollywood: no more dance-offs or sing-offs, or anything-offs — ever again.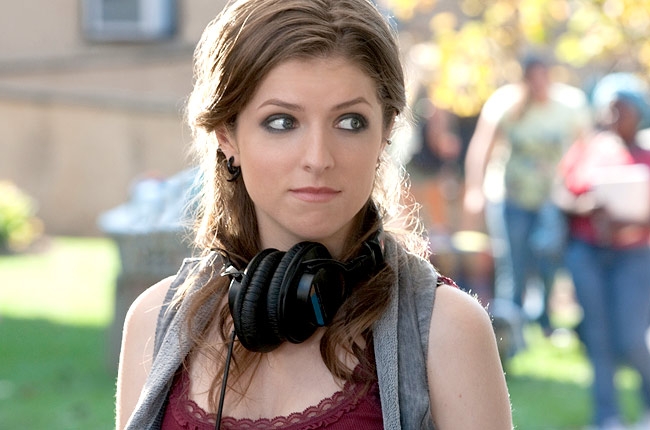 Anna Kendrick reinforces her reputation as a cinematic force of nature, performing impressive singing duties against a variety of musical styles. An uncomfortable dorm shower-singing scene hints at potentially bawdier comic material that ended up on the cutting room floor. The film's blithe jibes of sexual innuendo and barf-spouting gags percolate through the Bella's arsenal of quirky character traits.
Rebel Wilson's hilarious Fat Amy disarms any would-be detractors by beating them to the punch. She introduces herself as "Fat Amy," rather than tolerate any backbiting insults regarding her plump body size. The ploy works. Wilson's sarcastic British accent comes to comic advantage in more than a few of Fat Amy's well-placed quips about such things as her naturally endowed ability for washing cars – "squeak." Hana Mae Lee's mousy Lily speaks and sings in a tiny voice through which she sometimes discloses horrific facts about her self — "she ate her twin sister in the womb." The asymmetrical humor works all the better because you have to be ready for it when it comes.
Choreographed bouts of a cappella versions of songs such as "The Sign" and "Right Round" come and go like commercial breaks. The highlight of the melodious sequences comes midway through the movie when Barden's rival a cappella teams square off for an impromptu "riff-off" inside the acoustically resonate surroundings of an empty swimming pool. A call for "80s hits" sets off a re-harmonized medley of songs like Toni Basil's "Mickey," Madonna's obligatory "Like a Virgin," and Pat Benatar's "Hit Me With Your Best Shot." The stakes get upped when a call for "songs about sex" inspires our college-age singers to indulge in pulpy versions of "Let's Talk About Sex" and "Feels Like the First Time."
An unmistakable similarity to the music used in the recent "Rock of Ages" does "Pitch Perfect" no favors. When the movie finally slides into its ostensibly acoustic a cappella climax, the obvious addition of bass and drums deflates some of the scene's musical magic. Even though "Pitch Perfect" never goes far enough with the complexity of its musical compositions, there are enough peppy song versions and laugh-inciting moments to keep you entertained.
Rated PG-13. 112 mins.
Groupthink doesn't live here, critical thought does.
This website is dedicated to Agnès Varda and to Luis Buñuel.
Get cool rewards when you click on the button to pledge your support through Patreon.