THE EYE OF THE STORM
Screenwriter Judy Morris's meandering adaptation of Patrick White's novel "Flaws in the Grass" — about an adult brother's and sister's 1972 return to their Sydney, Australian family home to tie up loose ends surrounding their aging mother's decline — can't keep this high caliber cast from making the movie at least moderately entertaining.
Charlotte Rampling finally lets her age show as Elizabeth Hunter, an elderly high-maintenance matriarch who oversees her loyal staff of caregivers from the comfort of her majestic bedroom inside her voluminous mansion. Elizabeth has a knack for squandering money, of which she has plenty. Her narcissistic son Sir Basil Hunter (confidently played by Geoffrey Rush) is a thespian of the British stage. Basil wears his many layers of affectation on his sleeve. So much a dandy that his behavior makes him a borderline Queen, Basil nevertheless prefers to chase after young women in short skirts. One of film's several tawdry subplots involves a humorous liaison between Basil and his mother's nurse Flora (humorously played by director Fred Schepisi's daughter Alexandra).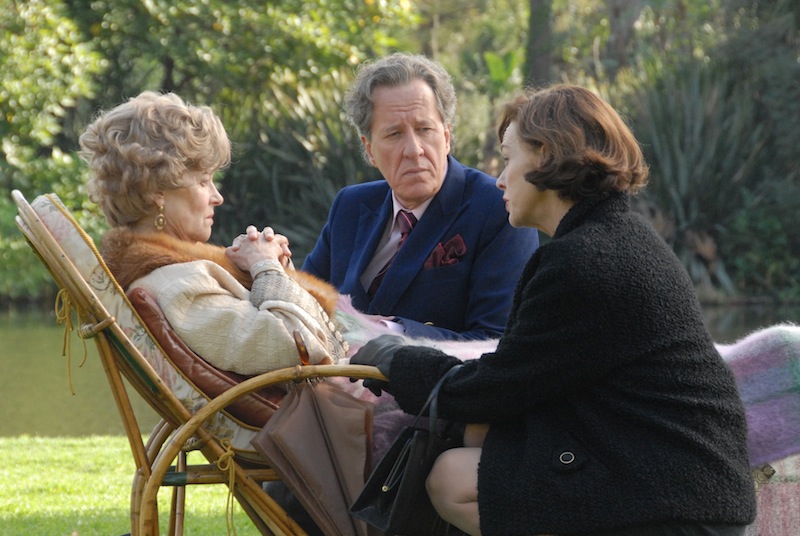 Basil's financially destitute sister Dorothy, aka the Princess de Lascabanes (Judy Davis), is far less comfortable in her own skin. Unlucky at love, Dorothy arrives from France with more emotional baggage than you could fit in the hull of the Titanic. The "Princess" title is all Dorothy retains from her failed marriage to a minor figure of French Nobility. Both siblings need their mom's money, but Dorothy needs it more.
Awkward flashback sequences fill in some of the narrative, while incongruous camp sequences provide a bizarre subtext. One recurring fetishistic episode involves Elizabeth's Holocaust-survivor cook Lotte (Helen Morse) getting tarted up to perform a Weimar cabaret song for her demanding boss's obscene pleasure. The scenes are reminiscent of Charlotte Rampling's famous cabaret-styled performance in Lillana Cavani's "The Night Porter."
Still, the forward action involves Elizabeth preparing her will with the help of her longtime accountant Arnold Wyburd (John Gaden), with whom she likely had adulterous relations — a fact she happily shares with Wyburd's wife over tea. However scandalous such revelations regarding the upper class of '60s-era Sydney might have seemed when White's novel appeared in 1973, the material is so tame by modern standards that it barely approaches soap opera status. There are three main reasons to see "The Eye of the Storm." Their names are Charlotte Rampling, Geoffrey Rush, and Judy Davis.
Not Rated. 114 mins.
Groupthink doesn't live here, critical thought does.
This website is dedicated to Agnès Varda and to Luis Buñuel.
Get cool rewards when you click on the button to pledge your support through Patreon.