THIS MUST BE THE PLACE
Goth Penn
Sean Penn Goes Out On a Limb
"This Must Be the Place" is a canny model of life-affirming cinema. Italian auteur Paolo Sorrentino ("Il Divo") continues to make his mark as a unique visionary in global cinema with a provocative English-language think piece starring Sean Penn. Taking inspiration from a Talking Heads song (see the film's title), Sorrentino makes abstruse generational connections between such topics as the holocaust, the impact of rock music, and the importance of familial bonds. Sorrentino's sense of ironic displacement counterintuitively breathes with integrity. The filmmaker's cinematic voice is copasetic to David Byrne's distinctive style of songwriting. Byrne's musical score for the film provides a haunting aural background.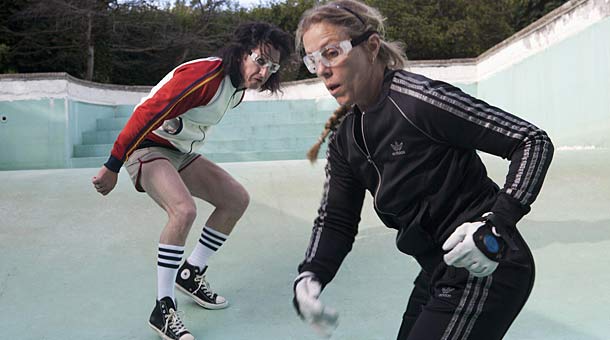 Penn's character Cheyenne is a retired '80s-era Goth rocker à la Robert Smith living in a Dublin mansion with his grounded wife Jane (Frances McDormand). The neurotic Cheyenne speaks in an adenoidal childlike voice. He still wears his signature style: teased-out fright wig hair, eyeliner, lipstick, and a foundation of powder on his face. Sean Penn's transformation is complete. Cheyenne is at once frail yet tough. His mousey demeanor doesn't prevent him from keeping a hardscrabble Dublin womanizer as a pal. Their discussions about women allow for a sense of their ever-growing maturity as men. Cheyenne's outward appearance might be dated, but his development as a fully engaged person is ongoing.
Significantly, Cheyenne's relationship with Jane runs deep. A scene of the couple playing handball in their empty swimming pool, exhibits Cheyenne's gawky athleticism. With a wink, Jane discloses that she sometimes lets him win. Sorrentino justly incorporates a defining sex scene that tells more about the couple's union than a half-dozen Hollywood lovemaking scenes put together. Like real married couples, Cheyenne and Jane talk with the act is over.
The death of Cheyenne's Jewish father in the States sends our man-child protagonist on an American odyssey of self-discovery. Stops in New York, Michigan, New Mexico and Utah make up Sorrentino's unconventional road movie. Cheyenne, we learn, fell out of contact with his dad 30 years earlier as part of a standard-issue bout of rebellion and alienation. His success in music backfired on him when two young brothers committed suicide — an act they blamed on one of Cheyenne's melancholy songs. As it turns out, Cheyenne's father — a survivor of Auschwitz — spent every waking hour of his later life hunting for the guard who humiliated him when he was imprisoned. Cheyenne picks up where his father left off to track down the Nazi war criminal.
Paolo Sorrentino works with surfaces — both human and synthetic. His eye for composition—as executed by cinematographer Luca Bigazzi—is formal, but always on the move. Cheyenne's make-up disguise is a reflection of the artifice that makes up the public and private spaces he anachronistically inhabits. Sorrentino's sincere blend of curiosity and showmanship allows the film to flow with a gentle comic tone in spite of the serious nature of Cheyenne's mission. "This Must Be the Place" is as much a piece of carefully composed music as it is a movie. Dig the mood and let it take you away.
Not Rated. 118 mins.
Groupthink doesn't live here, critical thought does.
This website is dedicated to Agnès Varda and to Luis Buñuel.
Get cool rewards when you click on the button to pledge your support through Patreon.