CALIFORNIA SOLO
Director Marshall Lewy's unabashed combination of character-study and social commentary gets hung up in nuance, but oh what emotional colors seep out. Robert Carlyle delivers the goods. His former '90s era Britpop rocker character Lachlan MacAldonich is a fully fleshed-out creation. One of the U.K.'s unsung character actors, Carlyle sinks his teeth in, delivering a truly remarkable performance.
Tormented by the death of his bandmate/brother, the expat Scotsman works on an organic farm in Southern California. Lachlan broadcasts a weekly music podcast program where he highlights such musical geniuses as Marc Bolan while drowning his sorrows in one bottle of whiskey after another. A driving-under-the-influence prosecution threatens to get Lachlan extradited back to Scotland unless the attorney he can barely afford is able to pull off some legal magic.
To the filmmaker's credit, writer-director Lewy elegantly weaves in the illegal immigrant aspect of the story, so it resonates with an intended subtext--America's cynically violent and exploitative policies toward its undocumented underclass.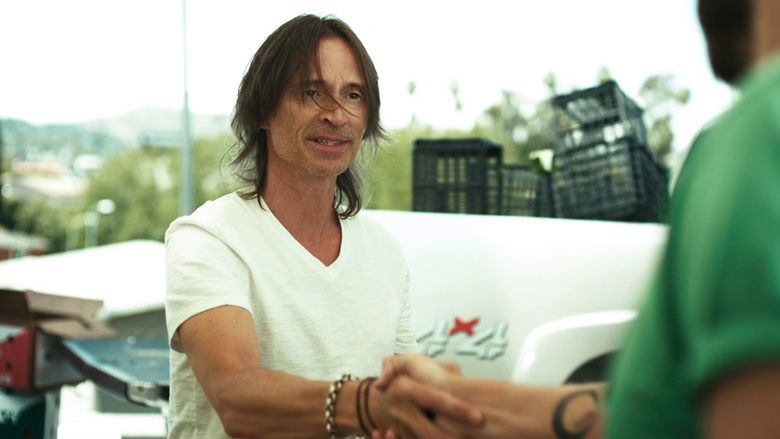 The film flails when it profers an aborted romantic dalliance between Lachlan and Beau (Alexia Rasmussen), a fickle local girl. This dead-end subplot detracts from the story's arc, which crashes down in a rushed third act ending. Otherwise "California Solo" is a subtle and convincing independent drama that features one of most understated performances of the year.
Not Rated. 94 mins.
Groupthink doesn't live here, critical thought does.
This website is dedicated to Agnès Varda and to Luis Buñuel.
Get cool rewards when you click on the button to pledge your support through Patreon.