STARLET
Co-writer/director Sean Baker's slice-of-life search for humanitarian values in L.A.'s culture-vacuum finds resonance in the San Fernando Valley, an area famous for producing porn. Mariel Hemingway's daughter Dree carries the story with an artless portrayal of a rudderless female youth.
Fresh off the plane from Florida, 21-year-old Jane (Hemingway) lives in a two-story house with her friend Melissa (Stella Maeve), and Melissa's drug dealing pimp Mikey (James Ransone). Jane and Melissa periodically work as porn actresses for the same production company.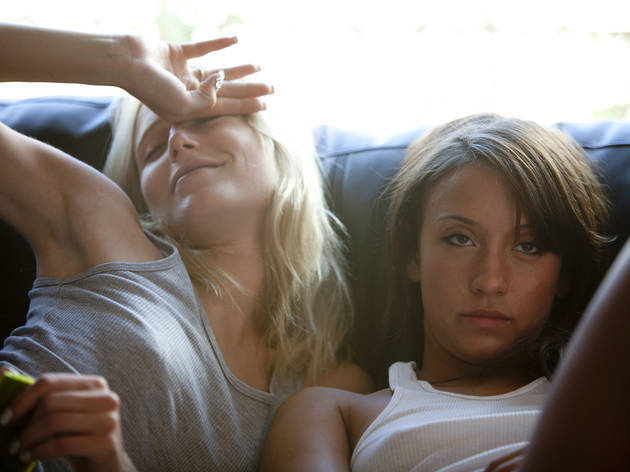 The filmmakers temper any character judgments the audience might make about porn as a vocation, with an arsenal of diverting narrative touches. Still, when we finally witness Jane working at her chosen occupation in graphic NC-17 clarity, the effect is surprising. "Starlet" is yet another step toward the inevitable fusion of mainstream cinema and hardcore pornography.
Jane takes her constant companion — a male Chihuahua named Starlet — with her to a yard sale. She buys an old thermos she plans on turning into a vase. She doesn't even know what a "thermos" is, and doesn't care.
Cinematographer Radium Cheung alternates his documentary-styled compositions between an intimate proximity, and a deeper distance of voyeuristic surveillance.
Jane's discovery of $10,000 in rubber-banded rolls of $100 bills inside the thermos reveals the complexity of her character. There is much more to Jane than meets the eye.
Jane pays another visit to Sadie (Besedka Johnson), the woman she purchased the thermos from, but Sadie quickly dismisses her. Sadie imagines Jane wants a refund. However, nothing will stop Jane from befriending Sadie, if only to satisfy her own curiosity about the source of her recent windfall. More importantly Jane needs a friend, and she recognizes that Sadie too needs a companion to help her.
"Starlet" is a transparent bellwether of American society. Innocence is a shattered illusion, and emotions are a useless devotion. All youth is wasted.
Not Rated. 105 mins. 
Groupthink doesn't live here, critical thought does.
This website is dedicated to Agnès Varda and to Luis Buñuel.
Get cool rewards when you click on the button to pledge your support through Patreon.