THE BAY — THE NEW YORK FILM FESTIVAL 2012
Groupthink doesn't live here, critical thought does.
This ad-free website is dedicated to Agnès Varda and to Luis Buñuel.
Get cool rewards when you click on the button to pledge your support through Patreon. Thanks a lot pal! Your generosity keeps the reviews coming!
Leave it to master-filmmaker Barry Levinson ("Diner") to show just what is possible with the found-footage horror trope. Levinson uses the genre's intrinsic mixed medium formats to his strength.
Every direct-to-camera monologue or cell-phone-filmed grotesque discovery carries a palpable sense of real-life dread. The audience becomes complicit in the fast-moving drama.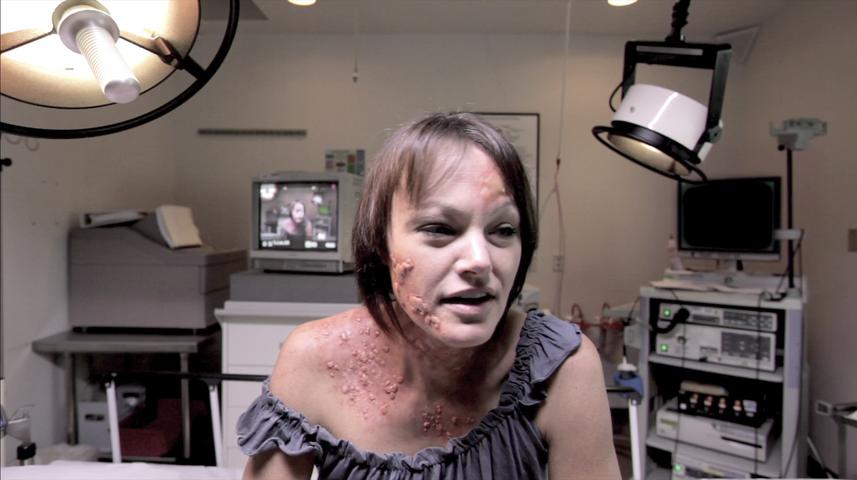 A plague comes to the small Chesapeake Bay town of Claridge, Maryland, which sits near a chicken factory that constantly pumps out toxic sewage into its waters. A big fish die-off rots an entire shoreline. The Bay is full of "marine dead zones" being inspected by a pair of intrepid oceanographers. Their footage reveals the tongue-eating isopod that's attacking the area's fish — tongue first.
Hundreds of July 4th merrymakers are stricken with a lesion-boiling reaction to a flesh-eating bacteria. Corpses pile up as we get a novelistic vantage point on seductive narrative strands that weave the fact-based storyline together. A talented cast of "non-actors" plays perfectly to Levinson's cinema vérité styled atmosphere. If anything, the effect of the movie is hyper-real.
Much more so than "Contagion," "The Bay" connects with our communal-subconscious regarding devastating "natural" disasters. At a time in history when Mother Nature is rejecting mankind for its Industrial Revolution, "The Bay" comes across as prescient. Hopefully, none of its audience will ever experience the kind of suffering the characters do in "The Bay." They will however, be left to wonder about it.
Rated R. 84 mins.