THE CENTRAL PARK FIVE
Groupthink doesn't live here, critical thought does.
This ad-free website is dedicated to Agnès Varda and to Luis Buñuel.
Get cool rewards when you click on the button to pledge your support through Patreon. Thanks a lot pal! Your kind generosity keeps the reviews coming!
Seeking Justice
Ken Burns Takes One for the Team

It's tempting to think that gross miscarriages of justice are less likely to occur in big cities, where police and judicial oversight are theoretically more prevalent than small insular towns — like Memphis for example. Not so. Witness the sordid handling of the notorious "Central Park Jogger" case. An April 19, 1989 brutal beating and rape of a twentysomething white woman led to the railroading of five teenagers, all members of minority groups, whose convictions were eventually vacated — but only after serving more than 41 combined years in prison.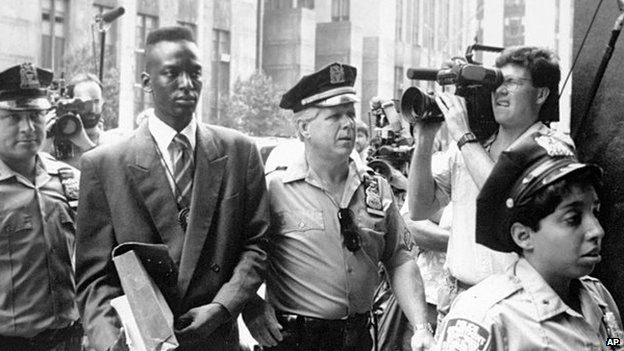 2012 has been an outstanding year for documentaries. Ken Burns's reputation as one of our era's finest documentarians informs the film's airtight veracity. Burns made "The Central Park Five" with his daughter Sarah and her filmmaker husband David McMahon, a frequent contributor to Burns's films. No effort is spared to expose the misconduct and complicity of New York City police detectives, prosecuting attorneys — you'll never buy another Linda Fairstein novel — media outlets, political figures, and such racist fringe celebs as Donald Trump. Careers were made; justice be damned.
Burns eschews narration, letting the story speak for itself. Precise editing allows the story to seamlessly unfold. Wide-ranging individual interviews with the five wrongly accused defendants — now in their thirties — reveal likable personalities and the scars of the injustice they endured. News footage and press clippings show how a tidal wave of public hate was pointed at the five accused boys. Former New York City Mayor Koch dubbed the event "the crime of the century." He should have called it the "railroading of the decade."
The District Attorney's case was built on videotaped confessions extracted from the boys — none of whom had ever met — after more than 24 hours of interrogation. Intimidated into giving up their right to consult an attorney, the boys riffed off of information fed to them by the police — creating fiction from fiction. Burns's inclusion of the boys' videotaped confessions speaks volumes about the police misconduct as it was performed. Police promised each of the anxious boys they could go home if they told them what they wanted to hear. One clear message from the film is that no arrested person should ever give up his or her right to remain silent, or to have an attorney present during questioning. It doesn't take much to extrapolate that this type of police misconduct goes on every minute of every day in police precincts all over America.
Clear-eyed commentary from such reliable sources as New York Times reporter Jim Dwyer describes the feeding frenzy atmosphere that painted the five teens as rapists and killers while the real attacker, Matias Reyes, was left free to continue his rampage of attacks across Manhattan's Upper East Side. The city's mishandling of the Central Park Jogger case allowed Reyes to attack five other women — one of whom who died— before he was finally arrested on August 5, 1989. Reyes's eventual confession led to a positive DNA match with evidence found at the crime scene.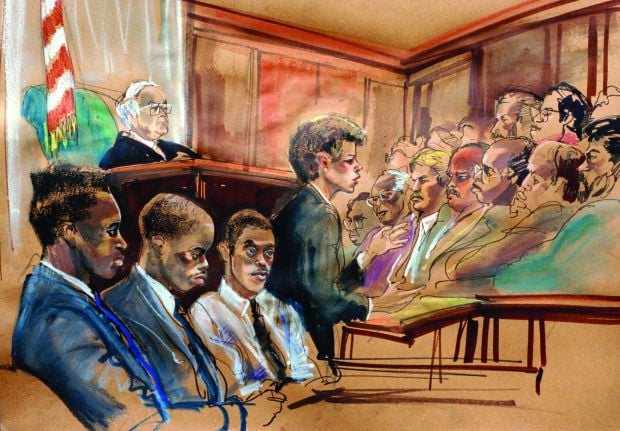 The city of New York still has not settled the case to make the wrongfully convicted men whole. Each man is suing the city for $50 million in damages. In Ken Burns's words, "After 13 years of justice denied – which everyone agrees on — there's suddenly now justice delayed, which we know is just justice denied."
Justice, as many wrongly accused Americans can attest, is not what we do here in the trademarked "land of the free."  
Not Rated. 120 mins.