UNIVERSAL SOLDIER: DAY OF RECKONING
Groupthink doesn't live here, critical thought does.
This ad-free website is dedicated to Agnès Varda and to Luis Buñuel.
Get cool rewards when you click on the button to pledge your support through Patreon. Thanks a lot pal! Your kind generosity keeps the reviews coming!
Incomprehensible. If you are not familiar with the "Universal Soldier" franchise, which began in 1992, nothing in this fourth installment will make much sense, if any. And even if you are a fully committed fan of the series, "Universal Soldier: Day of Reckoning" will register as nothing more than a guilty pleasure — and probably much less. Even then, that's assuming you derive amusement from nearly two hours of unsupported sequences of outlandish violence.
The amiably campy sci-fi groundwork laid out by director Roland Emmerich for the original got squandered by the two straight-to-video dogs that followed — "Universal Soldier: The Return" (1999) and "Universal Soldier: Regeneration" (2009). Here the ongoing saga of genetically modified super-soldiers hits its Waterloo with "Day of Reckoning," a horror-bent piece of exploitation cinema without a strand of humor in its disastrous make-up.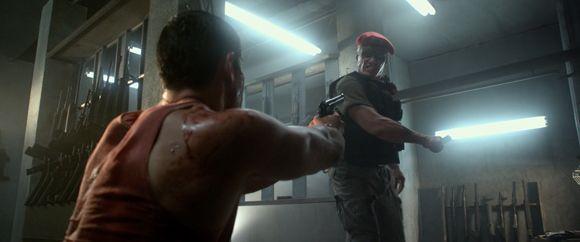 Looking like Ben Affleck's evil no-talent twin, Scott Adkins plays his mechanically charged character John like an animatronic mannequin. After witnessing his wife and daughter being brutally murdered by masked assassins in his living room, John awakens in a hospital room sick for revenge. This time, original "Universal Soldier" hero Jean-Claude Van Damme is one of the killers — get it? Like in "Terminator 2"! when Arnold comes back as a good cyb…never mind. This time the Belgian action star is sporting a baldhead, which causes him to mimic Marlon Brando's Colonel Kurtz from "Apocalypse Now." Indeed, the film's mano a mano climax between John and Van Damme's Luc Deveraux echoes the showdown between Captain Willard and Colonel Kurtz in Coppola's 1979 masterpiece.
Dolph Lundgren makes an obligatory appearance reenergizing his franchise role as Andrew Scott, a red-beret-wearing cult leader baddie whose weapon of choice is a machete. Gory fight scenes involving an array of weapons and random objects ensue. An intense car chase scene emulates the adrenaline rush you might experience in a real movie, which this isn't. Director John Hyams's competent direction can't compensate for the film's by-committee travesty of a script. Waste your time and money if you must.
Rated R. 114 mins.