ATLANTIC CITY — CLASSIC FILM PICK
"Atlantic City" is a poignant drama situated neatly between French director Louis Malle's racy American debut "Pretty Baby" (1978) and his groundbreaking talk-fest "My Dinner With Andre" (1981).
An illustrious career in France working on a wide range of films — from the Cannes and Oscar-winning Jacques Cousteau documentary "Le Monde Du Silence" (1956) and his daring Miles Davis-scored crime thriller "Elevator to the Gallows" to his obscenity-law-baiting romantic drama "The Lovers" (1958), Malle won over devotees of the French New Wave even if he was not considered a direct contributor to the movement.
Under pressure from financiers to complete a film by the end of 1979, Malle took a suggestion from his girlfriend at the time (Susan Sarandon) to partner with playwright John Guare ("The House of Blue Leaves") to adapt Guare's story about societal dislocation, for which Guare would write the screenplay.
Crafted around the crumbling Atlantic City of the late 70's, the film opens on the controlled demolition of a faded hotel that takes up an entire city block. A generation of economic prosperity and well-established social mores is disintegrating, or being systematically destroyed by corporate interests. Elderly locals eke out a living on bleak streets that have deteriorated from affluence to squalor.
Burt Lancaster plays Lou, an aging relic of a fading era. His dignified persona follows the template of the patriarchal characters that Lancaster played in Luchino Visconti's "The Leopard" and in Bernardo Bertolucci's "1900." Lou is a smalltime bookmaker and caretaker of his elderly downstairs neighbor Grace (Kate Reid). Nonetheless, Lou carries himself with an air of distinction. Lou fancies himself as a retired gigolo gangster who once rubbed shoulders with the likes of Myer Lansky and Bugsy Siegel.
With his well-groomed gray hair and mustache, Lou lives in a once opulent apartment building that soon too will be demolished. He peeks through the window on his next-door neighbor Sally (Sarandon), a Canadian transplant, to observe her nightly cleansing ritual over the kitchen sink. When she isn't attending classes in blackjack dealing under the personalized tutelage of Michel Piccoli's worldly character Joseph, Sally works at a casino oyster bar.
Upon returning to her barely furnished apartment, she cuts lemons that she then squeezes over her arms and bare breasts in order to get rid of the fish smell that hangs on her like a curse. The lemons come to represent an unforgettable thematic metaphor of cleansing reversal for both Lou and Sally.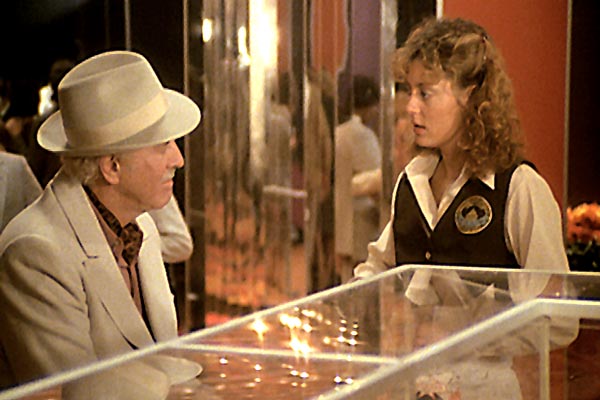 Sally's ex-husband Dave has impregnated Chrissie, the hippie chic he left Sally to be with. Having hitchhiked with Chrissie from Canada, Dave takes advantage of a situation to intercept a cocaine deal in Philadelphia. Chrissie and Dave show up at Sally's doorstep looking for a place to stay while he surreptitiously tries to locate a buyer for the stolen coke. A chance meeting puts Lou in Dave's trust, and the cocaine in Lou's possession before the drug's proper owners do away with Dave.
Enabled by his ability to prepare and unload the coke for wads of cash, Lou reinvents himself as the snappily dressed gangster he always wanted to be. He takes Sally under his wing with an offer to protect her. She sees through his disguise but takes the bait because, at heart, she appreciates the gesture. Sally also recognizes an opportunity when she sees one.
"Atlantic City" is full of compact social editorializing that elevates its seemingly run-of-the-mill trappings into something sublime by way of its emotionally dependent characters. The depth of this drama lies in how genuinely you feel for these individuals.
Rated R. 104 mins. 
Groupthink doesn't live here, critical thought does.
This website is dedicated to Agnès Varda and to Luis Buñuel.
Get cool rewards when you click on the button to pledge your support through Patreon.