Groupthink doesn't live here, critical thought does. This ad-free website is dedicated to Agnès Varda and to Luis Buñuel.
Get cool rewards when you click on the button to pledge your support through Patreon.
Thanks a lot acorns!
Your kind generosity keeps the reviews coming!
Search and Destroy Comedy
Stiller and Company Launch More Than F-Bombs
By Cole Smithey
A heady blend of outrageous Grand Guignol comic set pieces and fast-twitch dialogue, "Tropic Thunder" walks a fine line of dangerous satire that straddles gallows humor and bawdy pop-culture inflected slapstick. In the midst of filming an "Apocalypse Now"-styled movie an overzealous crew squander a multi-million dollar explosion thereby forcing director Damien Cockburn (Steve Coogan) to plant cameras and explosives in an area of a Southeast Asian jungle for the cast to perform a low-budget reality version of the script.
Action-movie-has-been Tugg Speedman (Ben Stiller), goofball comedy star/heroin addict Jeff Portnoy (Jack Black), Aussie method actor Kirk Lazarus (Robert Downey Jr.), hip-hop pretty boy Alpa Chino (Brandon T. Jackson) and nerdy Kevin Sandusky (Jay Baruchel) make up the cast of war movie stereotypes. Aside from some scene-stealing by Tom Cruise as a bald and fat Hollywood producer prone to cursing a blue streak, Robert Downey Jr. owns the movie with his comically layered performance as an actor who underwent skin pigmentation treatment in order to play an African American soldier. Downey's performance will go down in cinema history as one of the most ridiculous yet comically effective experiments of the decade.
The movie opens with a series of hilarious parody commercials that identify each of the main "actors" involved in the film-inside-the-film. An Alpa Chino blurb for an energy drink called "Booty Sweat" goes so far into hip-hop culture's one-track obsession for poontang as to be cathartic. A Tugg Speedman segment for his flagging "Scorcher" action movie franchise points up the futility of action flick sequels, and Jeff Portnoy's fat/fart comedy movie series "Fatties" pokes in the ribs of Mike Myers and Eddie Murphy for their efforts in that area of humor.
But it's the sham trailer for Kirk Lazarus' gay-themed movie "Satan's Alley," about lust between priests in the Middle Ages, that induces howls of laughter. Tobey Maguire does cameo honors as the object of desire for Lazarus' character, and narration by movie trailer narration specialist Don LaFontaine provides added punch to the longing stares of passion.
The satire's more obvious points of departure comes from movies like "Full Metal Jacket," "Rambo," and to some degree Robert Altman's "The Player." An ironic use of archetypal war related rock songs shoots daggers at the portentous syrup of Buffalo Springfield's "For What It's Worth" that posits "There's something happening here" as an objective view of a militizia-enforced society at war with itself. The outdated effect of the song is transmogrified into an irreverent post-modern joke.
It's a movie about the making of a war movie during an era when all bow at the altar of pop culture celebrity, making interaction between the actors hinge on experiences that are already thrice removed from reality. The brilliance of "Thunder's" lampoonery comes across in its deeply woven threads of self-referencing character actors and deceptively offhand narrative touches that combine to form a perfect storm of comic ideas. A finely tooled supporting performance from Nick Nolte as the narcissistic Viet Nam vet on whose autobiographical book the sub-movie is based, bestows a degree of cynicism that effortlessly matches the American media's abysmal condition.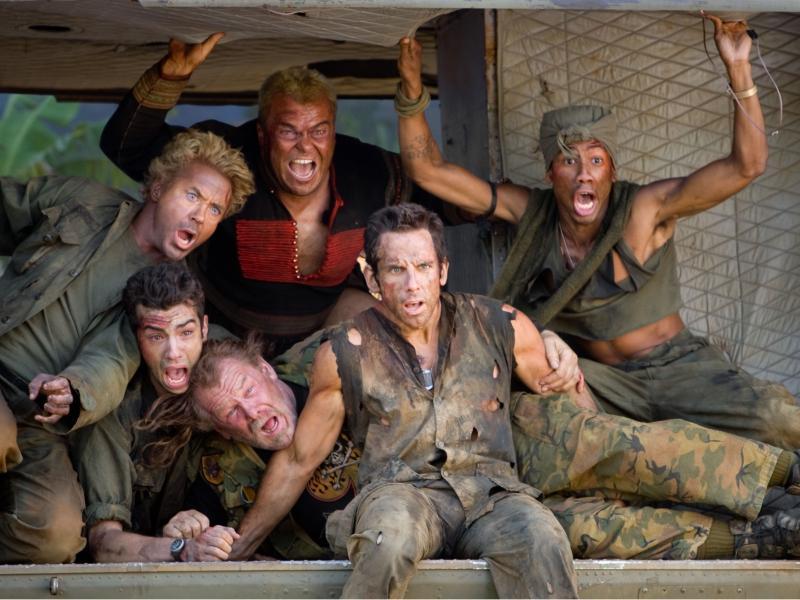 The story gets muddled as our team of impromptu soldiers attempt to rescue Tugg Speedman from his incarceration at the hand of a group of heroin purveyors led by a 12-year-old tyrant named Tran (Brandon Soo Hoo). Speedman is reduced to recreating scenes for his captors from his movie "Simple Jack," in which he played a buck-toothed retarded man. Kurk's reprimand to Tugg for going "full retard" in a movie as a taboo that he should have known better than commit, arrives with examples from "Rain Man," "Forest Gump," and "I Am Sam." Kurt's insider knowledge about acting rules and styles throws a bravura wink at the profession that's wrapped up in the being of Tom Cruise's incarnation as Hollywood mogul Les Grossman.

The movie wraps up with Cruise doing a hip-hop-styled dance to T.I's "U Don't Know Me" that contrasts darkly to his famous "Risky Business" underwear jig. It's a lasting moment of sheer rebellion that puts a bow on "Tropic Thunder" as a comedy intent on searching and destroying mediocrity. It's a movie that knows what it's up against.
(Paramount) Rated R. 106 mins.