The pornographic "Love" is a 3D sexploitation movie made by a filmmaker unaware of the genre that he's working in. Noe, the genius behind such groundbreaking examples of provocative social satire as "I Stand Alone" and "Irreversible," has made a film so sophomoric that it boggles the mind.
It is amazing that this dross came from the same person who created "Enter the Void," one of the most visually and viscerally challenging films of the last 20 years. (That movie is currently streaming on Netflix.)


Marketed as Noe's supposed dream project since his days in film school, the "semi-autobiographical" "Love" is meant to display the reality of "sentimental sensuality" via "blood, tears, and cum."
Semen is by far the most plentiful of the three fluids shown on, and off-screen, when you consider the graphic bit in which Noe takes obvious advantage of the 3D process to break the proscenium window with a load of gooey spunk. I get it: this single image is enough provocation to elevate "Love" to cult status out of the gate. So be it.
Featureless no-name actor Karl Glusman plays the director's younger alter ego Murphy, an always-horny American studying filmmaking in Paris. Murphy (yes, "Murphy's law" is the trite allusion that Noe is compelled to spell out in block letters) is a miserable soul whose passion for cinema means that he wears an olive-green Army jacket just like the one Robert De Niro wore as Travis Bickle in "Taxi Driver." Posters from such divisive films as Pier Paolo Pasolini's "Salo" and "Andy Warhol's Frankenstein" adorn Murphy's small Parisian pad, which he shares with Omi (Klara Kristin), the mother of his son Gaspar (yes, really), courtesy of a broken condom.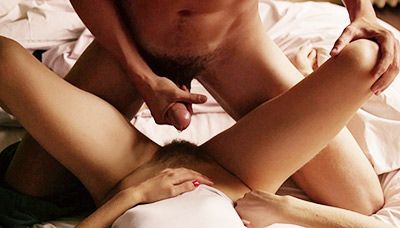 Not only is there not a single empathetic character in the movie, but the ostensibly character-defining, formally explicit sex acts that Noe films (primarily from above in a pictorial framing style), illuminate fewer aspects of personality traits than you would find in a typical sample of homemade porn.
"Love" premiered at Cannes (2015), a festival certain to include at least one salacious picture per year. In 2003, Vincent Gallo's "The Brown Bunny" sent critics groaning over its gratuitous oral sex scene between Chloe Sevigny and Gallo. "Brown Bunny" certainly isn't any better than "Love," but it was mercifully shorter at 93 minutes.
"Love's" arduous running time is 130 interminable minutes. Another difference is that no one expected much from Vincent Gallo as a filmmaker, who had only made one film ("Buffalo 66") before "Brown Bunny." The situation is considerably different for Noe, who is likely to discover that even his staunchest supporters will find little to admire, much less love, in a film that feels more like a student film project than a movie by an experienced filmmaker.
"Love" represents the one of the biggest examples of regression for any filmmaker in recent history.
What a mess.
Not Rated. 130 mins.
Zero Stars
Groupthink doesn't live here, critical thought does.
This website is dedicated to Agnès Varda and to Luis Buñuel.
Get cool rewards when you click on the button to pledge your support through Patreon.