Slicing & Dicing
Slasher Horror Feigns Reinvention
By Cole Smithey
Back in 2005 Renny Harlin directed a winning little slice-'em-and-dice-'em slasher flick that upped the stakes on James Mangold's "Identity" (2003), itself an average addition to the subgenre. I mention this because, for all the unwarranted praise being slathered on "The Cabin in the Woods," each of those efforts represent much better movies.
Much like the mechanically operated environment of "The Hunger Games," the setting for "The Cabin in the Woods" is a remote-controlled "killing floor" where a group of youthful characters do battle for their lives. A stereotyped psychotic serial killer even shows up for an ill-defined cameo. As with "The Truman Show" (1998), there isn't a sufficient amount of context and background to allow for a satisfying story to be told.
Joss Whedon and co-writer/director Drew Goddard go lazy-style from their days spent writing for television's "Buffy the Vampire Slayer," and paste together five pigeonholed characters. We have the letter-jacket-wearing jock Curt (Chris Hemsworth), along with air-headed sorority chic Jules (Anna Hutchinson), an African American nice-guy (Jesse Williams), and a requisite white-boy stoner who has just a pinch more common sense than anyone else.
As knee-jerk practitioners of the quick-cut editing techniques that plague modern filmmaking, the filmmakers here are too insecure about their under-developed narrative to ever allow the movie to breathe. The movie is never scary. Neither is there ever a hint of sustained suspense. A viewing of something like Francis Coppola's "Apocalypse Now Redux" could go a long way toward providing a teachable lesson in this regard. A little "Rosemary's Baby" wouuldn't hurt while you're there.
Our predictable group of slasher-fodder experiences time-honored hints of looming violence from a redneck tobacco-chewing gas station attendant who points them in the direction of their vacation destination — a cabin by a lake. Once at the remote cabin, the narrative floor drops out, exposing the college kids to a bunch of zombies on the prowl for blood. That's right, blood. Yawn.
A lurking monster waits patiently for his less than necessary third-act appearance. Naturally, there's some untold corporate or government entity behind the whole bloodbath. Like "The Hunger Games," "Cabin in the Woods" is a high-concept story whose writers know nothing of the rigor required to fulfill the political objectives of dystopian films.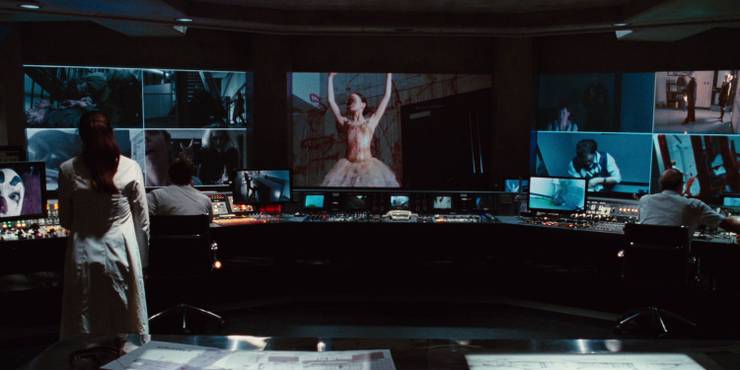 The would-be social satire opens with a couple of white-coated military industrial complex administrators goofing around in the secluded privacy of a colossal facility that serves as the headquarters from which all activity in and around the cabin is controlled. Jokes make for an inappropriately casual atmosphere. The clinically dressed employees are in fact homicidal torturers whose cloaked actions will exact excruciating deaths for the young people on the mean-end of their meticulously designed killing machine.
Before you waste your time and money on this cinematic mongrel, check out "Mindhunters." It's not a perfect slasher picture either, but it's a damn sight better than "The Cabin in the Woods." As for deconstructing the genre — as many easily excitable bloggers are wont to pretend occurs here — Eli Craig peed on that tree in 2010 with "Tucker and Dale vs Evil." 
Rated R. 95 mins.
SPECIAL ADDENDUM:
SPOILER ALERT!
CAN YOU HANDLE THE TRUTH? 
By Cole Smithey
It kills me when otherwise knowledgeable and savvy critics such as Matt Singer and Devin Farachi fall into naïve traps about things such as spoilers. Read any Roger Ebert film review, and you'll get a good idea of what a film is about. A few specific plot elements will be discussed because that's the only way for a reader to get a grasp of a film's narrative terrain. It's the nature of the beast. If you are a moviegoer who doesn't want to have a critic's ideas or revelations influencing your experience, don't read any reviews before seeing a movie. Duh. Wait until after.
That's not to say, however, that a critic should necessarily give away a key surprise a filmmaker builds into his or her story. Alfred Hitchcock's "Psycho" — the original "slasher" film — is a good example. If the film came out today, you couldn't — as a critic — reveal the narrative twist that comes late in the story. Hitchcock cleverly planted the twist to send audiences out of the theater shocked by what they had learned.
However, a film like "The Cabin in the Woods" announces its plot twist in the opening scene. As such, there is no "shocking surprise" for an audience, or critic, to contend with. There is merely a set-up, one that, in this case is not very well illuminated during the course of the movie. Nonetheless, it does present the entire groundwork for the story. To pretend otherwise is pure denial. The film wants to serve as a piece of social satire, but it fails so miserably in that regard, that no one seems to notice.
There is a dumbing down of film criticism occurring via the hive mind of aggregate culture that favors arcane commercial concepts such as RottenTomatoes' "Fresh Certification." Are you, as a critic or an audience member, really going to fall for that nonsense?
Any critic who complains in a review about how "hard," "impossible," or "unfair" it is to write about a movie is clearly not cut out for the job. It is so sad to read essentially the same review over and over again from so many "critics." There's a stupefying similarity between reviews of "Cabin in the Woods" coming from critics ranging from Ann Hornaday (The Washington Post), to Ian Buckwalter (NPR), to Andrew O'Hehir (Salon), and the list goes on. At least those critics don't resort the strictly amateur maneuver of quoting from the film's press materials as Michael Phillips (the Chicago Tribune) chooses to do.
But go ahead and believe the hype about "The Cabin in the Woods." You are only setting yourself up for disappointment. Don't say I didn't warn you.
This website is dedicated to Agnès Varda and to Luis Buñuel.
Groupthink doesn't live here, critical thought does.
A small request: Help keep Cole Smithey writing reviews, creating video essays, and making podcasts. Click on the button to pledge your support through Patreon, and receive special rewards!