MAY PROGRAMMING ON THE CRITERION CHANNEL ON FILMSTRUCK!
Includes Adventures in Moviegoing with Guillermo del Toro,
Blow Out
,
Zatoichi
and timeless classics (that were booed at Cannes)!
Tuesday's

Short + Feature: The Sea Horse* and L'Atalante
Taking to the water, this week's Short + Feature offers two very different - but equally dazzling - visions of the life aquatic. Jean Painlevé's mesmerizing short The Sea Horse (1933), a fourteen-minute science film that goes below the surface of the sea to glimpse the strange world of the titular creature, sets the stage for Jean Vigo's timeless masterpiece L'Atalante (1934), an intoxicating love story that takes place aboard a run-down river barge on the Seine.
*Premiering on the Channel this month. 
Blow Out*: Criterion Collection Edition #562
A conspiracy thriller for the ages, Brian De Palma's 1981 masterpiece features dazzling stylistic flourishes and John Travolta in one of his most memorable performances. The movie hits the Channel alongside all of the supplemental features from our release, including an hour-long interview with De Palma conducted by filmmaker Noah Baumbach, and De Palma's 1967 feature
Murder à la Mod
, which itself makes a cameo appearance in a scene in
Blow Out
.
*Premiering on the Channel this month. 
Zatoichi: The Blind Swordsman: Criterion Collection Edition #679
Japan's longest-running action series centers on the adventures of Zatoichi (Shintaro Katsu), a blind masseur who also happens to be an incomparable swordsman. The inspiration for the blind warrior Chirrut Îmwe (Donnie Yen) in Rogue One, this charismatic action dynamo remains one of cinema's most iconic heroes. Our massive edition of the series features digital restorations of all twenty-five Zatoichi films made between 1962 and 1973, along with supplements that include an interview with Asian-film expert Tony Rayns and a 1978 documentary about Katsu, who portrayed Zatoichi through the entire length of the series and directed the twenty-fourth installment.
This week's double bill brings together the bookends of
Lars von Trier
's Europa trilogy, two bold visions from his early career. The expressionist mystery
The Element of Crime
(1984), the director's stunning debut feature, takes place in a postapocalyptic future, while the Kafkaesque
Europa
(1991) immerses the viewer in a strangely futuristic Frankfurt in the
aftermath of World War II
.
*Premiering on the Channel this month.
John Bailey and Haskell Wexler on Days of Heaven
Terrence Malick's 1978 sophomore feature is a period drama of extraordinary visual beauty, depicting labor and leisure amid the wheat fields of the Texas panhandle in ravishing magic-hour images. In this piece, cinematographers John Bailey and Haskell Wexler share their memories of working on the film with Malick and Nestor Almendros, who took home an Oscar for the film's photography.
Tuesday's

Short + Feature: Borom sarret* and Black Girl
The most renowned figure of twentieth-century African cinema, the Senegalese writer-director Ousmane Sembène crafted stark, stirring dramas that addressed urgent social and political concerns. This week's Short + Feature shows that his mastery of the form came early: his acclaimed short Borom sarret (1963), about a luckless cart driver on the streets of Dakar, bears witness to the personal effects of the postcolonial order, as does his harrowing first feature, Black Girl (1966), about a Senegalese woman mistreated by her white employers in a small town on the French Riviera.
*Premiering on the Channel this month.
The Secret of the Grain*: Criterion Collection Edition #527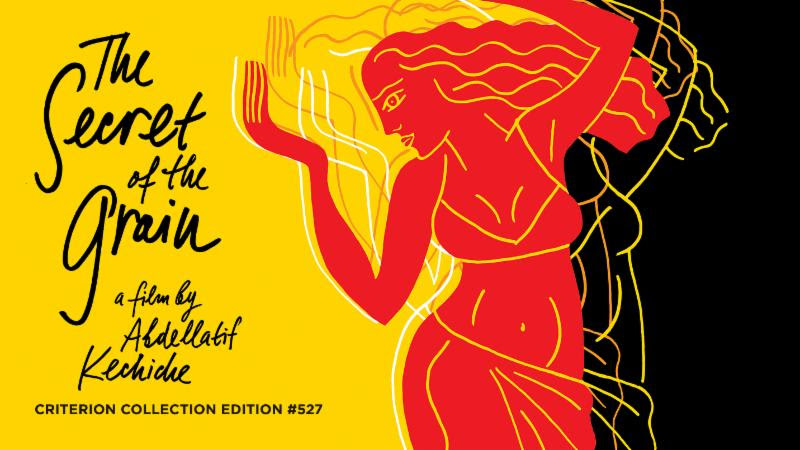 Six years before winning the Palme d'Or in 2013 for his controversial coming-of-age romance Blue Is the Warmest Color, Tunisian French filmmaker Abdellatif Kechiche delivered this bustling, multigenerational saga about family and food. Our complete edition of the film arrives this week on the Channel, complete with Sueur, Kechiche's reedit of the film's climactic belly-dancing sequence, as well as interviews with the writer-director and many of his key collaborators.
*Premiering on the Channel this month.
Friday

 Night Double Feature: Ingrid Bergman: In Her Own Words and News from Home
In celebration of Mother's Day this weekend, we've paired two moving portraits of maternal love. Stig Björkman's 2015 documentary Ingrid Bergman: In Her Own Words assembles Super 8 and 16 mm home-movie footage, taken by the icon herself, into an intimate view of her complex life as an artist, wife, and mother. Chantal Akerman's melancholy 1976 urban portrait News from Home pairs meditative shots of New York City, where the director relocated in the early seventies, with readings of letters from her mother on the voice-over.
Booed at Cannes!
From Michelangelo Antonioni to Lars von Trier, some of the world's most lauded auteurs have elicited derisive responses at their Cannes premieres, only to have their polarizing films later hailed as masterpieces. With the seventieth edition of the festival opening this week, we're gathering a selection of these controversial works: Antonioni's L'avventura (1960), Carl Th. Dreyer's Gertrud (1964), Robert Bresson's L'argent (1983), Jane Campion's Sweetie (1989), and von Trier's Antichrist (2009).
Tuesday's

Short + Feature: Butter Lamp* and Yi Yi
The complex role of photography in everyday life is explored in Hu Wei's 2013 Oscar-nominated short Butter Lamp and Edward Yang's 2000 masterpiece Yi Yi. Hu's film charts the story of a photographer and his assistant as they take family portraits in a remote Tibetan village, in the process observing the erosion of local culture by the forces of globalization. Yang's intimate epic captures the tensions lying beneath the surface of contemporary middle-class Taipei, highlighting the perspective of a young boy who becomes obsessed with his camera.
*Premiering on the Channel this month.
Fish Tank*: Criterion Collection Edition #553
This week, we're turning the spotlight on British filmmaker Andrea Arnold and her Cannes Jury Prize-winning Fish Tank. This gritty work of social realism follows the coming-of-age of a fifteen-year-old housing project resident (the remarkable Katie Jarvis) struggling with her burgeoning sexual attraction toward her mother's predatory new boyfriend (Michael Fassbender). The supplements from our edition include a conversation with Fassbender and three of the director's short films: Milk (1998), Dog (2001), and the Oscar-winning Wasp (2003).
*Premiering on the Channel this month.
Blow Up of Blow Up: A 2016 Documentary
To mark the fiftieth anniversary of Antonioni's countercultural masterpiece last year, Italian journalist Valentina Agostinis created this documentary portrait, which revisits key locations in the film, explores the auteur's meticulous approach to art direction and photography, and features interviews with dialogue assistant Piers Haggard, fashion photographer David Montgomery, former Yardbirds manager Simon Napier-Bell, and others.
Friday

 Night Double Feature: A Man Escaped and La Haine
This week, we've paired two films that share a spirit of rebellion and skillfully align our sympathies with the underdogs they portray: Robert Bresson's A Man Escaped (1956) and Mathieu Kassovitz's La haine (1995). Both Bresson's suspenseful yet humane jailbreak masterpiece and Kassovitz's gritty look at cultural volatility in contemporary France received the best director award at Cannes.
All the Screen's a Stage
This series lifts a curtain on the passions, triumphs, illusions, and foibles of theater people-and shows how such cinematic masters as Ingmar Bergman, Jean Renoir, and Max Ophuls have drawn inspiration from the art of stagecraft. The lineup - which includes Marcel Carné's Children of Paradise, Jean Renoir's The Golden Coach, and Ingmar Bergman's Fanny and Alexander - features a series introduction by Criterion Channel programmer Michael Sragow.
Tuesday's

Short + Feature: Next Floor* and Babette's Feast
Treat yourself to a two-course meal: an early short by Denis Villeneuve (Arrival) gives a grotesque new meaning to the phrase "all you can eat," while Gabriel Axel's Oscar-winning adaptation of a story by Isak Dinesen serves up a feast for the spirit.
*Premiering on the Channel this month.
I Knew Her Well: Criterion Collection Edition #801
Antonio Pietrangeli cuts commedia all'italiana with a dose of melancholy in this underappreciated classic, an episodic portrait of a beautiful young woman making her way through the celebrity-obsessed and sexually liberated Rome of the 1960s. This edition's supplements include a recent interview with actor Stefania Sandrelli (The Conformist), as well as archival footage from her audition for the film.
Adventures in Moviegoing with Guillermo del Toro
In the latest installment of our Adventures in Moviegoing series, the director of Pan's Labyrinth and Cronos joins MythBusters' Adam Savage to talk about his cinematic passions and influences. To accompany their conversation, del Toro has selected some of the inspirations - including Georges Franju's Eyes Without a Face and Jean Cocteau's Beauty and the Beast - that have helped fuel the nightmares and fantasies that play out in his own visionary films. Past contributors to the series include Jonathan Lethem, Mary Karr, Roger Corman, and Michael Cera.
Friday

 Night Double Feature: Rome Open City and Brief Encounter
What does Roberto Rossellini's revolutionary portrait of a city under occupation have in common with David Lean's achingly sad story of a love affair? Both of these heartbreakingly humane films were among the winners of the top prize at the 1946 Cannes Film Festival.
Observations on Film Art No. 7: Staging in The Rules of the Game
In the latest installment of our Observations on Film Art series, Professor Kristin Thompson maps out the intricate staging of Jean Renoir's The Rules of the Game. Famed for its deep-focus photography, the film nimbly traces the intersecting loves, rivalries, aggressions, and jealousies that play out over the course of a weekend at a country estate. Watch Thompson's analysis to learn how Renoir sets his tragicomic machine in motion, then check out the other entries in the series for more insights from her and her fellow authors of the canonical textbook Film Art: An Introduction, David Bordwell and Jeff Smith. Previous subjects include the music in Alfred Hitchcock's Foreign Correspondent, the editing in Akira Kurosawa's Sanshiro Sugata, and landscapes in the work of Abbas Kiarostami.
Tuesday's

Short + Feature: Cailleach* and I Know Where I'm Going!
Michael Powell and Emeric Pressburger set their sprightly romantic comedy I Know Where I'm Going! in the gloom of the remote Scottish Hebrides. That story of a headstrong woman's unexpected romance with a handsome naval officer is paired with Cailleach, a short documentary from 2015 that profiles another independent woman in the same location-one who knows where she's staying above all. Rosie Reed Hillman's tender portrait of Morag, an elderly sheep farmer who has lived her whole life in the rugged area, makes for a poetic complement to the Archers' effervescent fable.
*Premiering on the Channel this month.
Complete list of films premiering on the Criterion Channel this month:


May 1
Bitter Victory
, Nicholas Ray, 1957
May 2
The Sea Horse
, Jean Painlevé, 1933
May 3
Blow Out
, Brian De Palma, 1981
May 5
The Element of Crime
, Lars von Trier, 1984
Europa
, Lars von Trier, 1991
The Marriage of Chiffon
, Claude Autant-Lara, 1942
Douce
, Claude Autant-Lara, 1943
Sylvia and the Phantom
, Claude Autant-Lara, 1946
May 9
Borom sarret
, Ousmane Sembène, 1963
May 10
The Secret of the Grain
, Abdellatif Kechiche, 2007
May 12
Nacional III
, Luis García Berlanga, 1982
Barrios altos
, Luis García Berlanga, 1987
La boutique
, Luis García Berlanga, 1967
May 16
Butter Lamp
, Hu Wei, 2013

May 17
Fish Tank, Andrea Arnold, 2009

May 19
Katzelmacher, Rainer Werner Fassbinder, 1969
Chinese Roulette, Rainer Werner Fassbinder, 1976
Satan's Brew, Rainer Werner Fassbinder, 1976
Querelle, Rainer Werner Fassbinder, 1982

May 23
Next Floor, Denis Villeneuve, 2008

May 30
Cailleach, Rosie Reed Hillman, 2014
ABOUT THE CRITERION CHANNEL
The Criterion Channel offers the largest streaming collection of Criterion films available, including classic and contemporary films from around the world, interviews and conversations with filmmakers and never-before-seen programming. The channel's weekly calendar features complete Criterion editions, thematic retrospectives, live events, short films, and select contemporary features, along with exclusive original programming that aims to enhance the Criterion experience for the brand's dedicated fans as well as expanding its reach to new audiences. Other recent additions to the programming include MEET THE FILMMAKER: ATHINA RACHEL TSANGARI and ADVENTURES IN MOVIEGOING WITH BILL HADER.
ABOUT FILMSTRUCK


FilmStruck is a new subscription on-demand service that offers film aficionados a comprehensive library of films including an eclectic mix of contemporary and classic art house, indie, foreign and cult films. Developed and managed by Turner Classic Movies (TCM) in collaboration with the Criterion Collection, FilmStruck will be the new exclusive streaming home for the critically acclaimed and award-winning Criterion Collection, including the Criterion Channel, a new premium service programmed and curated by the Criterion team.  FilmStruck is Turner's first domestic direct-to-consumer offering launched in November 2016.



ABOUT THE CRITERION COLLECTION


Since 1984, the Criterion Collection has been dedicated to publishing important classic and contemporary films from around the world in editions that offer the highest technical quality and award-winning, original supplements. No matter the medium-from laserdisc to DVD and Blu-ray to FilmStruck, the streaming service developed in collaboration with Turner Classic Movies - Criterion has maintained its pioneering commitment to presenting each film as its maker would want it seen, in state-of-the-art restorations with special features designed to encourage repeated watching and deepen the viewer's appreciation of the art of film.