APRIL PROGRAMMING ON THE CRITERION CHANNEL ON FILMSTRUCK!
Adventures in Moviegoing with Adam Gopnik, and five color films by Ozu!
Cinema has been an important part of Megan Abbott's life since her days growing up in
Grosse Pointe, Michigan
, when her family would make trips to the local revival house. In her episode of Adventures in Moviegoing, the award-winning novelist spoke with programmer Michael Sragow about films she loves, including ones that have influenced her approach to crime fiction. This month, we're adding one of her all-time favorites to her personally curated series: Nicholas Ray's emotionally charged adaptation of the
Dorothy B. Hughes
thriller 
In a Lonely Place
. A brilliant, turbulent mix of suspenseful noir and devastating melodrama, fueled by powerhouse performances from Humphrey Bogart and Gloria Grahame, the film follows a gifted but washed-up screenwriter who becomes the prime suspect in a Tinseltown murder. Watch it on the Channel with a new introduction by Abbott.
*Premiering on the Channel this month.
Two different takes on the complex relationship between humans and primates. Combining stop-motion animation, live-action, and CG, Will Anderson and Ainslie Henderson's BAFTA-nominated 2014 short Monkey Love Experiments tells the story of a misguided monkey who believes he's destined for the moon. In Koko: A Talking Gorilla, acclaimed director Barbet Schroeder and cinematographer Nestor Almendros create an intimate documentary portrait of the world-famous title subject, exploring the ethical concerns surrounding a controversial experiment that sought to teach her human communication through American Sign Language.
*Premiering on the Channel this month.
Metropolitan*: Edition #326
One of the great American independent films of the 1990s, the surprise hit 
Metropolitan
, by writer-director
Whit Stillman
, is a sparkling comedic chronicle of a young man's romantic misadventures while trying to fit in to New York City's debutante society. Stillman's deft, literate dialogue and hilariously highbrow observations earned this first film an Academy Award nomination for best original screenplay. Beneath the wit and sophistication, though, lies a tender tale of adolescent anxiety. 
SUPPLEMENTAL FEATURES
: an audio commentary by Stillman, editor
Christopher Tellefsen
, and actors Chris Eigeman and Taylor Nichols; and rare outtakes and alternate casting, with commentary by Stillman.
Art-House America: Gold Town Nickelodeon, Juneau, Alaska
Local Hero, Bill Forsyth, 1983
Last year, the Channel-exclusive series Art-House America took a trip to Juneau, Alaska, where intrepid programmer Colette Costa runs a downtown movie theater catering to year-round locals in the country's cruise-ship capital. Alongside our documentary portrait of this bustling venue, Costa has been programming an ongoing selection of films that capture "what it feels like to live in Alaska." The latest addition to the series is Bill Forsyth's 1983 Local Hero, presented in a limited engagement. Mixing wry comedy and unexpected pathos, and featuring music by Mark Knopfler, this stirring ode to Forsyth's native Scotland follows a Texas oil executive (Peter Riegert) whose life is changed when his boss (Burt Lancaster) sends him to a Scottish village to buy up land for a new refinery.
Friday

 Night Double Feature: Night Moves and My Night at Maud's
"I saw a Rohmer film once. It was kinda like watching paint dry." So says Gene Hackman, famously, in Arthur Penn's 1975 neo-noir Night Moves, a film that contains striking parallels and references to the French director's wonderfully talky 1969 My Night at Maud's. Penn's New Hollywood masterpiece centers on Harry Moseby (Hackman), a retired professional football player turned Los Angeles private investigator who finds himself embroiled in the complex case of a runaway teen. One of the most acclaimed entries in the influential series "Six Moral Tales," Rohmer's film features Jean-Louis Trintignant as a pious Catholic engineer whose rigid ethical standards are challenged when he unwittingly spends the night at the apartment of a bold, brunette divorcée.
Adventures in Moviegoing with Barry Jenkins: The Summer of Flying Fish*
Not long after winning an Oscar last year for Moonlight, Barry Jenkins joined Criterion's Peter Becker for an intimate conversation about his personal journey as a movie lover, the filmmakers who have influenced his style, and finding his relationship to cinema as a person of color. Alongside some of his favorite classics, he championed some little-seen gems, including Chilean director Marcela Said's 2013 narrative feature debut, The Summer of Flying Fish. A vivid coming-of-age story and a powerful allegory about environmental destruction, this richly atmospheric drama follows a teenage girl as she goes on vacation with her father, a wealthy landowner who becomes obsessed with eliminating the carp fish from his artificial lagoon. Featuring a new introduction from Jenkins, the film streams on the Channel in a limited engagement.
*Premiering on the Criterion Channel this month.
Tuesday's

 Short + Feature: Manhatta and The Naked City
The New York of the past comes to life in these two portraits, shot in different periods in the city's history. A pioneering work of American avant-garde cinema, the silent short Manhatta (1921)- directed by photographer Paul Strand and painter Charles Sheeler-takes in the modern metropolis from a variety of soaring perspectives, assembling a miniature symphony of the city in all its industrial splendor. Shot on location more than a quarter of a century later, Jules Dassin's masterpiece The Naked City (1948), a noir procedural inspired by Italian neorealism, offers a grittier view of Lower Manhattan from street level.
The 400 Blows: Edition #5
François Truffaut's first feature is also his most personal. Told from the point of view of Truffaut's cinematic counterpart, Antoine Doinel (Jean-Pierre Léaud), The 400 Blows sensitively re-creates the trials of Truffaut's own childhood, unsentimentally portraying aloof parents, oppressive teachers, and petty crime. The film marked Truffaut's passage from leading critic to trailblazing auteur of the French New Wave. SUPPLEMENTAL FEATURES: two audio commentaries, one by cinema professor Brian Stonehill and the other by director François Truffaut's lifelong friend Robert Lachenay; rare audition footage of Jean-Pierre Léaud, Patrick Auffay, and Richard Kanayan; newsreel footage from the film's showing at Cannes; and more.
Friday

 Night Double Feature: M and Peeping Tom
These unsettling and widely influential thrillers give viewers a glimpse inside the psychopathic mind. Fritz Lang's expressionist touchstone M (1931) revolves around the Berlin manhunt for a murderer of children (Peter Lorre), in the process offering an analysis of the man's tortured psyche. In Peeping Tom (1960), a controversial film that nearly ended his career but is now regarded as a masterpiece, Michael Powell offers a Freudian portrait of a London serial killer (Carl Boehm), a cameraman with a predilection for recording the terror of his victims.
In this original documentary, filmmaker Daniel Raim delves into Yasujiro Ozu's remarkable late work, in which the master made the leap from black and white to color. In his stirring tribute to the great filmmaker, Raim examines Ozu's life and work through archival treasures such as his diary and the red teakettle from the family drama Equinox Flower (1958); sits down with Ozu's nephew and the producer of the director's gently elegiac final film, An Autumn Afternoon (1962); and interweaves many scenes and images from the vibrant and humane films with which the director capped his career. Alongside the documentary, we present five of Ozu's color films, including Equinox Flower, Floating Weeds (1959), Late Autumn (1960), The End of Summer (1961), and An Autumn Afternoon (1962). 
Tuesday's

 Short + Feature: Casus belli* and Weekend
Two critiques of consumerism that make dazzling use of tracking shots. In Greek filmmaker Yorgos Zois's sinuous debut short, Casus belli (2010), an apparently continuous dolly shot observes different queues of people, from the supermarket checkout line to the wait at the betting-agency counter-and back again-wryly revealing the social divisions among those standing in place. Jean-Luc Godard's acid comedy Weekend (1967), in which a bourgeois couple set out to secure an inheritance from a dying relative, opens with a famous seven-minute-long shot of a massive traffic pileup, setting the tone for the entropic satire to follow.
*Premiering on the Channel this month.
In this psychologically rich character study, written and directed by Satyajit Ray, Bengali film star Uttam Kumar draws on his real-world celebrity to play Arindam Mukherjee, a matinee idol on the brink of his first flop. When Mukherjee boards an overnight train to Delhi to accept an award, a journalist (Sharmila Tagore) approaches him seeking an exclusive interview, which initiates a conversation that sends the actor reeling down a path of self-examination. Seamlessly integrating rueful flashbacks and surreal dream sequences with the quietly revelatory stories of the train's other passengers, The Hero is a graceful meditation on art, fame, and regret from one of world cinema's most keenly perceptive filmmakers. SUPPLEMENTAL FEATURES: a program featuring an interview from 2008 with actor Sharmila Tagore, and a program featuring film scholar Meheli Sen.
Friday

 Night Double Feature: Babette's Feast and The Cook, the Thief, His Wife and Her Lover
Food represents the highest of arts and the basest of cruelties in this cinematic banquet. Gabriel Axel's Oscar-winning Babette's Feast, adapted from a short story by Isak Dinesen, tells the moving story of a French housekeeper with a mysterious past who brings quiet revolution in the form of one exquisite meal to a circle of starkly pious villagers in late-nineteenth-century Denmark. It's paired with an outrageously decadent masterpiece from Peter Greenaway, who stages a modern Jacobean revenge tragedy in a lavish restaurant, where a brutal gangster (Michael Gambon) holds court while his wife (Helen Mirren) sneaks away to her paramour. With vivid cinematography by Sacha Vierny and a hypnotic Michael Nyman score, The Cook, the Thief, His Wife and Her Lover culminates in a memorably gruesome feast.
Observations on Film Art No. 18: Staging and Performance in Ivan the Terrible, Part II
Sergei Eisenstein's final film, a two-part biopic of the notorious Tsar Ivan IV, is one of the revolutionary director's boldest experiments in film form, frequently departing from the codes of cinematic realism. In this month's episode of Observations on Film Art, a Channel-exclusive series that takes a look at how great filmmakers use cinematic devices and techniques, scholar David Bordwell examines Eisenstein's concept of "expressive movement," and shows how the director uses it to stage elaborate set pieces that incorporate the languages of painting and dance.
Tuesday's

 Short + Feature: Ghost Trip and Kings of the Road
These spare, existential road movies take in vast landscapes in stunning black and white. Bill Morrison's eerie Ghost Trip, a rare "fiction" film from an artist best known for his use of archival material, follows a mysterious driver on an American odyssey from coast to coast, passing through deserts, casinos, and graveyards along the way. Then, the capstone of Wim Wenders's Road Trilogy accompanies a film projector repairman and a depressed psychologist as they roam aimlessly from one movie theater to another across a melancholy Germany still haunted by war.
An Actor's Revenge: Edition #912
A uniquely prolific and chameleonic figure of world cinema, Kon Ichikawa delivered a burst of stylistic bravado with this intricate tale of betrayal and retribution. Set in the cloistered world of nineteenth-century kabuki theater, the film charts a female impersonator's attempts to avenge the deaths of his parents, who were driven to insanity and suicide by a trio of corrupt men. Ichikawa takes the conventions of melodrama and turns them on their head, bringing the hero's fractured psyche to life in boldly experimental widescreen compositions infused with kaleidoscopic color, pop-art influences, and meticulous choreography. Anchored by a magnificently androgynous performance by Kazuo Hasegawa, reprising a role he had played on-screen three decades earlier, An Actor's Revenge is an eye-popping examination of how the illusions of art intersect with life. SUPPLEMENTAL FEATURES: A rare 1999 Directors Guild of Japan interview with director Kon Ichikawa, conducted by film critic Yuki Mori; and an interview with critic, filmmaker, and festival programmer Tony Rayns.
Adventures in Moviegoing with Adam Gopnik
This month's guest curator, author and longtime New Yorker contributor Adam Gopnik, is a writer of omnivorous interests. For his selection of favorite films, he handpicked gems such as Jacques Demy's The Umbrellas of Cherbourg and Jean Cocteau's Orpheus, and then sat down with Antonio Monda, artistic director of the Rome Film Festival, to discuss a lifetime of moviegoing. From watching European cinema on television with his family, to seeing Singin' in the Rain during his adolescence in Paris, to his first date with the woman he would go on to marry (they saw Jean Vigo's achingly romantic L'Atalante), Gopnik chronicles his infatuation with cinema, a medium whose storytelling methods he often seeks to emulate in his own writing.
Friday

 Night Double Feature: Tokyo Drifter and The Long Good 

Friday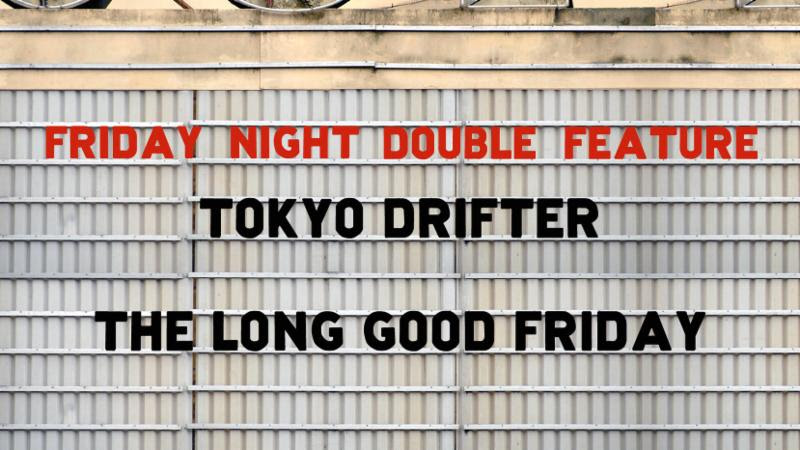 This gangster-movie double bill finds two career criminals attempting to go straight, only to get sucked back into the underworld. In 
Tokyo Drifter 
(1966),Seijun Suzuki's delirious pop-art riff on the yakuza genre, reformed hit man Tetsu gets called back from retirement to do battle with a rival gang, resulting in an onslaught of giddily stylized action. Then, a magnetic Bob Hoskins stars in John Mackenzie's 
The Long Good 

Friday
 (1980) as a vicious London mob boss whose best-laid plans to cross over into legitimate business get blown to smithereens over the course of one agonizing, bloody day.
Complete list of films premiering on the Criterion Channel this month:
In a Lonely Place, Nicholas Ray, 1950
April 3
Monkey Love Experiments, Will Anderson and Ainslie Henderson, 2014
April 4
Metropolitan, Whit Stillman, 1990
April 9
The Summer of Flying Fish, Marcela Said, 2013
April 17
Casus belli, Yorgos Zois, 2010
ABOUT THE CRITERION CHANNEL ON FILMSTRUCK
The Criterion Channel offers the largest streaming collection of Criterion films available, including classic and contemporary films from around the world, interviews and conversations with filmmakers and never-before-seen programming. The channel's weekly calendar features complete Criterion editions, thematic retrospectives, live events, short films, and select contemporary features, along with exclusive original programming that aims to enhance the Criterion experience for the brand's dedicated fans as well as expanding its reach to new audiences. It is presented as part of FilmStruck, a subscription streaming service that is the exclusive home of the Warner Bros. classic film library and the Criterion Collection. FilmStruck was developed by Turner Classic Movies (TCM) and is managed by TCM in partnership with Warner Bros. and the Criterion Collection.
For more information on FilmStruck and The Criterion Channel,