ALONG CAME POLLY
Groupthink doesn't live here, critical thought does.
This ad-free website is dedicated to Agnès Varda and to Luis Buñuel.
Get cool rewards when you click on the button to pledge your support through Patreon. Thanks a lot pal! Your kind generosity keeps the reviews coming!
Picking Up In Transition
Mediocre Movies Season Opens with Aniston and Stiller
By Cole Smithey
Ben Stiller carries on with his trademark neurotic mantle. This time around he plays Reuben Feffer, an anxiety-ridden, heartbroken insurance risk assessor who finds impulsive love with Polly Prince (Jennifer Aniston). She's a flaky fly-by-night slacker with a blind ferret. Reuben recently dumped his new bride (Debra Messing) on their honeymoon after catching her in flagrante delicto with a scuba instructor (played wonderfully by Hank Azaria). Reuben decides to go in the opposite dating direction by eating spicy foods and doing some dirty salsa dancing.
Screenwriter John Hamburg ("Meet The Parents") makes his directorial debut in this Ben Stiller vehicle that never gets off the ground. Hank Azaria ("Shattered Glass") stands out as the scandalous French scuba instructor with an overactive libido.
Philip Seymour Hoffman scene-steals as an ego-driven community theater actor. For a movie with a theme of living life without deferring to fear of the risks involved, the filmmakers don't take any chances in breaking the mold of Hollywood's run-of-the-mill romantic comedies.
Incompatibility runs rampant in "Along Came Polly." Reuben's and Lisa's uncomfortable marriage ceremony is made comical by a terrific pratfall that Reuben's drunk friend Sandy (Hoffman) takes on the dance floor. The awkward wedding speeches from the newlyweds, and comments from Reuben's cheeky boss Stan (Alec Baldwin), foreshadow Lisa's upcoming despicable act of infidelity to posit a cloud of not-so-comic doom over the marriage. It's a difficult place for Stiller's character to recover from because his blind cuckold is the feeble protagonist that the audience is pressured to identify with.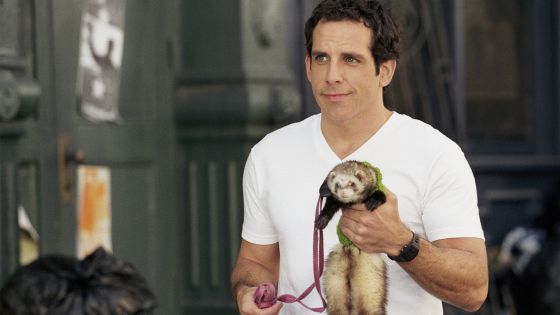 Inherent in Reuben's personality is his weak judgement of character. A running joke about Reuben's job life as a risk assessor comes in the guise of daredevil millionaire Leland Van Lew (Bryan Brown). Reuben has already risk-assessed every minuscule aspect of his own waking life. He has to validate why his company should insure Leland, a guy who goes diving with sharks and B.A.S.E. jumps when he isn't taking his sailboat through heavy storms. Leland is Reuben's polar opposite. He's a middle-aged bachelor intent on dancing on the edge of life's dangers with as much panache as possible. Reuben is a guy who won't touch the cocktail nuts at a bar because "36 pairs of dirty hands have already been in there."
This brings us to Aniston's Polly as a girl who temps failure with a rebellious nature that suffers jobs and boyfriends with equal ambivalence. Reuben meets Polly at an art opening with Sandy as his incontinent guide. Hoffman interjects the sequence with the movie's funniest moment when he runs up to Reuben and insists that they leave immediately because he has just "sharted." I shouldn't, in good conscience, expound more on the obvious definition of "sharted" except to say that Hoffman makes the most of the comic possibilities of the scene.
Polly works as an insubordinate catering waitress when she isn't salsa dancing with her handsome gay friends or decorating her apartment with beads, candles, and loofas. The role is ideal for Aniston's physical type, but is a meek departure from the character depth she displayed in Miguel Arteta's "The Good Girl."
Aniston flounders because she plays the character to literally to be funny. You can sense the actress trying too hard to compensate for Polly's shallowness by putting an overwrought blue-collar edge on her. As written, Polly's character is too young for Aniston to play, and is also too young to fill the bill for Reuben's nesting needs. It's a role that an actress like Drew Barrymore could have added more color to but would still have been unable to improve on the overall effect of the movie.
Rated PG-13. 90 mins.