KILL BILL: VOL. 1
Grindhouse Super Action Fu
Quentin Tarantino Reinvents Cinema Once Again
By Cole Smithey

Quentin Tarantino's long awaited fourth film finds the pop culture carnivore reinvigorating cinema a second time over with a single-plot-trajectory revenge movie. Tarantino utilizes samurai sword action, with a shifting score of infectious guitar-driven music, to create a movie unlike anything you've ever seen. Martial arts choreographer Yuen Wo-ping ("Crouching Tiger, Hidden Dragon") guides Tarantino's impressive fight sequences that appoint the "Bride's" (Uma Thurman) nonstop bloodletting battles after she awakens from a coma due to a wedding day assassination attempt by a group of executioners called the "DiVas" (Deadly Viper Assassination Squad).
With references to Hong Kong's Shaw Brothers' films (see "Fists of Fury"), Spaghetti Westerns, Anime, and Japanese director Kinji Fukasaku (see "Battle Royale"), Tarantino creates a fresh hybrid of cinematic spectacle. Cinematographer Robert Richardson ("Platoon") and editor Sally Menke ("Reservoir Dogs") contribute mightily.
Of the world cinema mixed-bag of references Q.T. manipulates, it's the yellow tracksuit from Bruce Lee's last movie "Game of Death" that makes the most broadly sweeping statement. On the body of Uma Thurman, the iconic black- striped yellow suit is a bellbottomed two-piece uniform with a padded leather top that's more of a jacket than a shirt. In matching yellow-and-black Tiger tennis shoes "the Bride" is a living breathing martial arts machine whose prowess with a samurai sword is introduced by her decision to purchase her weapon from Hattori Hanzo (Sonny Chiba - "The Streetfighter"), the finest maker of samurai swords. They have the strongest steel and the sharpest blades.
This detailed information is significant for the fetishistic way Q.T. conveys details of character within specifically chosen boundaries of physical reality. There's never a question about how Thurman's Caucasian character learned to be a martial arts master because she is so clearly a highly trained ethical assassin who lives only to take revenge. The film's opening knife fight between Thurman and Vivica Fox (as an assassin named "Copperhead") is a signature Q.T. sequence of kitchen-bound violence wherein the presence of a child, and a box of exploding cereal, expand the subtext of the super action onscreen.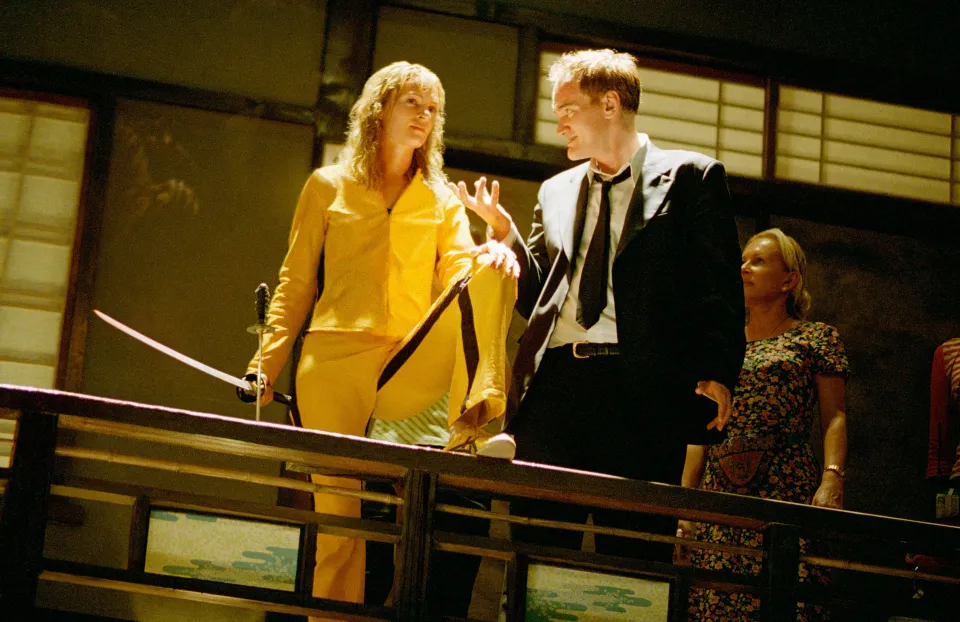 "Super Action" is an uncommon phrase in describing movies made since 1980. But just as horror is making a comeback as a humorless genre of corporeal fear (see the "Texas Chainsaw Massacre" remake), "Kill Bill" ramps up the interaction between music and action in the same way Stanley Kubrick used classical melodies to expand on the atmosphere of his films. What's different here is that Q.T. will cannily change tunes in mid-action to alter the tempo and rhythm of an action sequence, thereby giving the viewer a growing sense of the wild onscreen movement as if affects the characters in real time. Tarantino's use of Quincy Jones's theme song for the '70s TV show "Ironside" rounds out the film as the Bride's theme song.
Blood spurting stumps are a prevalent image system in "Kill Bill," and their introduction into the movie by way of a gory Japanese Anime cartoon sequence sets a properly cheerful tone for the torrents of blood that rain down in the latter half of the film. "Kill Bill's" violence has a capitol "I" for irony. It draws significantly on meticulously appointed sets that preserve a deliciously visual splendor to the fast-twitch sword play that sends heads and limbs flying.
Much has been made over Miramax co-chairman Harvey Weinstein's decision to split "Kill Bill" into two installments in an attempt to recoup the money that the film went over budget. Miramax defended the decision by saying that this precedent of releasing epic dramas in installments has been a common practice in Europe and Asia for decades. Yet "Kill Bill" is not a epic drama. Studios have long frowned on movies that run over two hours because of the reduced number of daily screenings theaters can have. Nonetheless, it's apparent that "Kill Bill" was intended to be a single lengthy action film and not an episodic series. It's insulting to audiences to have to pay twice to see a movie because it went double over budget in production.
Rated R. 103 mins.
Groupthink doesn't live here, critical thought does.
This website is dedicated to Agnès Varda and to Luis Buñuel.
Get cool rewards when you click on the button to pledge your support through Patreon. Thanks a lot pal!