POLLOCK
Jackson Pollock Comes Alive
Ed Harris Creates A Loyal Portrait
In the same way a tap dancer innately understands the percolating syncopation of  jazz music, Ed Harris identifies character rhythms and physical possibilities in drama. Never in any film about a painter has an actor so fearlessly conquered his subject as Harris does in Pollock. Harris ferociously puts paint to canvas in recreating the painting style of the most successful American painter of the late 20th century, Jackson Pollock.
The biographical film traces Jackson Pollock's troubled rise in the New York art world during the '40s and '50s under the guidance of his wife, Lee Krasner (Marcia Gay Harden), and the financial backing of Peggy Guggenheim (Amy Madigan).
Harden and Harris harmonize in counterpoint of character motivation as two virtuoso actors in rare form. Apart from a few forgivable supporting character casting faults, Pollock is a rewarding movie that gives an intimate view of the artist who "broke the whole thing wide open" in the art world, only to realize, as many of his critics had, that his discovery was "phony."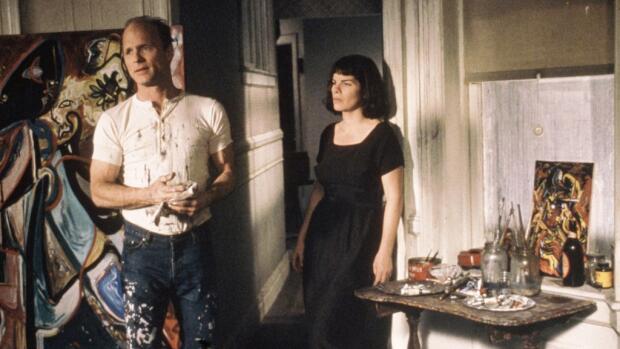 This labor of love project for Ed Harris has met with surprising resistance from critics who groan about the film's negligence as a historically informative movie. There are complaints about the melodramatic tone of the work. This hair-splitting audience is missing the punch of the film, which shows the kind of man Pollock was as a painter, as a husband, as a brother, and as a tragically flawed human being. It's a movie that is as much about the social climate of a period in American history as it is about the birth of Abstract Expressionism as a way of looking at the world. Pollock was fortunate to have the support of powerful women like Krasner and Guggenheim, and the movie reflects their profound influence. Pollock's and Krasner's marriage provides a synergistic nucleus for the story.


In one especially revealing scene in their East Hampton home, Pollock is inspired to suggest to Lee that they should have a baby together. Krasner lets fly with a list of reasons, related to Pollock's temperament and drinking binges, why they should absolutely not have a child. Krasner's brutal honesty emphasizes the degree of Pollock's emotional underdevelopment. Although Krasner was capable of promoting Pollock as his agent and manager, she was doomed to be the primary object of his escalating abuse. The cruel arguments the couple suffer rekindle images from plays like "Look Back In Anger" or "A Streetcar Named Desire" for their scathingly articulate brutality.

The same Pollock who would disrupt his sister-in-law's dinner table with a violent alcohol-fueled drumming imitation of Gene Krupa, would later sit in silence for months in front of a large white canvas contemplating the first brush stroke. When Harris, as Pollock, finally does approach the giant blank space (commissioned by Peggy Guggenheim for her apartment), each gesture and stroke has been thoroughly thought out in advance. It's the first astonishing moment in Harris's portrayal when we actually see the artist creating. The thrill is electric. Harris's act of creating Pollock's character is a direct corollary to the painter's technique. Harris puts his acting and painting impulses under the same restraints of discipline, inspiration, and execution. There are very few actors capable of such mastery of craft as to walk on the hot coals of bold creation, and come away with such fulfilling results.

One of the most admirable aspects of "Pollock" is the domain of quality given to Pollock's paintings themselves. Harris (as director) is careful to use Pollock's prolific number of paintings as an extension of the artist's soul. It's interesting to note that Harris was unable to secure the rights to use any actual Jackson Pollock paintings for the filming. Instead he employed five expert painters (dubbed "the Jackson Five") to recreate paintings similar to Pollock's style. Color and ideas permeate the movie, giving a running visual commentary on Pollock's subconscious life. The paintings add a dimension that speaks as loudly as any other character in the film.
Jackson Pollock's life was shortened by self-loathing contempt that was exacerbated by his success. Ed Harris's "Pollock" scrupulously characterizes, without sentimentality, the ignorance and innocence of a talented painter whose fate was to explode the art world with huge "drip" paintings done in a style he called "Action Painting." The film is a keen contemplation on value, vulnerability, passion, and loyalty. Jackson Pollock can rest in peace.
Rated R. 117 mins.
Groupthink doesn't live here, critical thought does.
This website is dedicated to Agnès Varda and to Luis Buñuel.
Get cool rewards when you click on the button to pledge your support through Patreon. Thanks a lot pal!