A MIGHTY WIND
Groupthink doesn't live here, critical thought does.
This ad-free website is dedicated to Agnès Varda and to Luis Buñuel.
Get cool rewards when you click on the button to pledge your support through Patreon. Thanks a lot pal! Your kind generosity keeps the reviews coming!
The Next "Spinal Tap"
Christopher Guest Stays Witty
By Cole Smithey
Director Christopher Guest teams up recurring cast members from his past ensemble comedies ("This Is Spinal Tap," "Waiting For Guffman" and "Best In Show") for this immaculately executed comedy of folk music stereotypes. The squishy underbelly of '60s folk music, a la "Peter, Paul & Mary" (not Bob Dylan or John Prine), gets a thorough reality check in Guest's documentary-styled satire in which his affectionately realized characters toy with the hearts hung openly on their sleeves. Three groups of folk music has-beens prepare to reunite for a concert at Manhattan's famed Town Hall to honor Irving Steinbloom, a recently deceased folk music promoter, in this terrific spoof.
The brilliance of Christopher Guest's highly original comedies cannot be underestimated. He faithfully embraces the humanity of his characters as people with heartfelt beliefs and sincere desires in spite of their ludicrous foibles. "Spinal Tap" is a cult movie among heavy metal music fans because of the ingenious way it celebrates the codified mores and histories that surround heavy metal musicians and their fans. The amusing ironies spring from nooks and crannies of the characters' obvious motivations and transparent pretenses. Every joke is a spoonful of humor that the characters want the audience to be in on.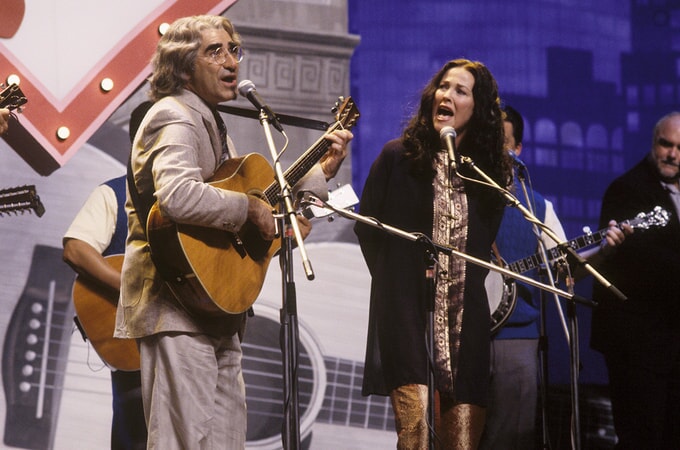 Of the three musical groups that represent the "folk music" world of "A Mighty Wind," the homely duo of Mitch and Mickey (Eugene Levy and Catherine O'Hara) come to the fore as former lovers whose mid-song kiss during one of their profound performances supposedly crystallized romanticism in the folk movement. Forget that there's nothing profound about the overwrought sentimentality on display during their goofy song; it's the marvelous comedic tone that's struck between Levy's mentally distracted Mitch and O'Hara's self-sacrificing Mickey that pushes the inherent parody under the audience's skin.
"Saturday Night Live" audiences will recognize "The Folksmen" as Harry Shearer, Michael McKean and Christopher Guest from the original skit they did in 1984 on the TV show. The Folksmen were a serious folk trio in the late '50s and early '60s, whose folk concept albums "Hitchin,'" "Wishin,'" "Ramblin'" and "Singin'" were marred by a manufacturing mistake that left the albums without a center hole. Shearer's character Alan Burrows takes the pratfalls for the group with his oddly groomed beard and deep bass voice which gets a royal send up at the end of the movie.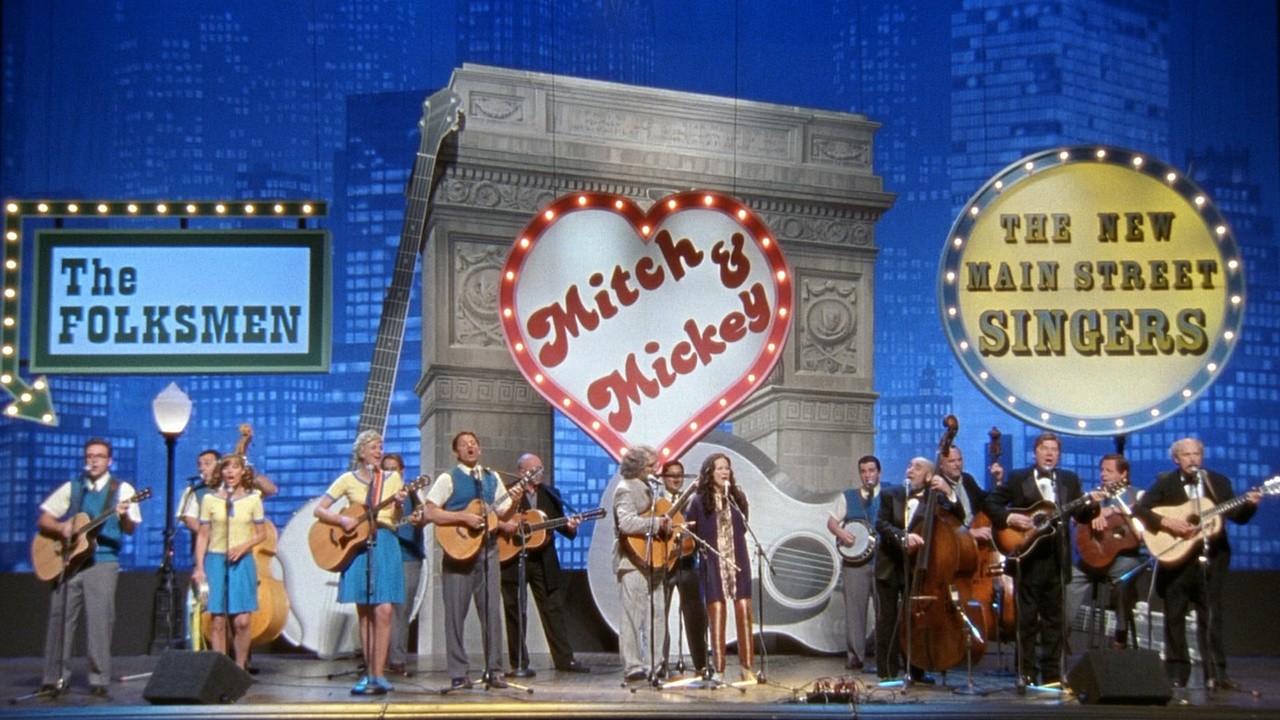 Rounding out the trio of folk acts is a "neuftet" called The New Main Street Singers, led by Terry Bohner (John Michael Higgins) and his not-so-squeaky clean wife Laurie (Jane Lynch). The group play at amusement parks around their hometown of Tampa, Florida with color coordinated costumes and an overly joyful "Up With People" style that masks the leaders' hidden agenda that entails a witches cult worship of the power of color. Parker Posey plays a singer named Sissy Knox in the group and points up the group's white trash origins disguised by their bubble gum folk songs.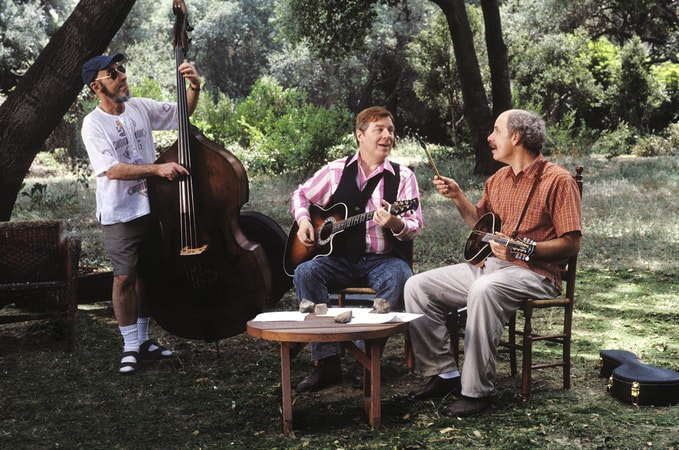 Christopher Guest has developed a pitch-perfect method for expressing subtle wit and social irony in his movies. The great victory for ""A Mighty Wind" is the continuity amid the individual voices of its comedic chorus that lends the movie an overall timbre of impassioned playfulness. There's never an unfunny moment because the attendant condition of every scene is imbued with a sense of the shortcomings of folk music (or any form of music if you extend the logic) and because the ensemble performances are all energized.
When Terry and Laurie talk to the camera about how they met and the jobs that they held before forming the group, Laurie shamelessly tells about her attempts at acting that led her to doing a certain kind of role because she did something that most girls wouldn't do. It's obviously a story they've shared and told many times before, but Terry can barely stand to hear again. The jokes are in the subtext.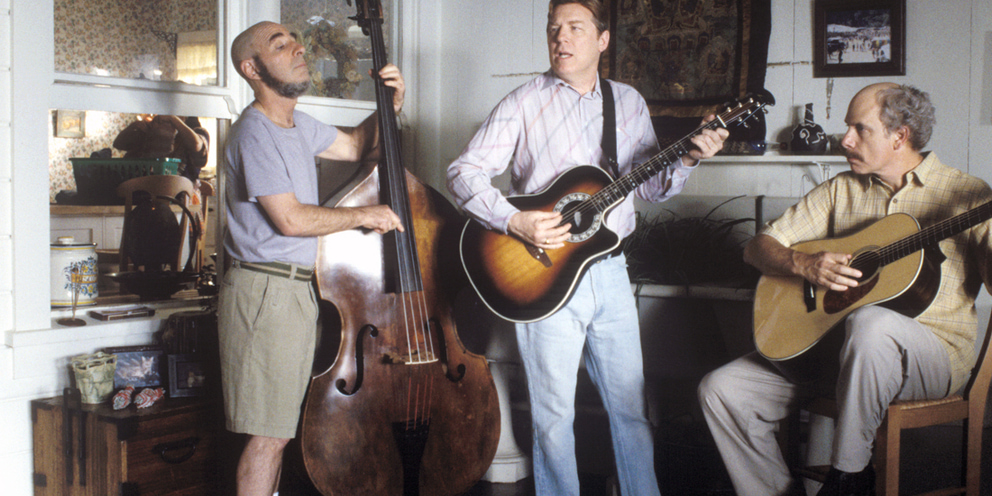 Rated PG-13. 87 mins.