AROUND THE BEND
Michael and Christopher go to KFC
Intergenerational Redemption Comes with Independent Soul
By Cole Smithey
Michael Caine and Christopher Walken breathe spirited life into debut writer/director Jordan Roberts's road trip of family bonding in this independent movie with a big heart. The 85-year-old Henry Lair (Caine) lives in Los Angeles with his 32-year-old grandson Jason (Josh Lucas) and 6-year-old great grandson Zach (Jonah Bobo). Jason's long lost father Turner (Walken) unexpectedly materializes for the first time in 30 years.
Turner's sudden appearance is especially surprising to Zach who has always been told that his outlaw grandfather is deceased. The four generations of men do soon drop in number however when the ailing Henry dies, immediately after writing his final requests on post-its in the comfort of a local Kentucky Fried Chicken. Henry's circuitous instructions send his three male descendants on family history soul-searching road trip from Los Angeles to Albuquerque that culminates in a cathartic admission by Walken's character that marks one of the actor's finer cinematic moments. "Around The Bend" may be a small movie, but it's better than Hollywood's average dramatic fare.
The subject of estranged fathers is a recurring theme in American movies. "Around The Bend" goes a long way toward articulating the destructive nature of such abandonment within a comic narrative structure. Jason is a banker with a limp who has recently separated from his wife. He cares for the couple's even-tempered son Zach with a fierce loyalty that springs from the  resentment he harbors against his own absent father. Jason's live-in grandfather Henry serves as a perfectly eccentric guiding force for Jason and Zach. Michael Caine brings a complex degree of domestic intimacy to Henry's character that denotes the emotional core of the story — even after he passes away — through his spontaneously written instructions. An extra zip of comic energy comes from Henry's live-in-sex-pot Danish nurse Katrina (Glenn Headly) who provides brief intimate council to Turner as she watches slasher movies on television.
The playing field for the story is laid down by Henry's series of detailed notes that he carefully nestles inside numerous paper bags like a Russian doll of ever-blossoming commands. Henry requests that his ashes be mingled with those of his recently deceased dog and that his boys sprinkle them at specific KFCs where they are to eat as they drive across New Mexico. Although it's never directly addressed, their shabby Volkswagen van has the word "DIG" spray-painted across the side as constant reminder of their mission to uncover hidden truths about their undefined relationship.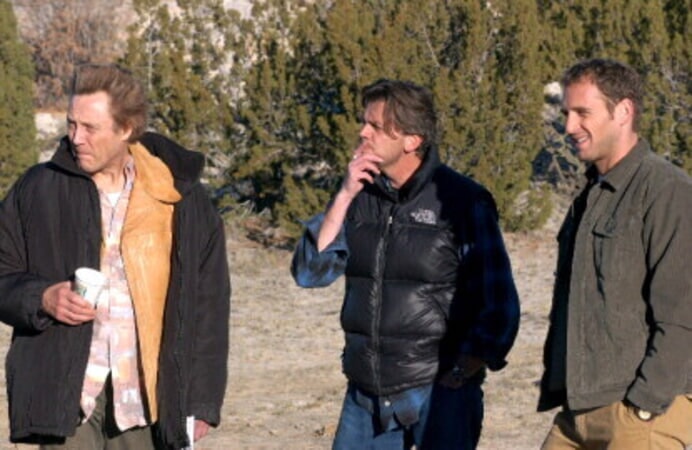 The prime enjoyment of the film is watching Christopher Walken connect with cultural touchstones of his generation that come in the guise of the rock music he dances to, or the considerably more understated music his character plays on an old piano in a hotel lobby. Walken humanizes a dishonorable heroin addict who left his wife and child after physically abusing them. Warren Zevon's "Carmelita" provides gentle musical commentary about Turner's drug habit. Turner is a man who ruined the most precious thing in his life, only to finally return to his family in time to see his father one last time and be given a final chance at explaining, if not redeeming, himself to his emotionally wounded son.
"Around The Bend" is a deceptively simple film that will doubtlessly speak loudest to audiences with parental abandonment experiences. That's not to say it isn't an satisfying movie on a more general level, but that the depth of catharsis that the movie extends will be greater for those familiar with parental estrangement. Each member of the four generations of Lairs is in the throes of losing a connection to life they can only pretend to grasp. When Turner reminisces about the giant rock that he made love to Jason's mother on, the reverie informs his son and grandson about a literal manifestation they connect with for their own personal nourishment. There's poetry in the image of four generations of men acknowledging a large physical chunk of Mother Nature as their mysterious womb of past, present, and future.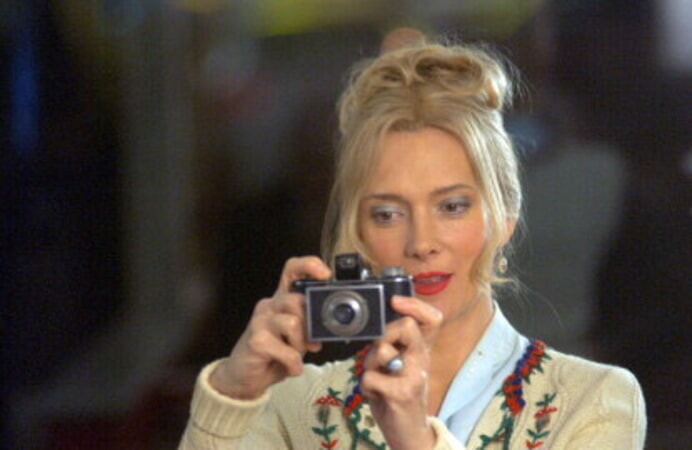 Jordan Roberts seamlessly transfers the essential grains of emotional logic that Jason misses, from his father's exhibitionist behavior, to the guileless Zach when the little boy dances like his grandfather on a giant rock in New Mexico at sunset. The sequence is unpredictably touching and makes you feel a kind of paternal bliss that no amount of description can do justice. It eloquently speaks to the attributes of emotional closure as containing a necessary aspect of hope. There's nothing general about that.
Rated R. 83 mins.
Groupthink doesn't live here, critical thought does.
This website is dedicated to Agnès Varda and to Luis Buñuel.
Get cool rewards when you click on the button to pledge your support through Patreon. Thanks a lot pal!