ASSAULT ON PRECINCT 13
Remake Error                                                      
John Carpenter's Cult Classic Gets Slapped Around
By Cole Smithey


In attempting to modernize John Carpenter's 1976 cult-classic director Jean-Francois Richet opens with a showstopper sequence akin to Joe Carnahan's "Narc" before digressing into a disjointed quagmire. Jake Roenick (Ethan Hawke) is a distraught Detroit police Sergeant on duty at an obsolete police station (Precinct 13) on a blizzard-ravaged New Year's Eve when a stranded police bus full of prisoners is forced to fill the precinct's jail cells. Kingpin criminal Marion Bishop (Lawrence Fishburne) unwittingly attracts a siege on the precinct from a group of dirty undercover cops who want Marion's head at all costs, lest he testify against them. Jake is forced to arm the prisoners to help defend the station house against a nightlong assault that claims a handful of victims.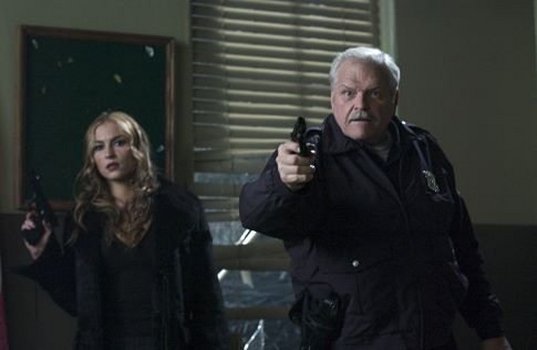 "Assault On Precinct 13" functions as a passable roller-coaster thriller for audiences not familiar with the original movie. It fails to resonate on the visceral level that Carpenter's film achieved with panache to spare.

John Carpenter originally used Howard Hawkes's classic 1959 western "Rio Bravo" as a stepping-off point to create his new breed of urban suspense thriller. What Carpenter didn't do was attempt to remake "Rio Bravo" by moving it up 30 years. The problem with Hollywood's affinity for remaking films is that, as with "The Manchurian Candidate," there isn't enough narrative room to go in any direction without bumping into the predecessor's old furniture.
Audiences go to the cinema to be inspired, regardless of a film's genre. That inspiration can come from any direction of narrative substance, but it has to contain a certain degree of internal enlightenment to be satisfying. Abel Ferrara's "King Of New York" is a great example of a genre movie that squeezes an audience by their guts. The director sees so deeply inside the milieu he's representing onscreen that every detail adds momentum to the story. Punches hit their intended targets.
The filmmakers here attempt to coast on the success of "Training Day." The film paired Ethan Hawke with Denzel Washington in a glorious Los Angeles translation of Abel Ferrara's shining achievement "Bad Lieutenant" (1992). The shocking first scene in "Assault" has a speeded-out Ethan Hawke spieling off a rapid-fire monologue to menacing drug dealers that he and his undercover partners have set up to sting. As suspicion over his frazzled antics escalates, so too does the violence that explodes in a chorus of gunfire. But the sequence is a disingenuous component to the action that follows.      

Jump to a year later when Jake pushes paper from a dead-end desk job when he isn't trading barbs with his romantically-inclined therapist Alex (Maria Bello). The station's secretary Iris (Drea de Matteo) resembles a nymphomaniac ex-hooker with a penchant for sleeping with criminals and losers. There's a decidedly musky scent in the air that Jake and veteran cop Jasper "Old School" O'Shea (Brian Dennehy) settle in for during their last New Year's Eve at the soon-to-be-closed station.

John Leguizamo plays a junkie mascot for the group of prisoners who file into the precinct to wait out the fierce snowstorm. Once the attack on the station house begins, the plot becomes something of a tennis match. We watch a dead ball of tension get smacked between the outside forces, the freshly armed criminals inside, and their police officer teammates. Screenwriter James DeMonaco's proclivity for Mexican stand-offs reaches its saturation threshold as so many guns get pointed in characters' faces that all suspense is drained from the situation.

"Assault on Precinct 13" is a movie that tries to elaborately connect modern- day police methods to out-of-date aspects from John Carpenter's'70s-era film. You get the feeling that you're watching a blown-up episode of "Barney Miller" that wishes it were "Training Day."
If you can ignore the gaping holes of logic in "Assault," and mitigate the fact that this movie is a generic action-thriller with no pretense of social commentary then you'll get your money's worth of entertainment.


Rated R. 109 mins. 

Groupthink doesn't live here, critical thought does.
This website is dedicated to Agnès Varda and to Luis Buñuel.
Get cool rewards when you click on the button to pledge your support through Patreon. Thanks a lot pal!