DOWNFALL
Date with Destiny
German Filmmakers do Justice to the Fall of Hitler's Empire
By Cole Smithey


As the first German-made film about Hitler's ruination since G.W. Pabst's "Der Letzte Akt" ("The Last Act" - 1956), "Downfall" is a stunning cinematic achievement that illuminates minutiae about the last ten days of the nefarious German leader who won the hearts of many and destroyed the lives of many more.
Director Oliver Hirschbiegel ("The Experiment") takes a clear-eyed approach to Bernd Eichinger's impeccable script based on the books "Inside Hitler's Bunker: The Last Days Of The Third Reich" (by Joachim Fest) and Traudl Junge's memoir "Until The Final Hour: Hitler's Last Secretary." Swiss-born actor Bruno Ganz gives a tour de force performance as Adolph Hitler. Ganz leads a stellar cast of German thespian heavyweights. Most unmistakable in the film's subtext is the deep contempt Hitler had for his own people, whom he blamed for Germany's damnation due to their headlong support for him.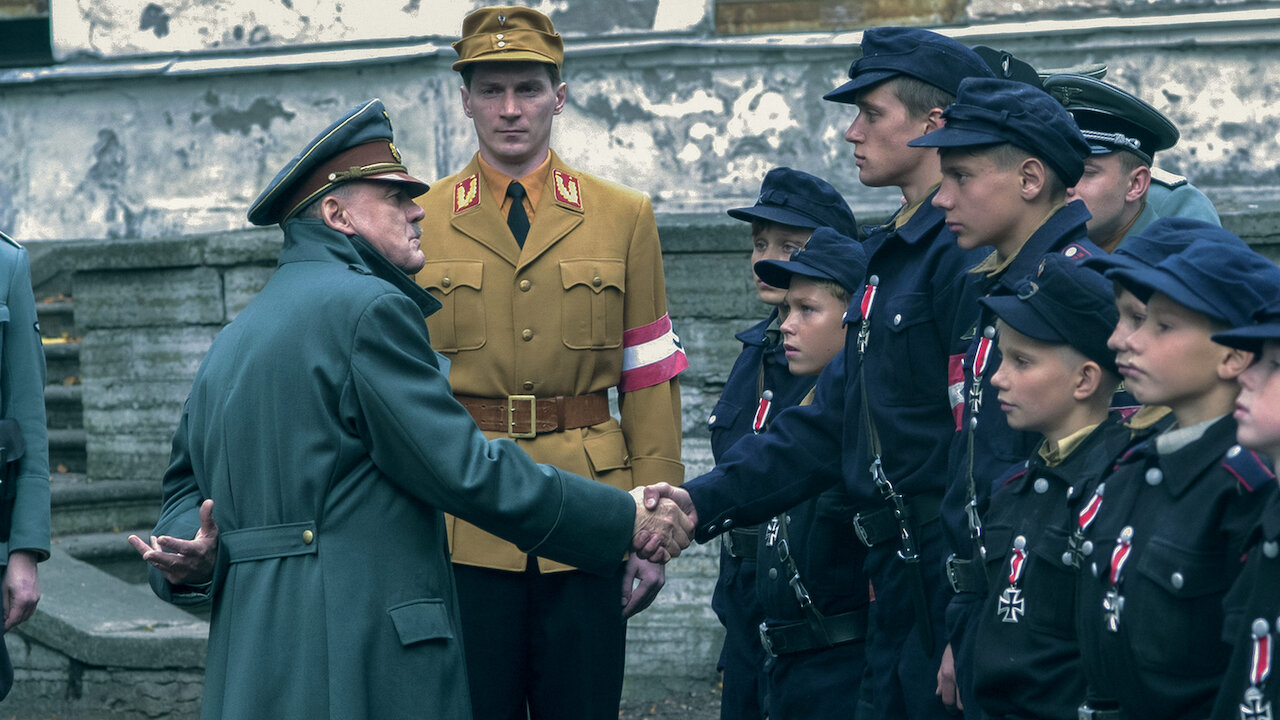 Audiences familiar with the 2002 documentary "Blind Spot - Hitler's Secretary," will notice its influence at the start of "Downfall" as an innocent young German woman (Alexandra Maria Lara) competes with several others for the position of Hitler's personal secretary to be stationed inside his Wolf's Lair bunker in Eastern Prussia. The economical scene, set in November of 1942, establishes Bruno Ganz's mesmerizing command of Adolph Hitler's choked speech and distinctive body language. It also fixes a personal association in the viewer's mind with the empathetic secretary Traudl Junge, who becomes one of the few people nearest Hitler to escape, and who serves as a de facto protagonist for the narrative demands of the story.

The timeframe shifts to Hitler's 56th birthday, on April 20, 1945, as Russian troops are fast approaching Berlin and laying waste to Germany's ravaged military forces. Eva Braun (perfectly played by Juliane Koehler) embarrassingly dances on tables and stays sloshed on champagne while Hitler resolutely ignores the advice of his military staff to flee his Berlin bunker beneath the German Chancellery. The Fuhrer conceals an involuntarily shaking hand behind his back as he spouts knee-jerk rhetoric about his imagined military might that he soon admits to himself is useless. We get an impression of Hitler's facility for military strategy that informed his overconfidence when he discusses martial specifics with his military officers. 

Days pass quickly as Hitler's sycophantic comrades and suspicious military leaders visit with him in the dank and gray confines of his modest bunker. The mentally unstable German leader confides in some of his subjects by sharing a supply of cyanide capsules before perfunctorily marrying his loyal but vapid girlfriend Eva. Meanwhile, Hitler's personal soldiers drink to distraction while discussing ways of committing suicide. 
In the streets above, a handful of teenage soldiers wait to defend Berlin from approaching Russian tanks as the city burns from unrelenting bombing raids. One such 13-year-old soldier's wounded father desperately warns his son that all is lost. The father pleads with the boy to come home. Here, we witness heedless nationalism deaf to any form of reason. The desolate condition is further enunciated when Hitler momentarily comes out from the bunker to personally give thanks to some juvenile members of Hitler Youth who have valiantly defended the city with limited resources.

Perhaps the most shocking event comes when Magda Goebbels (Corinna Harfouch), the wife of Hitler's Minister of Propaganda Josef Goebbels, puts her six children to bed for the last time before systematically murdering each one on the eve of Hitler's defeat. Magda delivers a bitter irony when she says that she does not want her children to live in a world without "National Socialism."

"Downfall" is a nearly three-hour film that commands repeated viewing to comprehend the sense of indefensible nationalism that provided fertile soil for a government to annihilate 50 million people. It's an axiom that all Empires must fall, just as all buildings will eventually succumb to gravity. The defeat of the Third Reich was made all the more obscure by Hitler's carefully planned suicide that admitted defeat, but denied satisfaction to his attackers. In those last days when Hitler had long since lost his touch with reality, it was his prestige and persona that his followers acted on without regard to individual responsibility or independent thought. The overriding moral of the story is an old one; think for yourself, regardless of what any government tells you is righteous.
Rated R. 154 mins.
Groupthink doesn't live here, critical thought does.
This website is dedicated to Agnès Varda and to Luis Buñuel.
Get cool rewards when you click on the button to pledge your support through Patreon. Thanks a lot pal!