HITCH
Planned Romance
Will Smith Woos Valentine's Day Movie Daters
By Cole Smithey


In a movie where the film's trailer spoils its best scenes, and the onscreen chemistry between our primary lovebirds is a failed experiment, it's refreshing that "Hitch" still provides a buoyant romantic lift. Will Smith relaxes from carrying around his leftover Muhammad Ali persona to groove as a Manhattan "date doctor."
Smith's character specializes in consulting insecure guys through the intricacies of their all-important first three dates with women of their dreams. But Hitch's own insecurities are tested when he falls for a lovely-but-guarded tabloid gossip columnist named Sara (Eva Mendes). Director Andy Tennant's terrific use of Manhattan locations and appropriate pop music (Sam Cooke, Jimmy Cliff, Stevie Wonder, etc.) go a long way toward making "Hitch" a romantically spirited movie.

Debut screenwriter Kevin Bisch spells out how Hitch arrived at his prosperous self-made occupation after ruining his romantic chances with the girl of his dreams while he was in college by misusing the "L" word. Hitch employs his cupid-inspired job as a form of self-therapy to recover from the damage he caused himself in the area of love. Although, he doesn't consciously admit it to himself. When a smarmy Wall Street type solicits Hitch's help in bedding a girl for the mere sake of sexual conquest, Hitch shuts down the conversation and forcefully explains his code of ethics. He's only interested in assisting gentlemen with noble intentions.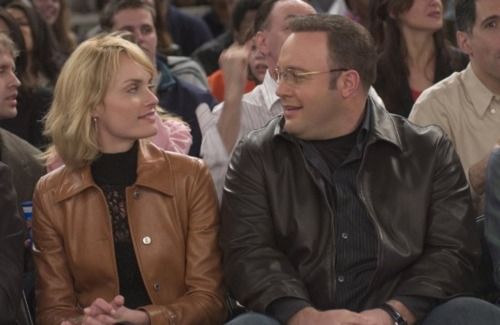 Hitch finds his ideal subject in the guise of Albert Brennaman (Kevin James) a shy overweight corporate accountant desperately in love with an impossibly rich and beautiful heiress named Allegra Cole (an ideally cast Amber Valletta). Kevin James is a comic revelation with soft good looks and a knack for physical comedy that readily ups the stakes on Will Smith's well- established comic persona. James comes across on the big screen like a more emotionally and physically limber version of Tom Arnold. He has instantly recognizable qualities that endear him to an audience. A comic centerpiece of the movie comes when Albert insists on showing off his well-practiced dance moves to Hitch while verbally explaining them. Albert's "Q-Tip" maneuver is especially hilarious.

"Hitch" is a romantic comedy that's one part comedy and three parts romance. So it's puzzling that the movie should drag whenever Hitch and Sara are together for more than a minute. Sara's character is so much a tough-as-nails urban career woman that she hardly seems a good match for Hitch who seems to be making a similar mistake with Sara to the one he's still living down from college. While Hitch is effortlessly comfortable around women and men, Sara seems to be truer to her sexual identity when she's talking to her best female friend. Sara makes the fatal flaw of exhibiting a mean streak on a couple of occasions that should set off "deal-breaker" alarms in Hitch's romantically-studied mind. 

As the story unfolds, the budding romance between Albert and Allegra resonates as the film's core. The moment when Albert wins his first kiss with Allegra is a classic love scene that states the movie's theme in a nutshell. Even after preparing with Hitch for the inevitable opportunity at a first kiss, Albert is unable to overcome his shyness until he can size up Allegra's attraction for him from a distance, and take a running start at it. Kevin James's comic timing taunts the audience into endorsing the romantic atmosphere of the movie.
(Warner Brothers) Rated R. 86 mins.
Groupthink doesn't live here, critical thought does.
This website is dedicated to Agnès Varda and to Luis Buñuel.
Get cool rewards when you click on the button to pledge your support through Patreon. Thanks a lot pal!