HOSTAGE
Negotiator Willis
Bruce Willis Returns to Rollercoaster Popcorn
By Cole Smithey
Bruce Willis returns to popcorn action movie fare as Jeff Talley, a former LAPD negotiator turned small town police chief who gets caught in a web of violence involving the kidnapping of his own family. A fuzzyheaded Willis fails to prevent the murder of a mother and her young son. Talley downshifts his police career to preside over a low-crime area of Ventura County. Talley's life abruptly dips into an hostage negotiation. French director Florent Emilio Siri ("The Nest") makes his English-language debut with an over-the-top action thriller that's all twisting construction without such luxuries as character development to clutter up the savage spectacle. The effect is entertaining but rooted squarely in fantasy.
It's a good thing the filmmakers return Bruce Willis to his naturally bald state after the film's disjointed opening where he wears a weird looking hairpiece. Talley is separated from his estranged wife and his teenaged daughter (played by Willis's real life daughter Rumer Willis). You can practically smell the poor lonely cop's spaghetti cooking on the stove. So when three teenaged hoodlums incidentally hijack the canyon mansion of a shady mob accountant (Kevin Pollack), whose house is a giant panic room styled fortress, Talley is drawn into the fray.
A good deal of the film's intensity stems from the pecking-order between teen thugs whose spontaneous attempt to carjack an SUV devolves into a hostage situation after they shoot a female police officer responding to a silent house alarm. Marshall Allman and Jonathan Tucker play brothers pitted against one another by an older manipulative thug named Mars (well played by Ben Foster). Once the battle lines are drawn around the house by an encroaching SWAT team, the interior drama between the thugs and the hostage father, his resourceful young son, and precocious teen daughter, fuel the film's intermittent anxiety.
The story, based on Robert Crais's novel, goes a stretch too far when Talley's own wife and daughter are kidnapped by Mafioso goons intent on recovering a CD ROM file from inside the occupied home during the hostage crisis for fear that the damning evidence will be discovered. Talley is coerced to reassert his authority over the tense situation after he's abdicated the responsibility to another officer because of his acute insecurity regarding hostage mediation. It's here that Bruce Willis fans are paid out in spades as the master of disaster (some box office related) applies his cool-headed charisma over insanely dangerous circumstances.
"Hostage" shares a significant trait with "Assault On Precinct 13" in that the distinction between good-guy-cops and terrorist-styled assassins is blurred. Mafia criminals effortlessly disguise themselves as a fully-equipped SWAT Team officers driving armored vehicles. It's never addressed how the mob guys acquired the SWAT gear that protects whoever wears it.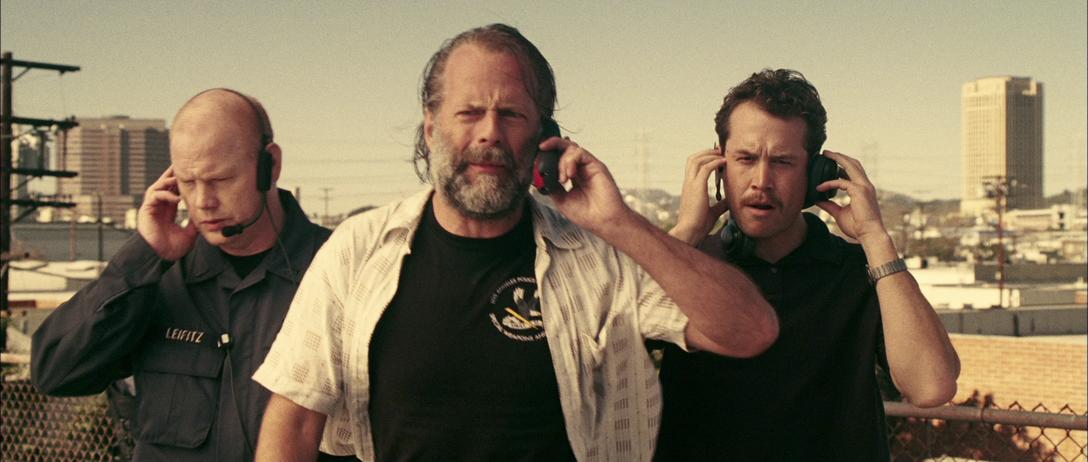 Fires rage and gun face-offs turn into a barrage of bullets as "Hostage" climaxes with an ending that's logistically incoherent, and oblique to the character information leading up to it. But that's inconsequential in a Bruce Willis action vehicle that promises to smear cinematic mustard all over exploding hot dogs. Camera-equipped helicopters provide a birds-eye view of every destructive moment. This is one movie that would be incomplete without a soda, some popcorn, and a box of chocolate-covered-something.
Rated R. 102 mins.
Groupthink doesn't live here, critical thought does.
This website is dedicated to Agnès Varda and to Luis Buñuel.
Get cool rewards when you click on the button to pledge your support through Patreon. Thanks a lot pal!