THE INTERPRETER
Gripping Drama - Fuzzy Politics
Kidman And Penn Elevate UN Thriller
By Cole Smithey


Much ballyhooed for its on-location filming in and around the United Nations building in Manhattan "The Interpreter" works better as a captivating drama than it does as an espionage thriller. Sticking plot point prevent the audience from connecting with its convoluted story. Nicole Kidman plays Silvia Broom, a South African UN interpreter who overhears a plot to assassinate Dr. Zuwanie (Earl Cameron), the visiting genocidal leader of her native war-pocked country Matobo (a fictional region). Secret Service agent Tobin Keller (Sean Penn) calls Silvia's checkered past in Matobo into question as he investigates her and her allegation.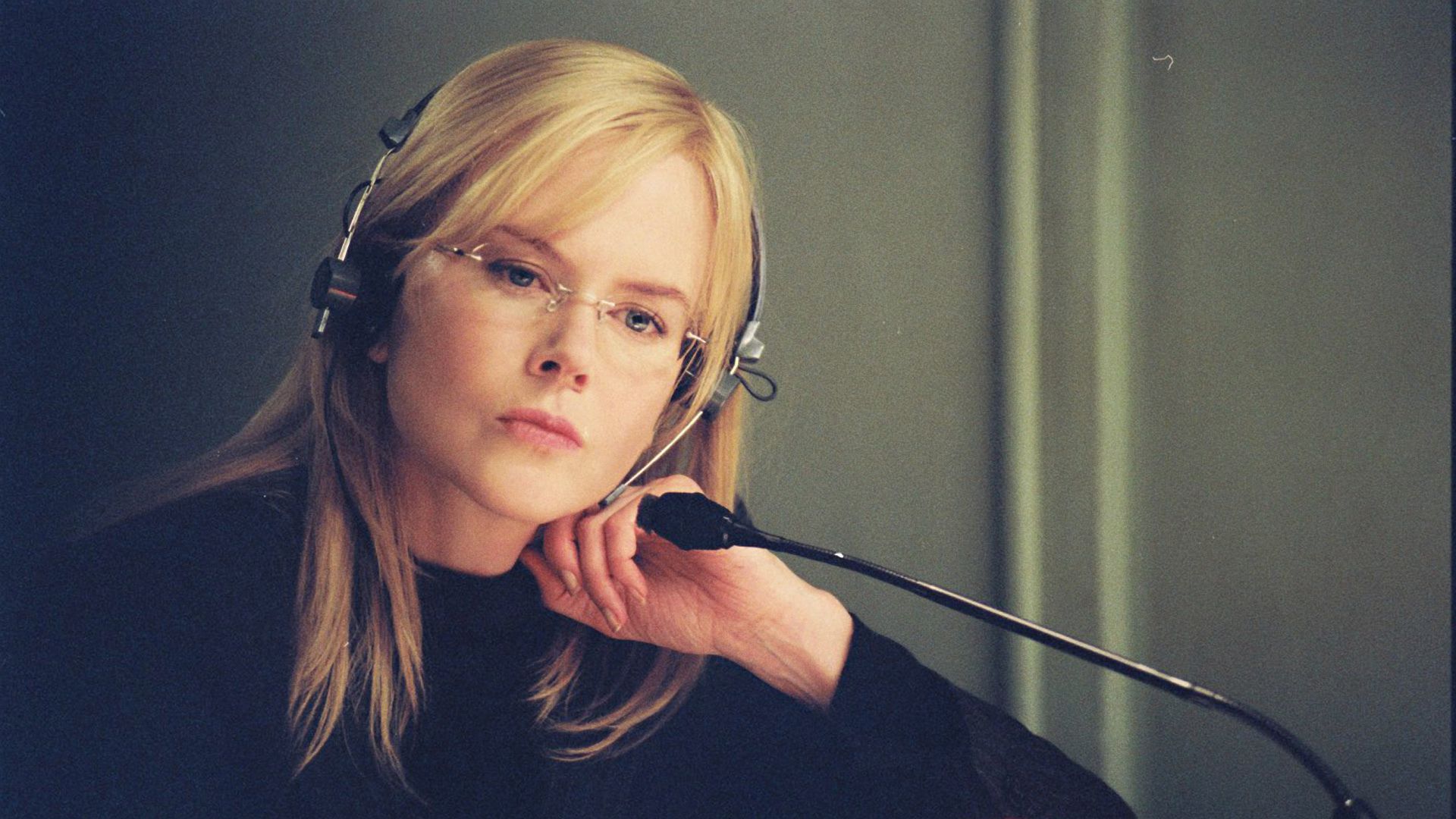 Sidney Pollack ("The Firm") directs "The Interpreter" with an austere distance that detracts from the film's intended suspense. Still, unsurpassable performances from Nicole Kidman and Sean Penn energize the film with their unusual chemistry.   
"The Interpreter" opens with a desolate scene that sets the tone for the brutality suffered by the impoverished citizens of Matobo, where a disused soccer stadium serves as a hiding place for corpses. A child with a machine gun vehemently exacts revenge on two reporters with white skin who have come to view the carnage. A waiting photographer friend of the child's victims ducks for cover in the distance and clicks images of an arriving warlord who will soon pose a serious threat to Silvia and the people near her in New York.

Translator Silvia Broom plays the flute in her spare time, and rides around Manhattan on an old yellow Italian scooter. She has a well-defended mind filled with secrets that she desperately wants to keep hidden. We're primarily informed about Silvia through her many one-on-one discussions with agent Keller, who's haunted by his own demons over the recent death of his dancer wife in a car accident. Keller is quick to presume that Silvia is lying about her impartiality towards the revolutionary-cum-dictator whose life she portends will be threatened on the floor of the UN's General Assembly when he arrives to speak in a few days.
Silvia speaks Ku, a language invented for the film. Nicole Kidman's precise elocution and streamlined body language make her entirely credible. When questioned by agent Keller about her motives for being a UN translator, Silvia says she believes in what the place [the UN] tries to accomplish, to which Keller responds, "You've had a tough year lady." Silvia returns the verbal slight later when Keller asks her, in an interrogation room, if he can get her anything. Silvia spits out, "How about a hood?" She uses a sarcastic tone that induces uncomfortable laughter in light of the American atrocities at Abu Ghraib. These kind of verbal darts in the dialogue take short aim at defects in the Bush Administration's "battle against terror" (read as an equivalent battle against humidity). The film's Hitchcock-inspired centerpiece of violence (reference "Sabotage" 1936) makes the biggest impression. Audiences fortunate enough to have not seen the trailer for "The Interpreter" will enjoy the full impact of a narrative sucker-punch that darkens the tone of the film considerably.

There are surprising plot problems for a story written by two people (Martin Stellman and Brian Ward), and then polished by three others (Charles Randolph, Scott Frank and Steven Zallian). One key figure of character consternation is the contrived Zuwanie security specialist Nils Lud (Jesper Christensen) who seems to have free reign through the corridors of power, in spite of his clearly dubious intentions. The character's function is insufficiently supported for the amount of import he's given during a rushed climax.

Much of "The Interpreter" dwells on Silvia's actions under the close surveillance of Keller's Secret Service team who bumble their by-the-book investigation on several occasions. Silvia is visited by a stalker whose weak motivation of merely scaring her seems strained for the level of espionage at play. But the sophomoric subplot is further strained when the stalker is promptly dispatched by his mysterious boss who inexplicably knows the Secret Service have located a hair from the man. The illogical sequence derails the movie in the same way that plot detours undermine the heart of the story.

Nonetheless, "The Interpreter" has a political inertia, however tentative, that points toward a more aggressive direction for Hollywood films to comment on the nature of corruption dominating our globe. No one falls in love in "The Interpreter," and we understand why; we all have far too much to be suspicious about these days for such emotional luxuries.
Rated PG-13. 128 mins.
Groupthink doesn't live here, critical thought does.
This website is dedicated to Agnès Varda and to Luis Buñuel.
Get cool rewards when you click on the button to pledge your support through Patreon. Thanks a lot pal!