VANITY FAIR
Riches To Rags
Mira Nair and Reese Witherspoon do Self-Admiration   
By Cole Smithey
The first half-hour of director Mira Nair's William Makepeace Thackeray-based "Vanity Fair" shows glimmers of promise before digressing into a complete shambles of soft soap mediocrity.
Reese Witherspoon plays high society climber Becky Sharp; the well educated orphaned daughter of an accomplished but poor painter and a French dancehall mother who died when she was a child. Becky parlays a governess position in a musty house of Hampshire aristocrats into that of wife to the family's heir apparent Rawdon Crawley (James Purefoy). But Becky's opportunistic angling backfires when the family disowns Rawdon due to the union, and she is eventually made to come under the thumb of the powerful Marquess of Steyne (Gabriel Byrne) in order to momentarily bask in the limelight of royal affectation.
Inopportune casting of secondary roles, such as Rhys Ifans guffaw-inducing turn as the emasculated William Dobbin, hobbles this under-directed and poorly plotted adaptation of a 19th century literary classic.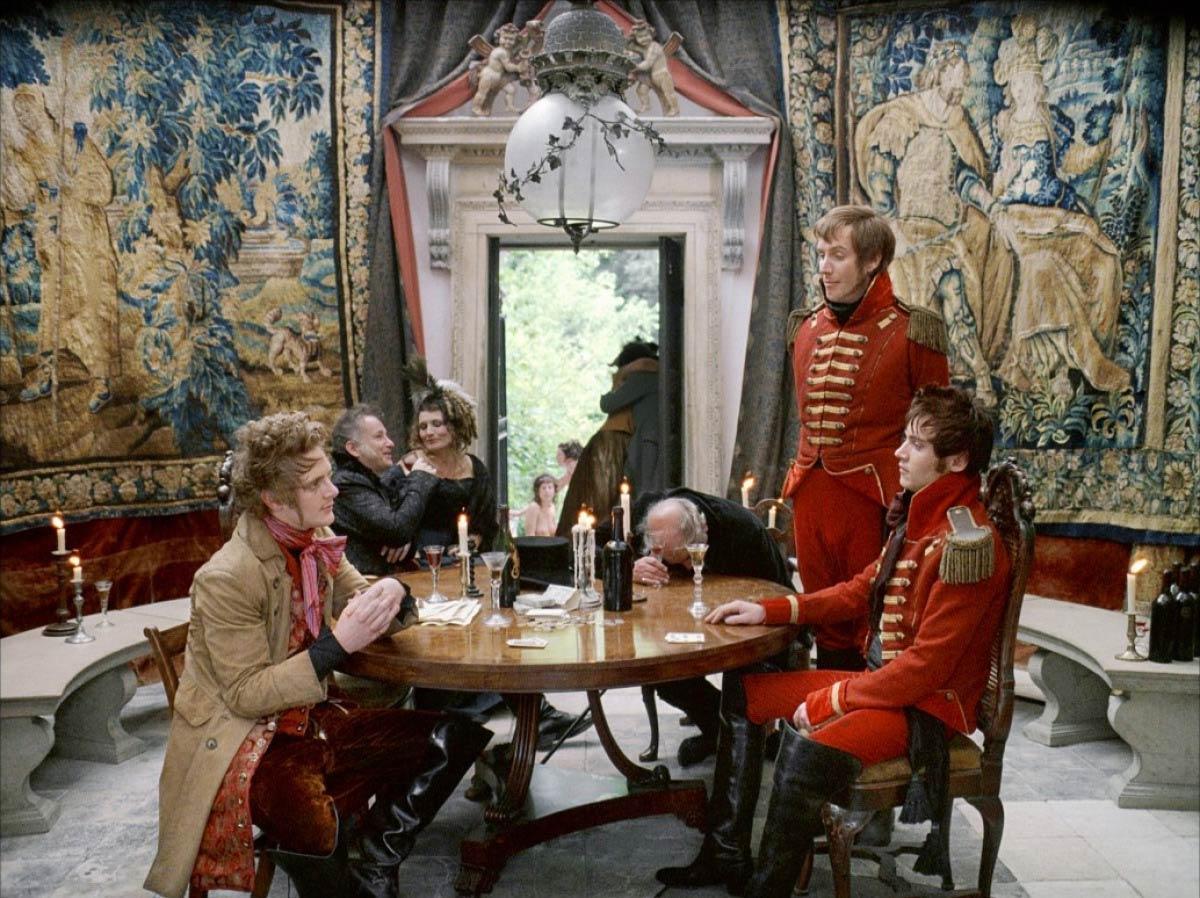 Reese Witherspoon has depleted her once creditable talent (see "Freeway") with so much Hollywood pap ("Sweet Home Alabama and the "Legally Blonde" franchise) that she has ruined her own instincts for creating authentic characters. Beyond Mira Nair's innumerable directorial errors in "Vanity Fair" lies Witherspoon's intrinsic failure to convey a performance true to the source material of a cunning guttersnipe with a large vocabulary and the ability to kill with kindness. Becky Sharp is a fertile character role that an actress like Jodie Foster or Annette Bening could have sunk their teeth into 20 years ago. But Witherspoon's shallow interpretation of a fiercely ambitions girl from the wrong side of the tracks barely nudges past Hilary Swank's underwhelming performance in another misguided period piece, "The Affair of the Necklace."
Witherspoon is content to smirk with assurance at her proficient execution of a British accent (although hardly 19th century) while relying on costume changes to transmit Becky's disguised emotional shifts. You can sense the actress distancing herself from the character as if looking at a mirror in self-admiration, when what's called for is a darker and more desperate compulsion to strangle her wealthy dupes in an English class system that despises her ilk.
Indian director Mira Nair ("Monsoon Wedding") works from a splintered script adaptation by Julian Fellowes ("Gosford Park") to incite tedious references to her home country that suggest Bollywood as much as that of 19th century England. When Becky visits the wealthy estate of her best friend Amelia's (Ramola Garai) betrothed husband George Osborne (Jonathan Rhys Meyers) the audience is assailed with parrots, peacocks, and Indian servants anxious to serve up spicy dishes of Indian food. The sequence comes off as a brief propaganda detour of some imagined yet nonexistent ideological significance.
The world outside of the immediate story is treated too casually to stir empathy. When Napoleon's abrupt attack on Waterloo interrupts a fancy ball where Becky's soldier husband (Purefoy) awaits battle, we never see the famous French commander or the military struggles that should set the tone for Becky's anxious bid at aligning herself with London's ruling class. This lack of attention to social context, coupled with Becky's breezy demeanor, bleeds the story of its would-be dramatic weight and leaves behind something closer to a costume comedy for blue-haired ladies in need of a break from knitting.
From the ostentatious costumes by designer Beatrix Aruna Pasztor ("Wonder Boys") to the annoying male hairstyles that permeate every scene, "Vanity Fair" is a movie that depends on its overall visual effect to hypnotize audiences into looking past the film's vandalism of Thackeray's book. A suspicious character says of Becky Sharp that she 'thought she was a social climber, but now sees that she's a mountaineer." However, the marble stairs that our contemptible protagonist climbs seem few and fraught with little danger save for a stubbed toe or a broken fingernail. Vanity, after all, is never fair.
Rated PG-13. 140 mins. 
Groupthink doesn't live here, critical thought does.
This website is dedicated to Agnès Varda and to Luis Buñuel.
Get cool rewards when you click on the button to pledge your support through Patreon. Thanks a lot pal!