A HISTORY OF VIOLENCE — CANNES 2005
Groupthink doesn't live here, critical thought does.
This ad-free website is dedicated to Agnès Varda and to Luis Buñuel.
Get cool rewards when you click on the button to pledge your support through Patreon. Thanks a lot pal! Your kind generosity keeps the reviews coming!
The Familial Interloper
David Cronenberg Makes A Subversive Thriller
By Cole Smithey
The double meaning of the film's title (either as a historic document or, as its intended purpose, a man with "a history of violence") is a binary device that director David Cronenberg rigorously manipulates like a shape-shifting magic trick to compare varying types of violence through a wide-angle lens.
Midwest family man Tom Stall (Viggo Mortensen) enjoys a healthy sex life with his attorney wife of 15 years, Edie (Maria Bello), in the fictional small town of Millbrook, Indiana where Tom runs a diner.
The couple have dinner every night with their two children Jack and Sarah. But when a duo of serial killers roll into town and raise hell at Tom's diner, the soft-spoken Tom quickly shifts gears to exhibit a highly efficient fighting technique that leaves the attackers dead, and turns him into an unwilling "American hero."
Several out-of-town mobsters appear, accusing Tom of being a former associate named Joey. They bring into question the nature of Tom's true identity. Their accusations send the story into vast emotional depths of anger, despair, and conflict.
Loosely based on Vince Locke's 1997 graphic novel, the film becomes, in Cronenberg's hands, a dynamic deliberation on America's infatuation with violence and its persistent belief in a person's ability to reinvent themselves.
With his almost exclusive use of a 27mm (wide-angle) lens Cronenberg utilizes composition to expand on the story's deceptively conventional nature and divide it into fragmented narrative shards that poke the audience at odd glaring angles. Watching the film is akin to watching a modernized take on a Alfred Hitchcock movie. Your head, heart, libido, and guts are alternately tugged in opposing directions.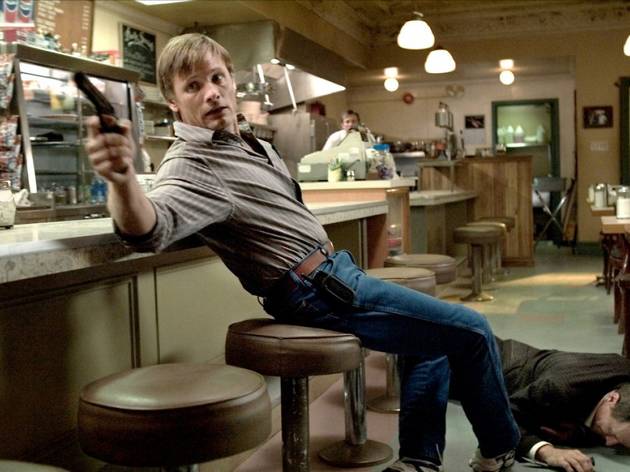 From its mordantly patient opening sequence of shocking brutality, to its effusively funny finale of hyper murderous action, "A History Of Violence" continuously shifts the subtext of its violent behavior so that the audience is never quite sure of its footing.
William Hurt shakes the story into a devilishly personal realm of familial distrust and rivalry when his mob boss character Richie Cusack calls for a closed-door meeting that must necessarily end in bloodshed. Richie embodies a hodgepodge mentality of esoteric ideas that combine to constitute a bizarre mirror image of America's neoconservative leaders. Cronenberg's caricatured vision of American fascism is hilarious for its spot-on depiction of the anxiety that accompanies it.
When Tom Stall throws his gun into a lake, we understand the gesture for its hollow promise of peace that Tom makes to himself. He may even believe that he can effectively bury his predilection for violence, but we sense he will eventually have occasion to reassert the ingrained behavior.
Tom's action brings into question the effect on the ecology. His gun will rust away at the bottom of a lake that may well have countless other firearms disintegrating in it. The aftereffects remain.
During a screening of the film at the Cannes Film Festival, a German audience member was so outraged at the incessant laughter from the audience that he shouted, "Can't you sh*tty critics be quiet and take the movie seriously?" His comment naturally induced its own round of laughter from an audience not exclusively comprised of critics, and brought into relief how differently the on-screen violence was being perceived. It was also a worthy gauge of how invested the spectators were in the entertainment of the piece at hand.
Rated R. 96 mins.