TYLER PERRY'S MADEA GOES TO JAIL
Tylersploitation
Tyler Perry Cracks Up
Tyler Perry continues to preach to the choir with his entertaining albeit stereotype-laced formula of melodrama and comedy. Joshua Hardaway is a DeKalb, Illinois assistant DA (well played by Derek Luke - "Catch a Fire") attempting to rescue an old college friend named Candice (Keshia Knight Pulliam) from a life of prostitution and addiction. Joshua's attorney fiancée Linda (Ion Overman) takes a dim view of his humanitarian efforts and sets about pulling some unethical legal strings to imprison Candice. The comedy comes to life whenever Perry's irrepressible lifelong criminal Madea (AKA Mabel Simmons) takes over, turning her rage at the social misdemeanors into humorous revenge.
As a filmmaker, Perry is content to recycle his talents, and pad his pictures with self-congratulating cameos by the likes of television's Judge Mathis or Dr. Phil, not to mention the Reverend Al Sharpton. If he ever gets around to widening his worldview Perry might surprise himself, and his loyal audience in the bargain.
At heart, Perry is a toned-down Blaxploitation filmmaker with an ear for mispronounced words and a through line intention of kicking against the Man, whose pervasive reach comes in all forms and colors. His movies are polemical experiments catering to urban audiences that respond vociferously to Madea's Atlanta regional accent that turns the word "Lord" into "Lort," as in "Lort, do I have to listen to all this melodrama?" The line of impatient dialogue comes when Madea responds to another prisoner venting frustration over abuse she received as a child. It is a character and theme line where we hear Perry, the screenwriter, shouting above the racket of his own characters to insert a preemptive block against a little voice in the back of an audience's mind that might blanch at Perry's heavy hand of social guidance.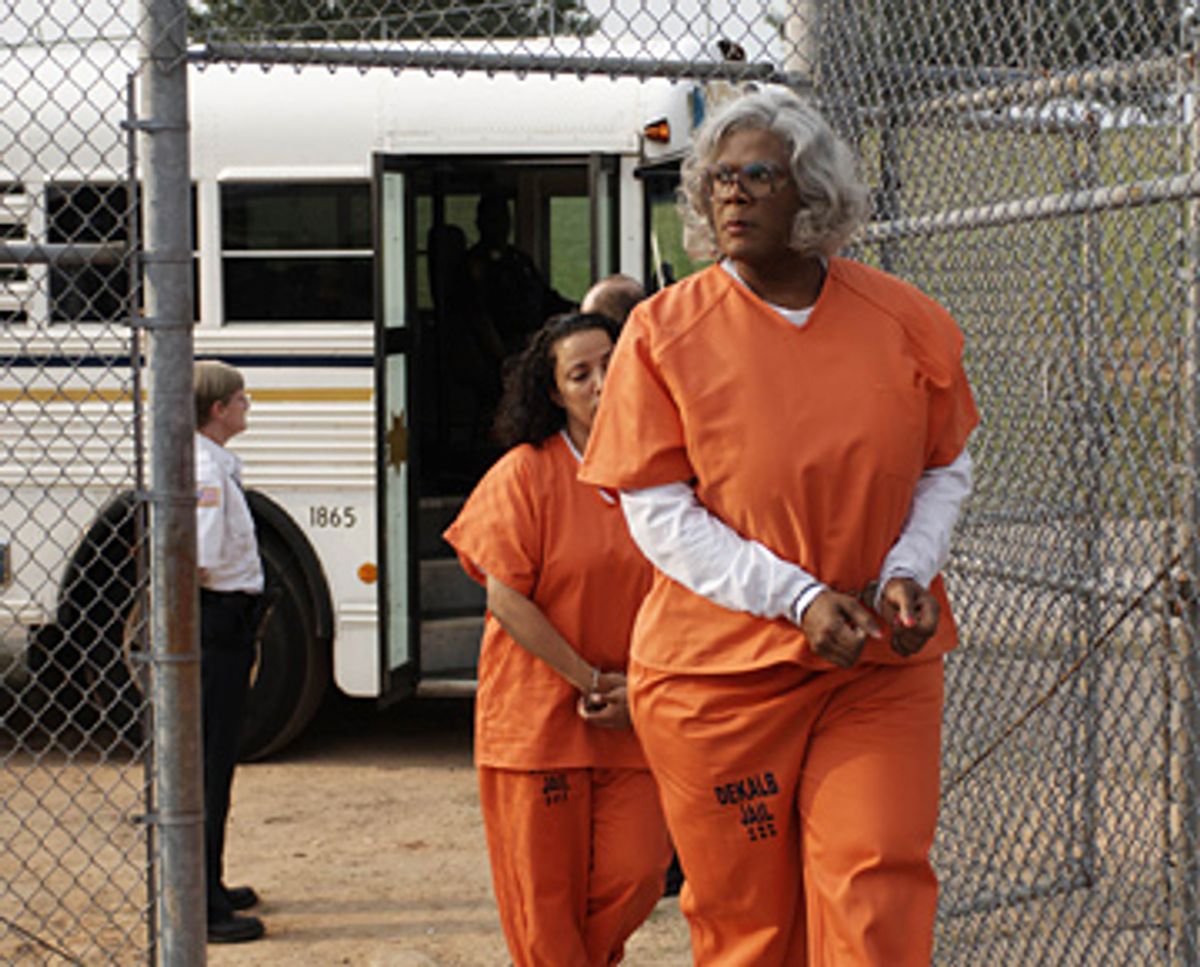 The irony is that the mixed-bag narrative inertia of "Madea Goes to Jail" works much better whenever Madea snatches up the reigns of a story about America's social injustice of inflated prison sentences waged against minorities.
Perry's drag-queen creation of Madea is a swirling combination of protagonist and antagonist that allows the writer-director-actor to have his cake and eat it too. Madea is a charismatic ball of defense mechanisms that will stop at nothing to ensure her survival. In many ways, the character seems to reflect the inner logic of Perry, whose well-known practice of not holding advance press screenings, and tightly controlling the attendance of his press conferences, effectively disallows the kind of media examination afforded most movies.
In spite of the enormous financial success that Perry has earned through his plays, television shows, and films, there is evidence in his "Madea Goes to Jail" that the walls may be closing in. When Madea resorts to repeating every question that her court-assigned therapist Dr. Phil asks, the movie feeds back on itself with the kind of screech that you hear when an inept convention host holds a microphone too close to a speaker. It might be funny at first, but the scene shows cracks in Perry's comedic sensibilities where he's just painting over the same wall.

(Lionsgate) PG-13. 103 mins.
Groupthink doesn't live here, critical thought does.
This website is dedicated to Agnès Varda and to Luis Buñuel.
Get cool rewards when you click on the button to pledge your support through Patreon. Thanks a lot pal!