PAUL
Back to the Drawing Board
Alien Spoof Goes Poof
By Cole Smithey


A disappointment from start to finish, Greg Mottola's alien spoof comedy is dead on arrival. The director of "Superbad" can't do much with a damp script by actors/co-writers Nick Frost and Simon Pegg ("Shaun of the Dead"). The two genial Brits play best-friend nerds who go on holiday in America.
After an uneventful visit to Comi-Con in San Diego, Graeme Willy (Pegg) and "the writer" Clive Gollings (Frost) take their rented RV on a tour through America's most famous UFO hotspots. Naturally Nevada's infamous Area 51 is on the list. A run-in with some mean-spirited rednecks proves less traumatic than when the duo meets up with Paul, a textbook alien (performed in motion-capture by Seth Rogen).
Paul has been secretly imprisoned on Earth for 60 years. Paul has recently escaped thanks to the aid of a rogue government agent. The men-in-black are hot on Paul's trail with orders from Sigourney Weaver's head honcho character to get the big-headed creature back to his "fishbowl" or kill him. Graeme and Clive take on the mission to deliver the little gray man to an undisclosed location where he will return to his "people."
The comedy perks up some when the trio meets up with Ruth Buggs (Kristen Wiig), a cute but naive creationist. Paul "enlightens" Ruth with a touch of his hand. She then takes a liking to cursing and the prospect of fornicating. The film's funniest gag involves Paul's interaction with a recently deceased bird. If the writers had created more such moments, "Paul" might have had a chance.
Fanboy culture is dead. Finally. The comic-driven fetish has succumbed to its readily identifiable underlying nature of "bromance." Geeky males of all ages can now freely bond over the fetishized faux-reality of their prized graphic art objects. A running joke in "Paul" involves the cover of a sci-fantasy book by "the writer" Clive Gollings. On it is a green alien Amazon woman with three — count 'em — three breasts lined side by side together. The reaction from anyone who sees the image is unanimously the same. "Three titties, awesome." The joke isn't that funny the first time you hear it. Hearing it repeated doesn't improve its laugh producing potential. The example identifies a major conceptual flaw in the film. In order for a bromance comedy to work, there needs to be conflict.
Frost and Pegg inhabit their amiable real-life friendship perhaps too well in "Paul." Their other two co-written films, "Shaun of the Dead" and "Hot Fuzz," allowed for a greater distinction between their characters. Both films were composite spoofs of specific genres, i.e. zombie movies and cop action flicks. "Paul" doesn't draw enough from its ostensible sources. Obligatory nods to "Men in Black," "Close Encounters of the Third Kind," and "E.T." are timid. The writers never dip their pens into sci-fi horror fare like "Alien" or "Species." Instead, Seth Rogan's quippy delivery is given free reign to embody a mirthful alien creature who could have used a bit more unpredictable influence.
If anything, "Paul" is a testament to Kristen Wiig's comic gifts to infuse palpable humor into everything she touches. Although she doesn't get to let fly with everything in her obvious arsenal, Wiig is the most funny aspect of the film. There are so many perceptible ways the filmmakers could have taken better comic advantage of Wiig's underused Ruth Buggs character. The missed opportunity points up one of the film's greatest weaknesses. It doesn't have a clear protagonist, or even a clear antagonist. "Paul" needed to go back to the drawing board.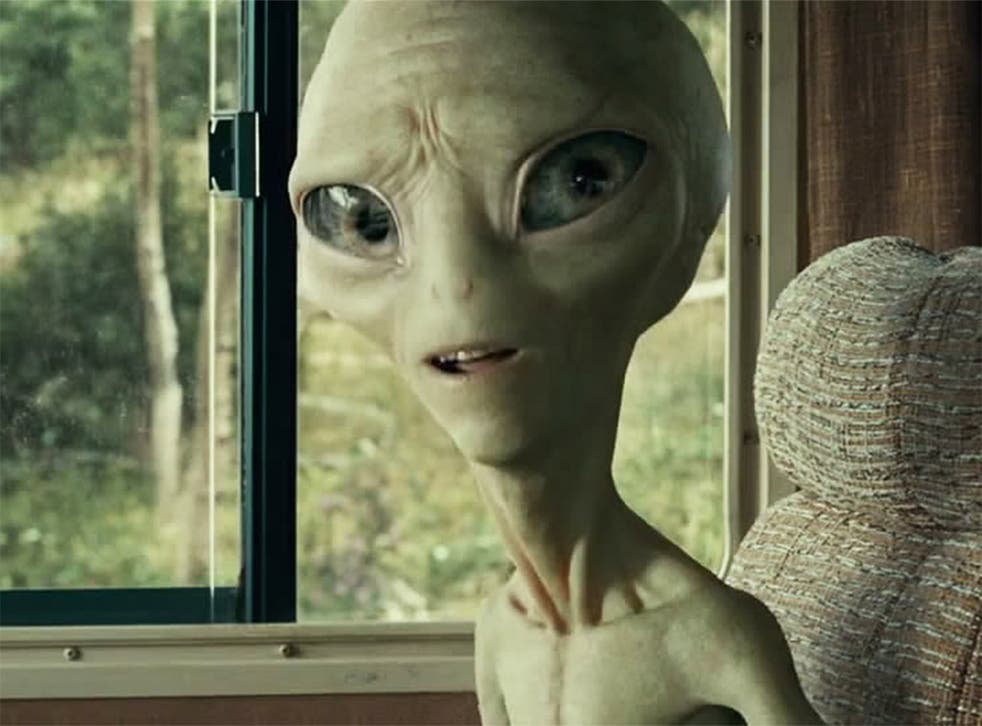 Rated R. 121 mins.
Groupthink doesn't live here, critical thought does.
This website is dedicated to Agnès Varda and to Luis Buñuel.
Get cool rewards when you click on the button to pledge your support through Patreon. Thanks a lot pal!