SOMETHING BORROWED
Pretty People Doing Bad Things
Cheaters Never Win
By Cole Smithey


Attractive people do bad things in this foolhardy romantic comedy based on Emily Giffin's novel. Best friends since childhood, Rachel (Ginnifer Goodwin) and Darcy (Kate Hudson) share a well-worn dysfunctional relationship. Passive aggressive Rachel lays down for Darcy's every super aggressive action. Hudson's sassy Darcy is a bully charmer who always gets her way with a hair flip, an ass-shake, and a smile.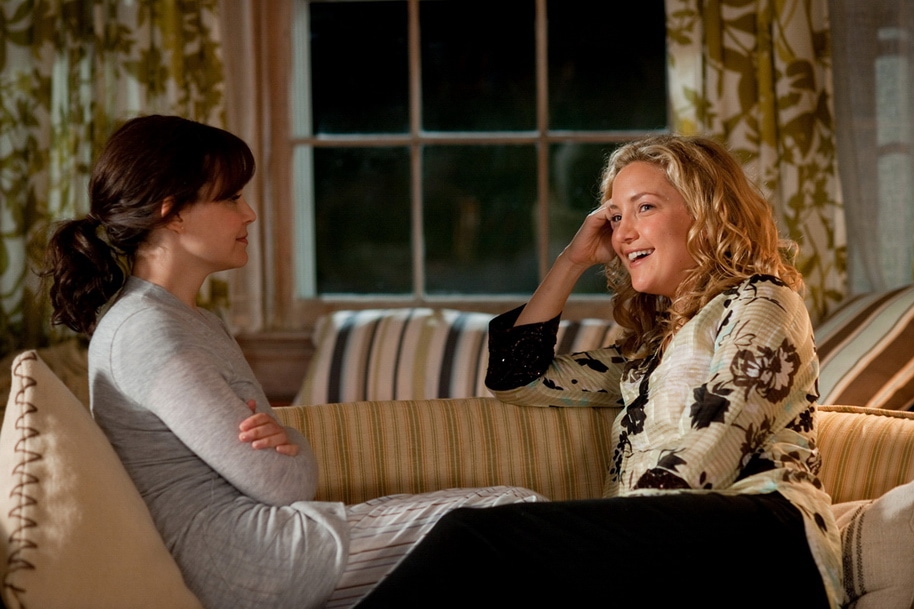 Stealing boyfriends is on Darcy's list of heartless character traits. Her self-professed greater need for sexual gratification over her best friend's meek libido pretends to validate her actions. Flesh hits flesh when Darcy sets her sites on Rachel's romantically inclined law school classmate Dex (played by Tom Cruise look-alike Colin Egglesfield) at a Manhattan bar where Darcy co-opts Dex's and Rachel's date. Six years later, wedding bells loom large for Dex and Darcy.
In this bubble of protracted romantic confusion everyone cheats on the other. If there's a tilt of expectation toward Rachel getting her unstated impractical way with Dex, it comes at a higher cost to her other best friend Ethan (John Krasinski) as the only person around who genuinely cares about her.
Narrative missteps take precedence over calculated surprises. Everything seems designed to distract from the underhanded actions of the material's outwardly attractive characters. Colin Egglesfield may well be a competent actor, but the world will never know. All you see is a guy who looks exactly like Tom Cruise. He'd make a great stand-in for Mr. Cruise, but unless Egglesfield alters his looks in some major way, he's doomed. Colin Egglesfield's casting as the love triangle's object of desire is a deal-breaker.
Supporting characters flit in and out of the overlong movie to drop ill-defined character lines. Dex's millionaire dad Dexter Thaler Sr. (Geoff Pierson) harbors an unspecified prejudice against Rachel as not someone worthy of his son's attention. Daddy's cold judgment dangles over the story like a shadow from an invisible source since he doesn't elaborate on what it is exactly about Rachel that he disdains. Could it be that she's Jewish, and he's an anti-Semite? We don't know. Considering that Rachel and Darcy come from the same economic background, Dexter Sr.'s decree for his son to drop her like a hot potato tromps across the story like a muddy shoe.
Director Luke Greenfield ("The Girl Next Door") relishes filming Manhattan as if it were a meagerly populated city like San Francisco. New York streets and bars are barely crowded. The oh-so-happy urban wonderland atmosphere functions to alleviate the city's intrinsic demand for action from its inhabitants. Rachel and Dex drag out their lame affair for so long that it's impossible to empathize with either character even if you can get past the fact that they are both cheating on Darcy. Some best friend Rachel turns out to be. And what a fine fiancé Dex is.
To say that the characters on display are "cardboard" would be a compliment. Only John Krasinski develops anything mildly resembling a person you'd like to have a beer with. To glorify Rachel as the story's backstabbing protagonist is an irresponsible act of authorship even if her just-deserts-punishment dares to give her what she wishes for. As the old adage goes, "You can't judge a book by its cover." Here you'll have to reach a decision about smiling cute characters without a jot of ethical sense. The filmmakers have already sized up their audience. They seem to think their viewers will be blinded by beauty.
Rated PG. 103 mins.
Groupthink doesn't live here, critical thought does.
This website is dedicated to Agnès Varda and to Luis Buñuel.
Get cool rewards when you click on the button to pledge your support through Patreon. Thanks a lot pal!