THE DEBT
What starts out as a gripping Cold-War-era espionage thriller devolves into utter fantasy in director John Madden's remake of a 2007 Israeli film by the same title. Told mainly in flashback sequences, the story follows the 1966 efforts of three young Mossad agents assigned to capture and transport Nazi war criminal Dr. Vogel (Jesper Christensen), a.k.a. "the surgeon of Birkenau." A fundamental flaw stems from the film's fictionalization of the infamous Nazi war criminal Dr. Josef Mengele — a.k.a. "the Angel of Death." Although hunted by the real Mossad during the '60s, Mengele evaded capture. He died a free man at the age of 67 in Bertioga, Brazil.
Given the "Inglourious Basterds"-themed nature of its revenge fantasy narrative "The Debt" plays it too straight when it should push at the boundaries of revisionist history. When the filmmakers finally get around to pushing the action over the top in the third act, the result is disingenuous.
In any event, a 1997 book release party for the biographer/daughter of retired Mossad agent Rachel Singer (Helen Mirren) promises to reunite the three Mossad operatives for the first time in 30 years. With a prominent scar on her right cheek, Rachel reads aloud from the biography her daughter wrote about her intrepid experiences a lifetime ago. Rachel's jagged facial scar evinces deeper emotional wounds. Mirren's keen performance lets us see the broken internal pieces her character desperately wants to keep hidden. She reads a brutal paragraph in which she describes killing her hostage as he attempts to escape. The episode will pop up later in the movie, albeit under crucially different circumstances than those related in the book's version.
Cut to 1966 when a younger Rachel (played by Jessica Chastain) arrives in East Berlin with fellow Israeli ops David (Sam Worthington) and Stefan (Marton Csokas). Their mission is to capture Dr. Vogel and transport him to Israel to be tried for crimes against humanity. Rachel and David pose as husband and wife, but their authentic romantic connection is rattled by their opportunistic leader Stefan who knows how to play upon their weaknesses. A love triangle develops between the agents, who live together in a large but barely furnished apartment.
Jessica Chastain ("The Tree of Life") communicates continuity with her older incarnation (Helen Mirren). Although the same level of recognition doesn't exist between Sam Worthington and his older version (Ciaran Hinds), or between Marton Csokas and his later personification (Tom Wilkinson), the connection between Chastain and Mirren presents sufficient glue to keep us hooked.
Mission planning quickly moves to execution as Rachel poses as a patient visiting Dr. Vogel at his gynecological practice. The real Dr. Mengele did indeed work as a gynecologist performing illegal abortions after escaping from Germany after the war. The medical examination scenes make for some very tense moments of calculated suspense. The diabolical doctor questions his vulnerable patient about her family history as if he might kill her on the spot for being Jewish.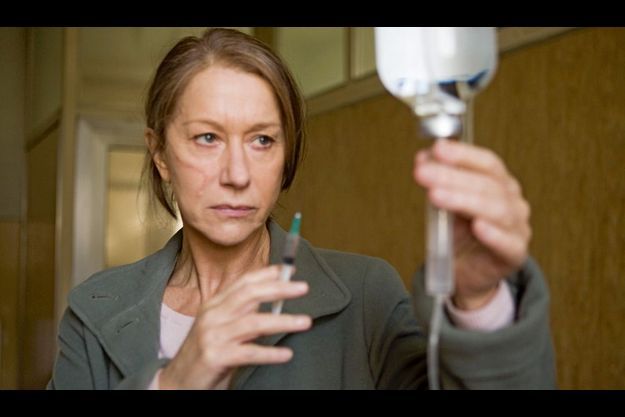 Vogel sees into Rachel figuratively and literally. After the team captures him, the evil doctor proves as monstrously unrepentant and manipulative as you might imagine. The conundrum that develops between our occasionally clumsy Mossad agents, about how to treat their cunning prisoner, presents the would-be crux of the story. Unfortunately, screenwriters Matthew Vaughn and Jane Goldman ("Kick-Ass") and Peter Straughan ("The Men Who Stare at Goats") are too insecure about their thematic intent and satirical implementation to push the necessary buttons.
The filmmakers attempt to shoehorn a lingering love story between Rachel and David that has simmered over the years. The relationship vies too heavily with a third-act spree of vengeance that hardly seems worth the effort for the pretentiousness it inflicts. A subplot regarding a long-held secret links the couple's affair with the far-fetched action that serves as the climax. There's an old saying that "revenge is a dish best served cold." In real life, the Mossad gave up on tracking down Dr. Mengele and bringing him to justice even though they were at one time close to completing the mission. If the filmmakers wanted to recast history, they needed to have a better sense of war genre and espionage films to make it work. "The Debt" is entertaining enough. It just doesn't function as a cohesive film.
Rated R. 104 mins.
Groupthink doesn't live here, critical thought does.
This website is dedicated to Agnès Varda and to Luis Buñuel.
Get cool rewards when you click on the button to pledge your support through Patreon. Thanks a lot pal!