MISSION: IMPOSSIBLE — ROGUE NATION
Tested by a inane MacGuffin that would make anyone who's ever heard of WikiLeaks burst out laughing, an anti-heroine (named Ilsa Faust) whose allegiances are tediously ambiguous, and an overlong running time that wears out its stunt-filled welcome, Mission Impossible: Rogue Nation is a total bust.

In keeping with producer Tom Cruise's modus operandi for the "Mission Impossible" franchise (to change directors for each film) Christopher McQuarrie ("Edge of Tomorrow") takes his shot at injecting energy into a series that has run out of gas. McQuarrie, famous for writing the script for "The Usual Suspects," fumbles with supporting characters so much that action sequences arrive as a relief from watching the storyline crumble all around them.
Looking every bit his age, the 53-year-old Tom Cruise reliably works though breathtaking stunt sequences, some more so than others. The film's much-ballyhooed outdoor plane ride kicks off the action with Cruise praying that nothing flies into his eyes as the military cargo plane that Ethan Hunt hangs onto accelerates high into the air. It's an impressive stunt, and gives the movie a running start that sadly wanes considerably by the film's third act.
The nerve-gas missiles Ethan needs to reroute in midair have nothing to do with the gumbo narrative that re-teams the action-prone spy with his IMF ("Impossible Missions Force, not the "International Monetary Fund," though the they may as well be interchangeable) cohorts William Brandt (Jeremy Renner), tech guru Benji Dunn (Simon Pegg) and Luther Stickell (Ving Rhames). Don't go looking for much plot participation from Renner, Pegg, or Rhames, they're only in the movie as background.
An international crime syndicate, called (shock) "The Syndicate," has been busy imitating the US Government's escalating practice of destabilizing countries and communities around the world. Obviously, the filmmakers couldn't make the US Government the film's rogue boogey man but they might have come up with a better movie if they had. Go big or go home.
The picture is nothing more than a mishmash of disjointed suspense and chases scenes that would have Alfred Hitchcock turning in his grave. There's never any build-up; the audience is thrown into such sequences cold. Ethan does some fancy backstage footwork at a Vienna State Opera performance of "Turandot," where a couple of wily snipers have their laser sights aimed at a dignitary in the audience. Although the scene ends in a neat bit of hairsplitting decision-making on Ethan's part, we the audience aren't supplied with enough context or backstory to care.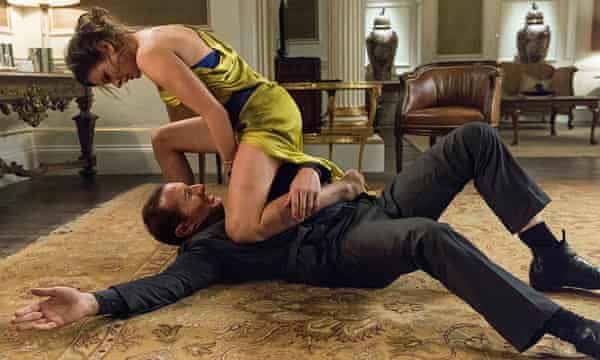 A madcap motorcycle chase in Morocco juices up the location-jumping intensity, but by the time Ethan finally gets around to facing down the Syndicate's diabolical leader (played by Sean Harris), the villain seems like a very small fish indeed. It's an old law of screenwriting that any protagonist must have a worthy opponent. In the case of "Mission Impossible: Rogue Nation," the heavy is a paper tiger. Next.
Groupthink doesn't live here, critical thought does.
This ad-free website is dedicated to Agnès Varda and to Luis Buñuel.
Get cool rewards when you click on the button to pledge your support through Patreon. Thanks a lot pal!