SPECTRE
With his name prominently displayed as one of "Spectre's" producers, Daniel Craig puts more than just his skin in the game of perpetuating cinema's best-loved franchise. Craig's explosive interpretation of 007 is the high watermark of the modern James Bond era, whose other incarnations include Roger Moore, Timothy Dalton, and Pierce Brosnan. Don't believe the publicity hype about Daniel Craig leaving the franchise. He's in it for one if not two more James Bond features.
Craig's steely pale blue eyes express and much as they conceal. His Bond is an inscrutable product of tightly wound instinct. He's part animal. Where Craig's last Bond outing ("Skyfall") went operatically melodramatic, "Spectre" races into the throat of modern global villainy, namely a British version of the NSA. Who doesn't want to see those surveillance-greedy hogs get their comeuppance? Bond's unusual childhood also provides character clues related to this film's criminal mastermind Franz Oberhauser (reliably played for kicks by Christoph Waltz). More gleeful than vicious, Waltz savors every smarmy word that Franz speaks to the spy he wants to torture to death (for personal and professional reasons), in the presence of his white Persian cat that Bond calls "pussy." Bond's girlfriend of the moment is also a witness to proceedings involving a power drill with a skinny but long bit. 
For the series' 24th installment, "Spectre's" four screenwriters create a brilliant tapestry of lavish style, sly humor, requisite flashy international locations, and eye-popping action sequences to check every innumerable box of the franchise's simple-but-complex formula. At a well-used 148-minute running time, "Spectre" lives up to its promise. 
The car chases could be better, but I'm quibbling. Sam Smith commits a far greater sin with one of the series worst theme songs in movie history. "Writing's on the Wall" is so unlistenable it's sickening. Why the filmmakers didn't go with an appropriate band like Ladytron (check out Destroy Everything You Touch) is beyond logic. Note to Bond's producers, hire Ladytron for the next one, okay?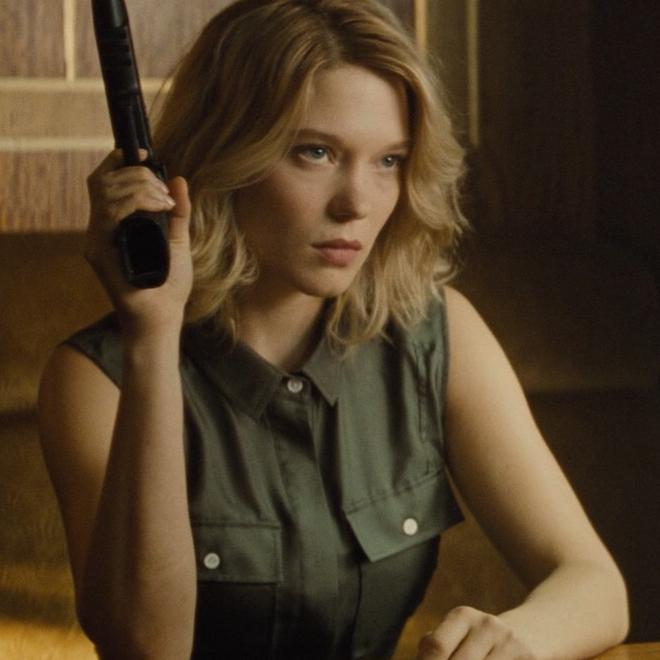 "Spectre's" obligatory opening action sequence occurs in Mexico City where Bond is on an assassination mission during Mexico City's annual Day of the Dead parade. Death's celebration creates a chaotic if visually stunning palate of skeleton-costumed crowds of thousands. Italian mafia kingpin Sciarra (Alessandro Cremona) is Bond's elusive target. Your palms will be sweating by the time Bond boards a helicopter in pursuit of his human prey. Returning franchise director Sam Mendes milks every visually arresting spectacle for all its potential to stun his audience. The doorless helicopter hovers low over an enormous crowd of revelers in the town's massive Zocalo Square. The chopper spins and flips above, tossing Bond and Sciarra around the cabin like rag dolls. This astonishing sequence alone is worth the film's price of admission. Your heart will race. 
Bond's latest M (toughly played by Ralph Fiennes) is none too pleased about his spy's problematic actions in Mexico that brought down an entire building. An injected tracking device insures that even MI5's creepy overtaking superior "C" Max Denbigh (Andrew Scott) can track him wherever he goes. C is a pure manifestation of the kind of boy-scout sociopath you might imagine wiling away their hours at the NSA by listening to civilians having phone sex, or looking at their nude photos. You can guess how Bond translates the "C." 007 taps back-channel favors from his pals Moneypenny (Naomi Harris) Q (Ben Whishaw) to enable a journey of discovery stained with blood and vodka. Frequent wardrobe changes come gratis.
Witty references to Bond's past make for fun inside jokes for loyal audiences. The romance that steams between Bond and French beauty Lea Seydoux as Madeleine Swann barely allows a glimpse of the spy's ostensibly soft side. It also gives Seydoux room to spread her wings. The pairing is oddly perfect. "Spectre" is an incredibly entertaining and fun movie. Isn't that what James Bond movies are all about? 
Rated PG-13. 148 mins.
Groupthink doesn't live here, critical thought does.
This website is dedicated to Agnès Varda and to Luis Buñuel.
Get cool rewards when you click on the button to pledge your support through Patreon. Thanks a lot pal!