RAMS
A tragicomic drama of land-sharing and sibling rivalry plays out in a rural environment of communal loss in Iceland. The result is an eloquent character and social study of tortured souls at the mercy of nature's volatile whims.
Elderly shepherds and brothers Gummi (Sigurður Sigurjónsson) and Kiddi (Theodór Júlíusson) haven't spoken in 40 years. The seething animosity between them is palpable in their terse interactions, as when they pass in all-terrain vehicles on their shared road. There is no love lost. No reason is given for the brothers' falling out; it is enough to surmise that the origin of the dispute was something petty.
Writer-director Grímur Hákonarson opens this neo-realist exploration of persona, land, animals, and raw societal underpinnings with a brilliantly devised introduction to an isolated mountainous culture. A local "Best Ram" award ceremony is underway for the heartiest adult male sheep in the region. Gummi naturally takes it hard when his sheep loses to Kiddi's ram. The public humiliation is unbearable to Gummi, who kidnaps his brother's ram to inspect it in the light of day.
Gummi discovers that the winning animal is infected with Scrapie, a highly contagious fatal disease. A public decree follows, commanding that all of the valley's sheep be slaughtered in order to prevent the degenerative disease from spreading beyond their small community. The population is devastated; nearly everyone will have to leave.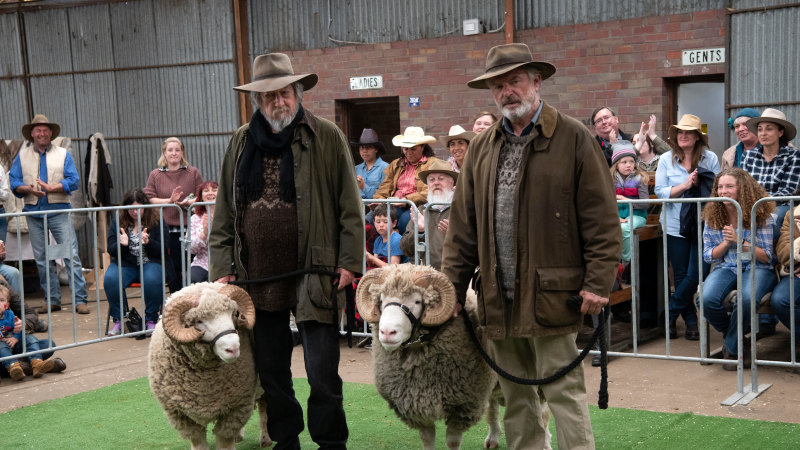 But the brothers don't handle their living nightmare in the same way that their neighbors do. Gummi keeps a secret in his basement that he must eventually share, with his brother.
The pragmatic subject matter ushers in a humanizing magnetism that natural cataclysms can prompt. Hákonarson's generous sense of filmic naturalism is reflected in his brilliant ensemble's performances. Still, nothing is pretty. Sigurjónsson and Júlíusson play off one another with an entrenched sense of lived-in bitterness that is not without comic aspects.
This snow-saturated film seems to say that we all care for something equal to how we care for ourselves; in this case the doomed rams are the symbol of life that each brother fixates upon, and bonds over. Rams represent the (romantically human) embodiment of the relationship between animal and the earth, and between these unfortunate brothers. Grímur Hákonarson presents a familial allegory that allows for multiple interpretations from the film's (ostensibly) multicultural target audience. Forgiveness is in the eye of the beholder.
The icy narrative is bittersweet. We learn something strange and yet recognizable about the invisible bonds that connect people. "Rams" extends a thoughtful microcosm of humanity's vulnerability in a rarefied natural setting.
Groupthink doesn't live here, critical thought does.
This website is dedicated to Agnès Varda and to Luis Buñuel.
Get cool rewards when you click on the button to pledge your support through Patreon. Thanks a lot pal!