BABY FACE — CLASSIC FILM PICK
Based on a story written by Hollywood studio maverick Darryl F. Zanuck (head of 20th Century Pictures), co-screenwriters Kathryn Scola and Gene Markey create a satirical exploitation picture teeming with social currency. This politically challenging piece of dramaturgy could have come straight from New York's Group Theatre, whose lead playwright Clifford Odets incited theatre audiences of the era with activist plays such as "Waiting for Lefty."
Darryl Zanuck was on a career tear with a string of successes when he wrote "Baby Face," which Warner Brothers and Vitaphone produced. The Jazz Singer (1927), The Public Enemy (1931), and I Am a Fugitive from a Chain Gang (1932) were all Zanuck-produced films.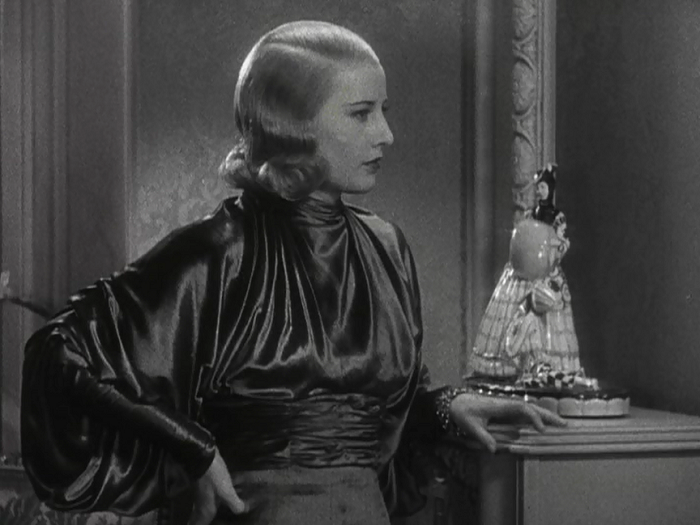 With its outré sensibilities around sexual power wielded by a woman, "Baby Face" (1933) became a lightening rod for the Hays Code, which effectively blocked [empowered] female characters from appearing in American movies once the policy took hold on July 1, 1934. Although the code was created in 1929, no heed was given to it until '34.
Barbara Stanwyck is off the charts as a streetwise woman from Erie, Pennsylvania whose father has turned their home into a speakeasy and brothel, featuring Lily as a combination of man-pleasing waitress and prostitute. Stanwyck's confidence as her character melds with her utter mastery of acting craft.
"Baby Face" is possibly the only film in the canon of American cinema where a father (played by a cigar-chomping Robert Barrat) pimps out his own daughter. Still, Lily doesn't pull any punches when a customer's advances are unwanted, regardless of his social standing. A local politician gets a cup of hot coffee poured him, as well as a bottle to the head when he comes on strong after following her into her bedroom.
Lily's conscious adjustment of attitude and ambition comes from Cragg (Alphonse Ethier), a Swedish Nietzsche-quoting cobbler who briefly mentors Lily after her father's untimely death. Gragg advises Lily to use her sexual power over men to get what she wants. "You must be a master, not a slave," he tells her. Gregg goes on to read from Nietzsche's "The Will to Power."
"All life, no matter how we idealize it, is nothing more nor less than exploitation."
Lily takes to the cobbler's advice like a fish to water. In Stanwyck's subtle facial expression we see the penny drop.
It's telling that for years the only available version of "Baby Face" was one that edited out this scene's trenchant ideological dialogue. Even so, the film's thematic-reversing climax reneges on Nietzsche's position by valuing sentimentality over calculated ambition.
Director Alfred E. Green graphically presents Lily's climb up the corporate ladder with exterior shots of the bank building's high-rise walls on whose windows are painted with the title of each branch. Lily works her way up from the filing department to the accounting department and on, leaving behind her the men whose lives she has ruined, some more so than others.
A key character element comes though Lily's fluid ability to learn on the job. She is never anything less than good at each position she ascends to. Moralists of the day would surely have called Lily a slut, but Stanwyck's Lily proves smarter than anyone she comes into contact with — man or woman. Regardless of how morally superior every corporate man she meets, pretends to be, it's always a front to get what they want, sex from Lily.
Lily's transition from lower class tramp to high society dame succeeds via Orry-Kelly's sensual, if extravagant, costume designs. Ever the master of dramatic beats, Stanwyck works every thread of the enticing dresses and furs she wears as if she were born in them. Lily transforms into a goddess for the audience to worship.
The film's closing moral message is as right wing as they come. Patriarchal advice proves reliably flawed, no matter the validity of its philosophical intention.    
America Cinema has seldom witnessed such a powerful self-possessed capitalist as Lily. Here is a blatant affront to generations of American provincial female teachings that value virginity over sexual freedom. Lily likes giving it away, for a cause — herself. The men are only too happy to pay without even being asked.
Not Rated. 73 mins.
In episode #17 the great Thelma Adams joins Mike and I to discuss "Baby Face," an amazing Pre-Code film staring Barbara Stanwyck. while drinking MAUI BREWING SWELL IPA.
SUBSCRIBE to LA GRANDE BOUFFE (THE BIG FEAST) on SOUNDCLOUD.  If you're on an ANDROID DEVICE subscribe on STITCHER — TELL YOUR FRIENDS!
Groupthink doesn't live here, critical thought does.
This website is dedicated to Agnès Varda and to Luis Buñuel.
Get cool rewards when you click on the button to pledge your support through Patreon. Thanks a lot pal!