GAME NIGHT
Although saddled with a few unnecessary sequences, this comic rejiggering of David Fincher's famous 1997 thriller "The Game" (starring Michael Douglas and Sean Penn) is a laugh-inducing movie with more than its share of plot twists. Co-directed by John Francis Daley (actor on television's "Bones") and Jonathan Goldstein, "Game Night" plays on a cartoon level of violence and suspense. The satire never goes near politics even if the film's atmosphere is all about American fears and obsessions with torture and violence. Guns and kidnapping provide the lay of the land.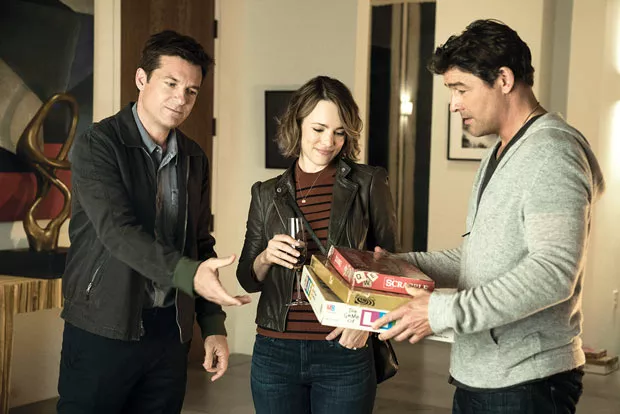 Slapstick pratfalls jab your funny bone, along with witty volleys of sometimes hilarious self-referential [elitist] pop culture jokes that connect more than they miss. With five or ten minutes of sloppy dialogue excised, "Game Night" could run much smoother. The filmmakers are guilty of concurrently running scenes that don't keep time with each other or the tempo of the movie.
Jason Bateman and Rachel McAdams are Max and Annie, a suburban married couple into playing games — board games, charades, you name it. The couple host a weekly game night with two other couples. Now that his wife left him, Max and Annie exclude their creepy police officer neighbor Gary (Jesse Plemons) from their weekly group entertainment. You can't blame them really. Gary is weird, brokenhearted and weird. Just how obsessive, we may only discover during the closing credits.
Trouble arrives in the guise of Max's older, taller, more handsome, and successful brother Brooks (Kyle Chandler). Brooks is in the business of humiliating his little brother at every opportunity. He shows up driving a 1976 candy-apple-red Corvette Stingray that is Max's dream car. So it follows that Brooks invites the party of revelers to a game night at the palatial house Brooks is renting. Naturally, Brooks has hired a company to kidnap one of the guests so that the rest can follow "FBI Dossier" clues to rescue the poor victim. The winner takes possession of the Stingray as his or her trophy. Think mystery theater, but with guns, blood, and high-speed car chases.
Screenwriter Mark Perez does some interesting things with form. The opening act runs like a top with funny montage sequences that fast-forward us into the story with a slingshot delay. Still, Perez is too much in love with his every darling joke that he doesn't stand back to see where some sub-plots should land.
Gamers Sarah (Sharon Horgan) and Ryan (Billy Magnussen) are a not-so mismatched cougar-and-fratboy duo whose butting, and budding, relationship pleads for consummation. Perez fares better with a subplot involving Kevin (Lamorne Morris) and Michelle (Kylie Bunbury) whose ongoing argument over a mystery celebrity Michelle laid, gets an inspired resolution.  
"Game Night" is a dark, not black, comedy that taps into modern American fears regarding guns, imposters, and sudden violence. The game is always rigged and no amount of innocence can save you.
Rated R. 100 mins. 
Groupthink doesn't live here, critical thought does.
This website is dedicated to Agnès Varda and to Luis Buñuel.
Get cool rewards when you click on the button to pledge your support through Patreon. Thanks a lot pal!