FREE SOLO
Terrifying, invigorating, and heart-pounding describe this unforgettable documentary about free climber Alex Honnold and his efforts to climb Yosemite's daunting 3,200 foot El Capitan Wall without a rope.
Co-directors Jimmy Chin and Elizabeth Chai Vasarhelyi ("Meru") delve into Alex's guarded personality as he prepares for the treacherous climb that will define his life, whether or not he lives or dies attempting it.
We get a sense of the childhood elements that contributed to Alex's obsession with free climbing even as he enters into a romantic relationship that threatens to derail the strict focus and discipline essential for him to accomplish his goals. Every millimeter of Honnold's mind and body must be diamond-sharp to execute the climb.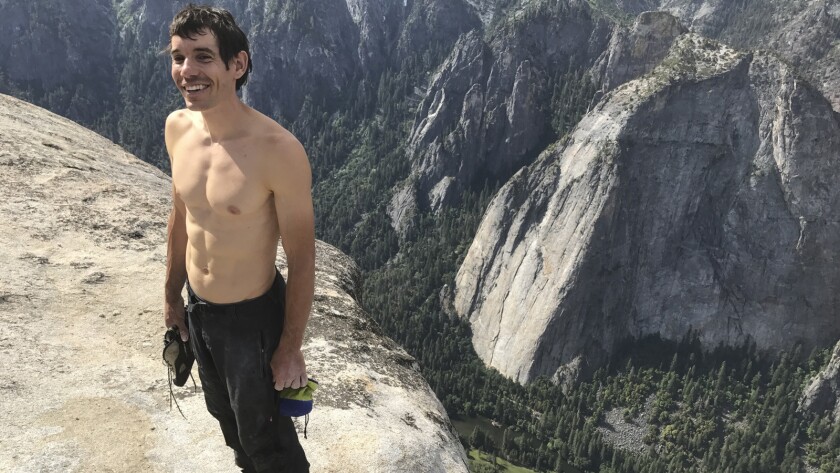 Significant is the filmmakers' willingness to delve into Alex's meticulous rehearsal process using ropes and the help of master climber Tommy Caldwell to prepare for the solo climb. As Caldwell puts it, "Imagine an Olympic gold medal-level achievement where if you don't get that gold medal, you're going to die."
Placing cameras along various places on Alex's path up the behemoth mountain allow him to climb without being distracted by buzzing drones or cameramen.
With his large dilated brown eyes and wiry frame, Honnold resembles a young Iggy Pop at the height of his powers circa the Bowie-produced "Lust for Life" era. Honnold's easy charisma masks onion layers of emotional armor that his doting girlfriend Sanni McCandless pokes and prods at to varying levels of guarded verbal responses from our brave protagonist.
Alex Honnold carries the spirit if a samurai warrior with him. Hearing him describe the grips, holds, and complex maneuvers necessary to climb El Capitan's sheer face, convince the viewer of his amazing climbing abilities that most of humanity hasn't the first clue about. Here is a man who knows his limitations and how to push them right to the edge of existence.
To watch "Free Solo" is to take a journey into an incredibly dangerous if joyful world of free physical expression. Go on the adventure of a lifetime. The rewards are enormous.
Not rated. 97 mins.

Groupthink doesn't live here, critical thought does.
This website is dedicated to Agnès Varda and to Luis Buñuel.
Get cool rewards when you click on the button to pledge your support through Patreon. Thanks a lot pal!