THE BALLAD OF BUSTER SCRUGGS
The Coen Brothers' latest movie is a hoot. Its simple format is an anthology of six stories of the Old West, two of which ("The Gal Who Got Rattled" and "All Gold Canyon") are based on stories by Stewart Edward White and Jack London, respectively.
The tone of the engrossing narratives goes from slapstick musical to black comedy to social satire to tragedy. and to elegiac poetry. Legend has it that the Coens wrote the stories 25 years ago, and stuck them in a drawer for a later date. If the Coen Brothers have been reliably hit or miss over all these past two decades ("The Ladykillers" and "Hail, Caesar!" are undeniable stinkers whereas "No Country For Old Men" and "True Grit" are fantastic gems), "The Ballad of Buster Scruggs" is a delightful cinematic buffet with something for everyone.
Hands turn the lush pages of the kind of book that kids in the '60s would have pulled down from their parents' shelves to stare blankly at the beautiful color plates that introduce each chapter. No byline is present under the book's interior title page, "The Ballad of Buster Scruggs" And Other Tales of the American Frontier." The narrative formality is punctured if you read quickly enough to absorb the humor on the dedication page (to Gaylord Gilpin) for telling these campfire stories that won the trouser-staining esteem of his listeners.
Coen Brothers regular Tim Blake Nelson all but steals the movie right off the bat as the title character, a guitar-playing crooner who also happens to be the fastest gun in the West. Is there anything Tim Blake Nelson can't do" Old Buster is a show-off with a pistol. He is one smooth customer and a snappy dresser. Suited up in his all white cowboy outfit and white hat, Buster is the cleanest cowboy or gunfighter you've ever seen. I won't spoil the tale, but dirt does have a way of finding its level with blood.
"Near Algodones" is the second story. "Pan-shot!" cried the old man" is the text that sits beneath the color plate of an old coot running in front of a frontier bank with a shotgun in his long-johns with a bunch of metal cooking pans strapped to his body. Trying to figure out the meaning of each chapter-opening caption becomes a game the audience can't help but play. James Franco dials up his best Clint Eastwood squint.
"Meal Ticket" is the third installment in the movie, and for my money the weakest of the bunch. Nonetheless, Liam Neeson gives a damn good portrayal of a traveling impresario who earns a living putting on shows with an armless and legless actor (impeccably played by the great Harry Melling — of "Harry Potter" fame). Melling's character recites great speeches and soliloquies that capture the hearts and imaginations of hardscrabble frontier folk who give up coins for a night's worth of entertainment.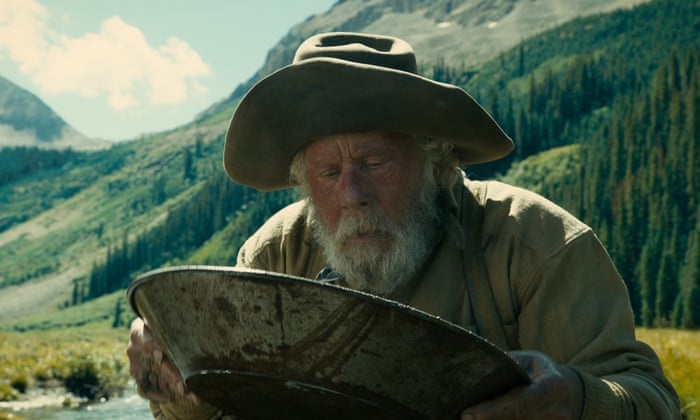 "All Gold Canyon" savors the unpopulated landscape of a gorgeous valley where a gentle creek might just hold untold wealth for a grizzled white-haired prospector played by Tom Waits. It took me a while to realize that it was the legendary singer/songwriter in the role. This little yarn has it all. Wild animals, a dream of glory, and a couple of jaw-dropping surprises.
"The Gal Who Got Rattled" is the most complex of the film's stories. Alice Longabaugh (wonderfully played by Zoe Kazan) is girl on a wagon train headed for Oregon who finds tragedy, romance, and violence along the way. It doesn't get more bittersweet than this.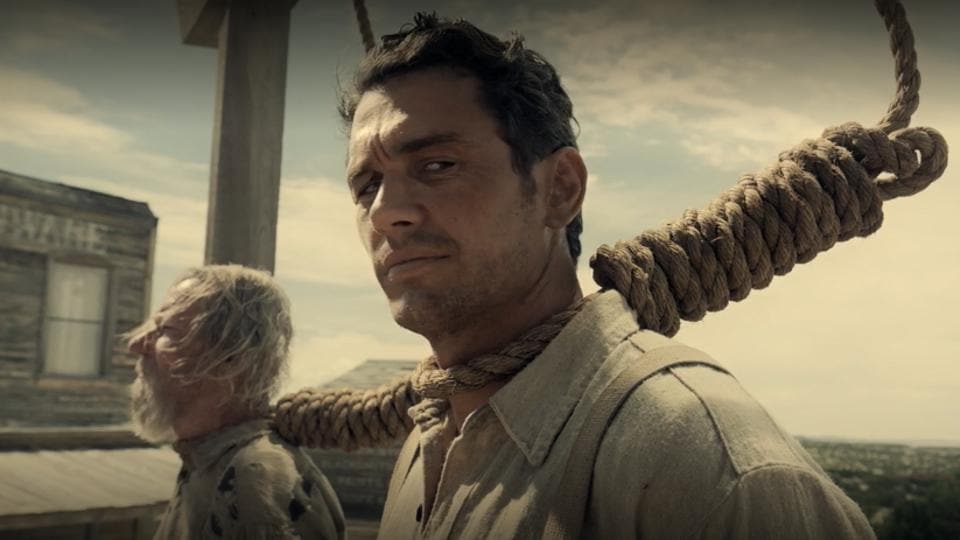 The movie wraps up with "The Mortal Remains," a stagecoach ride to end all stagecoach rides. Five passengers (played by Jonjo O'Neill, Brendan Gleeson Saul Rubinek, Tyne Daly, and Chelcie Ross) trade verbal, and a few physical, jabs on their way to a place where all crimes are paid. You'll want to watch the whole movie twice just to catch all of the clues in this brilliantly crafted tale of would-be redemption.
Rated R. 132 mins.
Groupthink doesn't live here, critical thought does.
This website is dedicated to Agnès Varda and to Luis Buñuel.
Get cool rewards when you click on the button to pledge your support through Patreon. Thanks a lot pal!