Welcome!
Groupthink doesn't live here, critical thought does.
This ad-free website is dedicated to Agnès Varda and to Luis Buñuel.
Get cool rewards when you click on the button to pledge your support through Patreon.
Thanks a lot acorns!
Your kind generosity keeps the reviews coming!
The second installment in Alejandro Jodorowsky's promised five picture cycle of filmic memoirs harmonizes with the theatrically heightened tone and style of "The Dance of Reality" (2013). This succession of films marks Jodorowsky's return to filmmaking after a 23 year hiatus after his 1990 film "The Rainbow Thief," a film he disowned due to conflicts with the film's British producers.
"Endless Poetry" continues the narrative line of "The Dance of Reality." A pubescent Alejandro (Jeremias Herskovits) is growing up with his parents in Santiago, Chile.
While the mother Sara (Pamela Flores) operatically sings all her lines, Alejandro's brutish father Jaime (Brontis Jodorowsky) accuses his poetry-obsessed son of being gay when he discovers him reading aloud from Federico García Lorca's poem "For the Love of Green." You'd be hard pressed to find a more lovely poem. The die is cast that Alejandro must escape the clutches of his parents if he is to follow his dream of becoming a poet.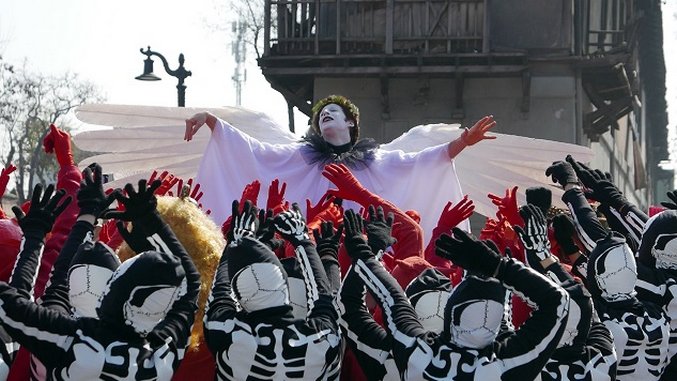 The casting seamlessly shifts to a twenty-something Alejandro (played by Jodorowsky's younger son Adan) fearlessly taking a running start at his chosen profession of words by following his red-wigged muse Stella Diaz (also played by Pamela Flores in dual roles).
Stella insists on holding Alejandro's crotch whenever they go out in public, but not allowing "penetrative sex" because she is awaiting an unknown mystic to descend from a mountain to part with her dubious virginity. Rejection and suffering are to be celebrated.
The episodic narrative tears a page from John Cheever's "The Swimmer" when Alejandro and his latest poet friend go on an adventure walking across town in a straight line that takes them through people's homes. The effect is an operatic trail of personal growth informed by visits from Jodorowsky himself where he advises his younger incarnations about the big picture of life. "I've sold my devil to the soul."
"Life does not have meaning, you have to live it!"
Such is the pragmatic nature of Jodorowsky's nurturing, if poetically expressed, ideologies. Pedantic perhaps, but filled with undeniable passion.
Alejandro Jodorowsky is the most euphoric filmmaker of our time. His transgressive artistic sensibilities form a focal point of pure artistic intentionality that the viewer can either accept or reject, embrace or shed. Either decision will lead the viewer to a personal place of artistically directed balance. You don't get that from watching the latest "Spider-Man" movie.
Not Rated. 128 mins.