The term "sex-kitten" was coined for Brigitte Bardot for her sexually liberated role as Juliette in her [then] husband Roger Vadim's 1956 debut film. Bardot's exotic nubile beauty is in sync with her orphaned character's rebellious disavowal of social mores in the seaside town of St. Tropez.
Never before in Cinema had a female character exhibited such an honest reflection of wanton feminine hunger with the goods to back it up. When an old Frenchman describes Bardot's ass as a "song," the commentary comes across as apt poetry rather than the vulgar expression it might otherwise seem.
A 22-year-old Bardot plays 18-year-old Juliette, an orphan living with an older disapproving provincial couple intent on returning her to the orphanage where they got her. The house matriarch freely calls Juliette a slut, which seems a stretch considering she doesn't have sex (at least on screen) until after she is married. Then the gloves are off.
Generational battle-lines are drawn, and the war is on. A nudist by nature, Juliette enjoys sunbathing in the raw in her backyard. Male suitors abound. Eric Carradine (Curd Jurgens) is a millionaire powerbroker pushing 60 who wants to build a large hotel in the undeveloped Riveria town of St. Tropez.
A capitalist exploiter of all he sees, Carradine has Juliette in his sights, along with a family-owned shipyard run by a couple of brothers (played by Jean-Louis Trintignant and Christian Marquand) who also desire Juliette. It doesn't take Carradine long to effect a plan that puts the shipyard in his possession, with Juliette as an inevitable consequence. Juliette becomes a lightening rod for social upheaval as these men with divergent agendas, leverage their positions using her as a bargaining chit.
Vadim cannily puts Bardot's vibrant physicality to pointed narrative and thematic use during the film's music-inflected climax. Bardot dances an impromptu mambo with a band of black nightclub musicians who play off of her carefree dance movements while joining in with her. The lively sequence presages the '60's go-go dance craze by more than half a decade. Things get steamy when she reflexively dances in front of a full-length mirror. You could argue that Brigitte Bardot ushered in the '60's era of sexual liberation in this one scene.
Although condemned by some cultural gatekeepers and critics as scandalous — "And God Created Woman" was heavily edited, and dubbed, for his its U.S. release — Bardot's portrayal of a freethinking young woman became the celebrated subject of Simone de Beauvoir's 1959 essay "The Lolita Syndrome." In it, de Beauvoir described Brigitte Bardot as a "locomotive of women's history."
The petite but curvy actress captured the communal global imaginations of women and men alike. The film adds up to more than Brigitte Bardot's obvious charms and headstrong attitude about the essentials of life. Here is a social document of the ways that a woman's allure can fuel, destroy, and build the dreams of men who fall under her spell.
Rated PG. 90 mins.
Although condemned by some cultural gatekeepers and critics as indecent (even after And God Created Woman was edited, and dubbed, for its U.S. release), Brigitte Bardot's stunning portrayal of a freethinking woman became the celebrated subject of Simone de Beauvoir's 1959 essay The Lolita Syndrome. In it, de Beauvoir described Brigitte Bardot as a "locomotive of women's history" for good reason. The petite but curvy French actress captured the collective global imaginations of women and men alike. Still, the picture adds up to more than merely Bardot's obvious physical allure and headstrong attitude. It is a timeless social document of the ways that a young woman's allure can fuel, destroy, and build the dreams of men who fall under her spell. If Helen of Troy was "the face that launched a thousand ships," Brigitte Bardot was the girl who incited a sea change of sexual liberation in Western culture.
Originally entitled A Ma Soeur! (To My Sister), this film's inapt English title Fat Girl (2001) does the picture an injustice. This obvious public relations ploy, to stir controversy with a derogatory term, cheapens writer-director Catherine Breillat's bold thematic statements regarding budding female sexuality in the modern world, and feminist ideals at large.
Anaïs Reboux plays Anaïs Pingot, the Rubenesque 12-year-old sister to the lithe Elena (Roxane Mesquida) who, at the age of 15, is anxious to lose her virginity. Anaïs's observant, if pokerfaced, vantage points on morality and social conditions enable her to survive a traumatic event through the brutal life lessons she vicariously learns from the world around her. Fat Girl is an understated picture that doesn't shy away from any of the ambitious feminist heights that Breillat fearlessly mounts with surgical precision. Breillat's ear for naturalistic dialogue is especially exact during an extended seduction scene that is a centerpiece of the film. Like Catherine Breillat's watershed debut feature (A Real Young Girl) Fat Girl is a masterpiece awaiting inspection from audiences prepared to grapple with its unveiled meanings and insightful commentary on womanhood.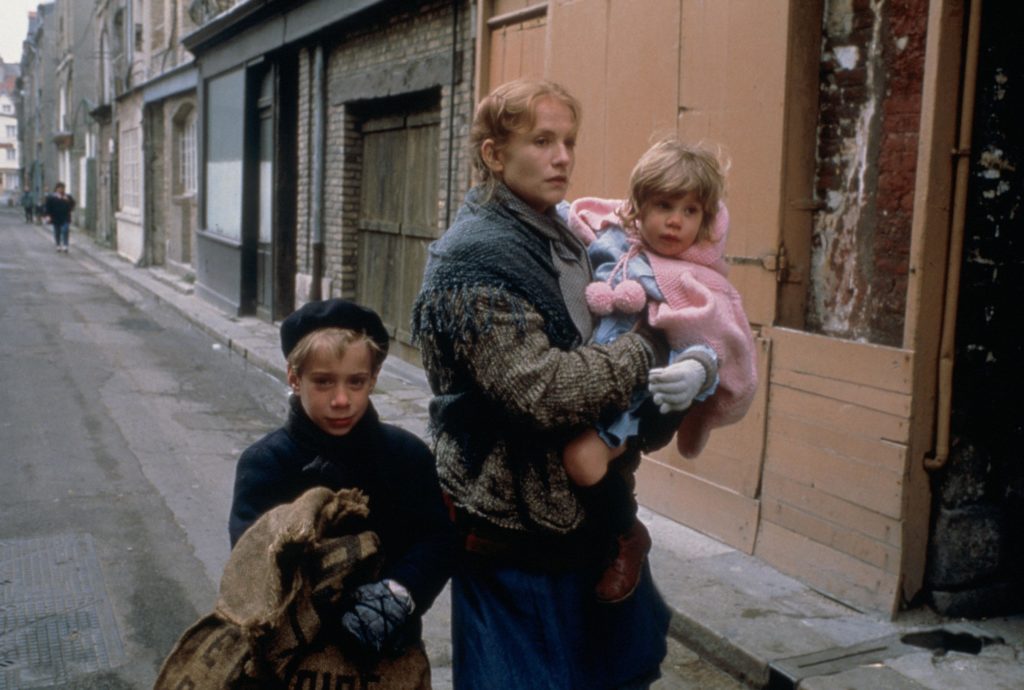 Claude Chabrol's The Story Of Women delves into the difficult conditions of a Nazi-occupied French town that transforms a mother of two into a hardened opportunist. Isabelle Huppert walks a fine line as an anti-heroine whose broken relationship with her PTSD-suffering husband (François Cluzet) culminates in a betrayal of epic proportions. Marie's motivations shift as she lifts her family out of poverty by providing soap-induced abortions to local prostitutes with whom she carries on friendships. Because abortions were criminalized in France — from 1920 to 1975 — due to a grievous loss of French men during World War I and II, Marie-Louise Giraud became an ideal scapegoat for a French court looking to send a message to the French populace at large.
Writer-director Talya Lavie takes inspiration from Jean Vigo's once banned 1933 film Zero For Conduct, about a bourgeoning rebellion in an all boys boarding school, to transpose a narrative drawn from her experiences serving in the Israel Defense Forces. Although Zero Motivation might play as a light comedy to Israeli audiences, the film echoes systemic abuses suffered by female soldiers in the America military where rape is a common occurrence. When our defiant heroine soldier Zohar (Dana Ivgy) attempts to lose her virginity to a fellow soldier, she requests that he "be more gentle." His callous response, "I'm combat, baby" speaks volumes about the sexist effects of his military training. From a feminist perspective Zero Motivation is possibly the most challenging film of the four titles included in this brief survey of feminist themed films currently streaming on FilmStruck.
Turner's subscription movie service FilmStruck was an online streaming service, managed by Turner Classic Movies, that offered an exhaustive collection of current and classic arthouse films. When FilmStruck died, so to did Cinema. Cinema is dead; Long live Cinema.
November 23, 2016
The revolution comes from the inside in Claude Chabrol's exquisite adaptation of Ruth Rendell's 1977 leftist novel "A Judgement In Stone."
Not since Luis Bunuel has any filmmaker come so daringly close to enunciating the ideological, ethical, and soulful rift between the bourgeoisie and the rest of us as Chabrol does in this fascinating, if darkly sensuous, picture. Lesbian fires ignite between two would-be murderess[s].
Rituals such as family dinners or private parties allow for characters to interact, impregnate, and divide. As with Bunuel's films, food plays a significant part in these daily rites.
The story unfolds in the northwest coast of France where art gallery director Catherine Lelievres (Jacqueline Bisset) lives in French countryside splendor with her recent (opera-obsessed) husband Georges (Jean-Pierre Cassel) and his two teenage children (Melinda and Gilles) from a previous marriage.
Catherine hires Sophie (Sandrine Bonnaire) as her latest live-in maid to keep her lavish home tidy and cook the family meals.
Sophie keeps secrets close to her chest. Her illiteracy means that she can't order the weekly groceries because she can't read the list. Help arrives in the magnetic tomboy form of Jeanne (Isabelle Huppert), a local postal clerk with a murderous past. Jeanne knows that Sophie was accused of murdering her handicapped dad but was let go due to a lack of proof. Threat of prison is a mutual experience since Jeanne was accused of killing her four-year-old daughter, but was found innocent.
21st century audiences may be surprised to learn that there was such a thing as a "boy-bun" long before there was a "man-bun" as evidenced by Catherine's adopted son Gilles (Valentin Merlet).
Addressing Gilles's freshly budding smoking habit, Catherine tells her adopted son, "It's easier not to start than it is to quit." Naturally, she offers him a cigarette later on when it suits her. She decrees that Gilles can only smoke in her presence. Careful social coding comes through in every sequence involving the family. Their limited (stereotype) attitudes clash against the intimate (female outlaw) romantic reality that Bonnaire and Huppert share. Their mutual attraction is real.
Claude Chabrol deftly uses television as an implement of reality displacement that Sophie learns to use to deny demands that are placed on her, such as when Georges calls requesting that she retrieve a file from his desk. She becomes a robot to the TV in same way that audiences all over the world are.
"La Ceremonie" is a film that is ahead of its time, just as much as it is of its time. Isabelle Huppert's determined (read lesbian leftist activist) character speaks the film's theme lines with sinewy authority.
Regarding Sophie's discovery of Melinda's (Virginie Ledoyen) pregnancy, Jeanne says, "It's no problem for them [the Lelievres), anyway. Keep it or get rid of it, no problem."
Indeed, Jeanne's brief summation of Melinda's dilemma coincides with the teenaged girl's blasé attitude in the face of her next day's scheduled abortion. Charming Melinda sits happily on the sofa with her snobby family watching a VHS-recorded opera. Virginie Ledoyen is the embodiment of privileged nubility. Incredible, and contemptible.
Regardless of how much elites (in any country) attempt to buffer themselves from the lower classes, they must always remain at the workers' mercy in the form of service industry jobs. Poison comes in many forms.
Chabrol's dream-team cast comes together in a once-in-a-lifetime event. I could wax poetic about Jean-Pierre Cassel, who delivers such a wonderfully bland rendition of veiled white supremacist viewpoints that you could blink and miss it. Jacqueline Bisset reaches microcosmic degrees of restrained emotion like you can't believe.
Don't get me started on cinematographer Bernard Zitzermann's dynamic formalism that works like guitar in a jazz trio, playing against Monique Fardoulis's snappy editing. This film is a flawless example of French Cinema. Look. There it is.
Groupthink doesn't live here, critical thought does.
This ad-free website is dedicated to Agnès Varda and to Luis Buñuel.
Get cool rewards when you click on the button to pledge your support through Patreon. Thanks a lot pal! Every bit helps keep the reviews coming.
April 11, 2016
Groupthink doesn't live here, critical thought does.
This ad-free website is dedicated to Agnès Varda and to Luis Buñuel.
Get cool rewards when you click on the button to pledge your support through Patreon. Thanks a lot pal! Your generosity keeps the reviews coming!
Catherine Breillat announced her status as a feminist enfant terrible at the age of 17 with her sex-filled debut novel l'Homme facile ("A Man for the Asking"). The French government promptly banned the book for anyone under 18. Although it might seem tame by modern standards, "A Real Young Girl" was, and is, a brave transgressive film from a fearless woman filmmaker with a singular uncompromising vision for the coming of age story she wanted to tell.
By the time she made "A Real Young Girl" Breillat (pronounced Bray-yah) had acted in Bertolucci's "Last Tango in Paris" and Edouard Molinaro's "Dracula and Son" opposite Christopher Lee. Such practical experiences paved the way for a filmmaker whose furious first effort would be delayed for nearly a quarter century. "A Real Young Girl" was made in 1976, but not released until 1999 due to the "shocking" nature of the work. Criminal.
Based on her novel "Le soupirail," this [ostensibly] autobiographical story is set in Breillat's hometown of Niort, France. Alice Bonnard is a physically developed 14-year-old girl visiting her mom and dad while on summer vacation from boarding school. Charlotte Alexandra ("Immoral Tales") was 20 when she played the role of Alice, but is credible and her performance is spectacular.
"A Real Young Girl" is a brave coming-of-age reverie expressed with unbridled honesty by a canny young author fascinated with every erotic detail of the substances that discharge from her body at regular intervals.
Alice is a prolific producer of runny earwax that she smears on the family tablecloth. Sexual thoughts consume her every waking minute. Young girls get horny, who knew?
Our unreliable young protagonist narrates the film with intimate reflections about her parents, her intolerance of other people, and about her budding, albeit messy, sexuality. Alice's provincially minded folks (Rita Maiden and Bruno Balp) are as flawed versions of adults as you will find anywhere in the history of film.
The movie has a raw sensibility in keeping with the natural savagery of wanton libidos in close proximity to one another. A scene in which Alice probes her vagina with a spoon while her oblivious father sits next to her at the dinner table is unsettling, to say the least. There is reason to suspect that Alice's father might yet molest her if he hasn't already.
Cinematographers Pierre Fattori and Patrick Godaert share camera duties in giving the picture its deceptively unpolished appearance. Sequences screech and roar with an unbearable lustful tension. Breillat's jarring use of soundscape is masterful.
The rebel filmmaker's insatiable desire for intimate truths, dips into the phantasmagoric. Graphically explicit sex-fantasy sequences are at once shocking and recognizable. During once such scene, Jim, a twentysomething stud (played by Hiram Keller) tears off pieces of an earthworm that he presses inside Alice's wet vagina. Alice will not be tamed, but she must be sated. Finding a lover who can provide birth control pills might hold the key to Alice's sexual liberation.
Alice says things like, "Disgust makes me lucid." She enjoys vomiting on herself in bed for its sickly smell and the warmth it provides on her ample chest. She's a country girl in touch with the everyday brutalities of such regular tasks as killing and cleaning a chicken, something she does with her mother before imagining herself crawling around on the ground (with feathers protruding from her anus) in front of Jim, who works for Alice's father at a nearby sawmill.
While the film could be construed as pornographic in nature, the intention of the narrative function is clearly to examine the psyche and sexuality of a young girl within the political and social context of Niort, France circa 1963. A television newscast reports General de Gaulle's dissolution of parliament. A local shopkeeper (played by Shirley Stoler) is none too pleased about Alice's tempting ways and lets Alice's mother know it.
Breillat's magically real tale of sexual adventure owes a debit to Philip Roth's "Portnoy's Complaint" and to J.D. Salinger's "Catcher in the Rye." The character of Alice is after all a female archetype born of the same hunger for individuality and sexual expression as the teenage male protagonists of Roth and Salinger. "A Real Young Girl" retains a fresh sense of transgressing taboos. The melodramatic flourish that Breillat uses to end the story gives a knowing wink to say that this filmmaker knows exactly what she's doing. Bravo.
Not Rated. 90 mins.